topic 14003
Is this item Silver or Pewter?
Q. What is it and what do the hallmarks mean?
I have an odd piece of metal I purchased over Ebay from the U.K. There are several marks on the back. In order, left to right they are:
1. capital "W" in an oval
2. Capital "L," small "d" with underline in oval.
3. anchor in a square
4. lion standing, facing left, in a rectangle
5. looks like a small "q" in a rounded square
I looked up British hallmarks.
The anchor and lion seem to be Birmingham.
The "q" seems to indicate 1915, or the capital "W" may indicate a different year.
I wonder if this item is silver or pewter. It is hard to smell and I do not want to taste it at this time due to polishing agent.
A general description is: Looks like it might be a bookmark or dress clip that one simply places over the page or edgeline of a clothing item.
The front is round with 4 leaves and 4 fleur-de-lis cut out from the solid circle, and touching the outside circle. All designs look incised.
At the bottom of this ring are two "connectors" at about 5 pm and 7 pm. There are protruding circles at this point on the circle and each protruding circle has a "chain ring" for want of a better work. I hope someone can help!
Do I have a piece of junk or a treasure from the past!
Thanks,
Jane K
[last name deleted for privacy by Editor]
- South Charleston, West Virginia
---
A. Hi,
The lion in rectangle means its sterling silver (92.5% silver), Anchor refers to its city of manufacture, Birmingham England, and the capital W refers to the year and that's 1871. The L and q refer to the silver-smith but I don't know who that is.
Ian
[last name deleted for privacy by Editor]
- Ireland
---
Hi, Folks. We don't mind providing the public with a place to post, but this is an industrial metal finishing site, not a hallmarking site, so neither I nor most of our readers can help. And there are tens of thousands of hallmarks, so verbal descriptions won't often work. But I've watched Antiques Road Show enough times to know that even if we had pictures, and someone identified them, you could still have a piece of junk with counterfeit symbols :-)
So please take it to an antiques appraiser. Good luck with it!




Ted Mooney, P.E. RET




finishing.com




Pine Beach, New Jersey





---

Jane,

Go to a (proper!) antique dealer, OK?

If it were pewter, then it would have a very dark colour and also be relatively soft compared to silver, i.e. it would scratch more easily. If silver ... and left untouched! ... it would nearly turn black due to oxidization.

If it is a clip in the true sense, then I doubt that it was made of the weaker pewter ... which is A.OK for pots and mugs.

Anyhow, pewter polishes up (ye olde, I mean) not too well but silver DOES!




Freeman Newton




White Rock, British Columbia, Canada



(It is our sad duty to
advise that Freeman passed away
April 21, 2012. R.I.P. old friend).


---
(2006)
Q. I have come across a coffee server with creamer and sugar with lid. The markings on the bottom are a number that I believe would be the date, which is 1908. Also, has K S co. The co is a capital c with the o inside of it. There is a logo or hallmark of a man's head and shoulders with a hat that looks like a tri-corner hat worn in days of old. I have searched the web endlessly under pewter and silver and finally found your site and am hopeful that you will be able to help me.....Thank you in advance
Ruth H
[last name deleted for privacy by Editor]
collector - Niagara Falls, New York, U.S.A.
---
Hi, Ruth. This website focuses on industrial metal finishing, rather than hallmarking. There are numerous good books about hallmarks. Best of luck! Regards,





Ted Mooney, P.E. RET




finishing.com




Pine Beach, New Jersey





---

September 28, 2008




A. For those actively seeking websites in hopes of finding pewter touchmarks and/or silver hallmarks, since the Google search engine will inevitably bring you to this site at some point, I would highly recommend running a simple search under the words "silver hallmarks." The first site that turns up under it is an excellent resource for making both silver and pewter identifications.
Linda Talley
- Bellingham, Washington

---

Thanks, Linda! Regards,





Ted Mooney, P.E. RET




finishing.com




Pine Beach, New Jersey




---
January 7, 2009
Q. I recently purchased a pewter swan with red eyes. It is described as a flower holder and has a custom frog.
The discernible marks on the bottom are:
a crest with a "B" in the upper right and another character in the lower left:
at least two "France" engravings;
3 or 4 letters stamped-something like "ELP" under the crest

Can you provide some information on this piece.
Ronald Edelstein
- Stamford, Connecticut


---
January 7, 2009

I guess the more times we say "sorry, this is not a hallmarking site", the more times the word 'hallmarking' will appear on this page, the better search engine placement we'll get, and the more traffic we'll get from people looking for hallmarking info that we can't provide :-)

Regards,




Ted Mooney, P.E. RET




finishing.com




Pine Beach, New Jersey




---
August 8, 2010
Q. I found a pitcher/coffee-tea kettle in my grandmothers attic. It is about 8 inches high with four legs and a floral pattern on the legs, spout, and handle. It has an attached lid but it is simply stamped F. B. Rogers on the bottom. No crown or year.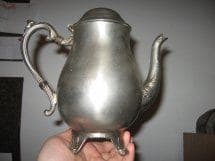 I haven't found a photo of it online yet and am wondering if it is worth anything.
Samantha Gray
student/ collector - Butler, Pennsylvania, United States of America
---
August 23, 2010
Q. Is this a pewter or silver creamer from west silver co with number 1222? I wonder what metal is creamer is? I can only find out that if it was a "West Silver Co" item it was probable made in the mid to late 1800. I cannot seem to get a good picture of the bottom as it just flash the brightness of the silver. The connecting company to this R.B. Rogers. It was made or the stamp says 1222, qu...ruple; Tauntum, Mass. Is it pewter or Silver and should I clean it?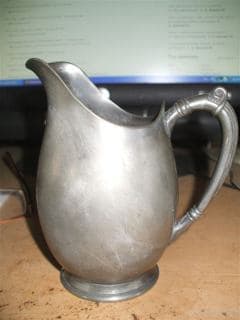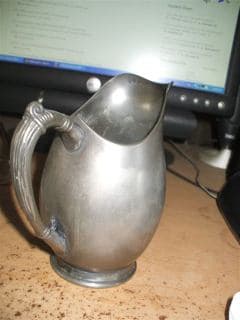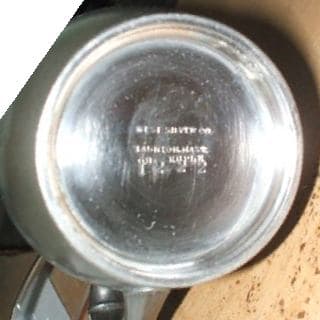 thank you for any assistance you can provide.

Dianne Barnes
owner - Burton, New Brunswick, Canada
---
January 3, 2011
Q. Hi!
Found a large plate or charger in a thrift sore. Marking on the back (and in the center) has an upright lion and some fish symbols.Didn't think could be silver, but read a post that silver was soft. Doesn't look like pewter, but is dull. Then again haven't tried to polish, because I don't know what type of metal it is. Have been trying to solve this puzzle for years, any help appreciated.
Diana Smith
Hobbyist -
Crossville, Tennessee U.S.A.
---
May 27, 2011
Q. Is there anyone that know's what a "Sherwan" or "Sherman" stamp means on a water pitcher I bought at a garage sale? The pitcher also has a S mark on it and there are two other marks also on the bottom of it. The pitcher has claw feet also. Is this silver or pewter. If anyone know's about this question can you please let me know just exactly what I have. Thank you, Paul.
Paul Shaw
Hobbyist -
Marina, California, Usa
---
June 16, 2011
Q. Hi, I recently purchased a pair of engraved silver bracelets, they both have a dragon facing a bird on them. The bird looks like a peacock, may be a phoenix, I'm not sure.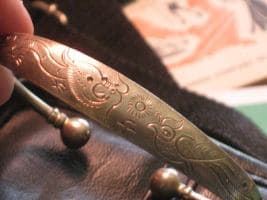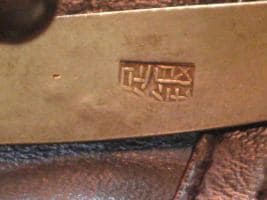 On the hallmark I know the symbol on the bottom right (appears at top right in photo, looks like an F enclosed with a backwards L and an X underneath) means silver, however I was wondering if anyone had any insight as to the rest of the markings.
Dianne Peaslee
-
Windsor, Maine US
---
June 29, 2011
Q. Hi I have long bought bitsnpieces from this (alcoholic) character in my local imbibement emporium. Today he offered me a pub type 1/4 gill measure looking very sorry for itself. My attraction to it was its very scrolled handle. On the base was inscribed "quadruple plate" with an "&" next to an "ok interlocked" then "co". Engraved on its outer edge was " long branch". Just would like an estimate of age/history/value. Thanks.
Garry Sives
novice -
Edinburgh, Scotland, U.K.
---
July 3, 2012
Q. I recently received a small silver or pewter wine cup. It is 4" tall.

There is a relief on one side of a gentleman under a tree holding a wine glass in one hand, and reaching out with an empty bag to a young maiden with a 2 story german house in the back.

On the other side is engraved: (unclear on separation of words)
KEINEN TROPFENIM BECHER MEHR
UND DER BEUTEL SCHLAFFU.LEER
LECHZEND HERZ UND ZUNGE
ANGETHAN HAT MIRST DEIN WEIN
DEINER AUGLEIN HELLER SCHEIN
LINDENWIRTIN DU JUNGE!

On bottom is a seal, with 95% Germany beneath. Above it possibly is: frielilly (?)

Input please!
Barbara Fall
-
Roseville, California USA
---
July 12, 2012
Q. Good afternoon. I have a rather large piece of silver that has been handed down to family members for years. It looks like some kind of coffee server and is so heavy, I have to use 2 hands to pick it up. It is very heavily decorated with flowers, all silver colored, its all same color. On the bottom there is a stamp. It says in a circle Albany Silver Plate Co, and within that circle it says Quadruple Plate. There is a number below it, hard to read, it is either a 200 or 300? Where can I find more info on this piece?

Thank you for your time.
Bobbi Hodgemire
handed to me after father died 5 years ago. - Kalamazoo, Michigan, United States
---
---
November 11, 2015
Q. ple and under that a spider web behind a star with the letter w inside of it above the numbers 243. it is badly tarnished and a magnet doesn't stick to it. How do I find out what metal it is?
Paula Bernier
- Buena, Texas U.S.A.


This public forum has 60,000 threads. If you have a question in mind which seems off topic to this thread, you might prefer to Search the Site