World's #1 finishing resource since 1989
No login needed: Chime right in
topic 1473
Etchant for Stainless Steel
1998
Q. I'm very interested in the possibilities of etching and chemically milling stainless steel, (I've done very well with brass, copper, and aluminum) but don't know what chemicals would be effective, as stainless was designed to be corrosion resistant. (I think more blind experimentation in this area's going to be dangerous).
What chemicals are best (and least dangerous) for this?
Danny Miller
---
1998
A. Danny,
You might try Ferric Chloride (FeCl3) solution with a free acid (HCl) content of 1% or so. What do you use for copper?
Bobby
Bobby Rhyne
---
1998
Q. I tried a ferric chloride and HCl solution and it seemed no better than HCl itself for stainless. It is very, very slow and would take weeks to cut through.
On the other hand, I tried running a current through the plate to another electrode and voila! The rate is quite acceptable. However, this does necessitate a more complicated setup, constant cleaning of the other electrode, and the sheet will need conductive "wires" left in the pattern if it's being milled, so the parts must be cut out. My greatest concern is the oxygen bubbles gradually lifting the resist away at the edges. I imagine keeping the current density down to a point where the oxygen is still soluble would fix that. I'm capable of dealing with these complications but I wish I just had an electroless mordant.
I'm going to have to check and see if it works with raw HCl, as it's much cheaper than ferric chloride + HCl.
Danny Miller
---
1998
A. Weeks? What in the world are you etching?
In your electrochemical cell, you have the stainless connected as the anode? If you are anodizing in HCl, you are probably reducing hydrogen gas, not oxygen, at the cathode.
What do you use to etch copper?
Bobby
Bobby Rhyne
---
---
September 27, 2013
Q. Could anyone help me out in getting a pencil point profile on a 302 stainless steel wire blanks using chemical milling, and advise us with the chemical combination for the same and procedure of using?
Murthy Raju
- Bangalore, India
---
October 1, 2013
A. Murthy,

I do not know how to do Sharpening by etching. We use electropolishing, particularly the universal electrolyte, especially its modification for sharpening.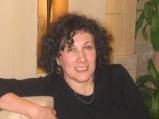 Anna Berkovich
Russamer Lab

Pittsburgh, Pennsylvania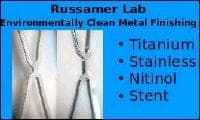 ---
October 7, 2013
Q. Hello Anna,

Thanks for the reply .

Would you kindly suggest me with the chemical composition with the volume used for electropolishing and how are we to perform the same.

What is time taken to sharpen 1.00 mm (302) Stainless steel Rod for a length of 10 to 12 mm.

Regards
Murthy Raju
- Banglore, INDIA