World's #1 finishing resource since 1989
No login needed: Chime right in
topic 1429
Black Oxide rusting
1998
I have a 303 stainless casting that is machined and then treated with a black oxide. The parts used to come in with oil but now they come in dry, at our request. The parts are now showing what looks like rust on the machined and cast surfaces.
Is the removal of the oil our problem? If yes, wouldn't it show this discoloration (b)etter?
HELP!
Daniel Goldberg
---
1997
Hi,
Yes, the oil will help prevent or delay the onset of rusting. There are many different oils to chose from. consider using one that dries "dry to the touch" to get a slight improvement in rust prevention without the slimy oily finish.
303 is moderately rust resistant in itself. It sounds like you are using high speed steel inserts for your cutters. Consider going to cobalt or carbide which will last longer and cut better, but unfortunately cost more. Since it is on the machined surface, the other option is to passivate them first, but this may affect the black oxide activation step.
There is a possibility that the plater is using a hydrochloric acid activator that is old and really laced with iron from long use and is agrivating the problem. This can be tested with a few parts in a bucket to quickly find out if it is contributing.
You are very probably using a free cutting 303 such as Se of lead. switching to 304 will help a lot and 316 will really help, but they cost more and are a lot more difficult to machine.
I would try cutting a small lot with carbide and a small lot with cobalt and see if it takes care of the problem before you jump into anything whole hog.
James Watts
- Navarre, Florida
---
1998
The 303 stainless steel that you are using has large nonmetallic inclusions to improve machinability. I have seen several cases where these inclusions trap corrosion solutions from cleaning, plating or other surface operations even after final cleaning. The solutions later bleed onto the surface of the part to cause corrosion.
The oil film will help to displace these contaminants and keep water from the metal surface, which will inhibit corrosion. You may be able to improve the final cleaning process to help your situation. Any iron contamination on the surface, as suggested by Mr. Watts, will also aggravate the problem.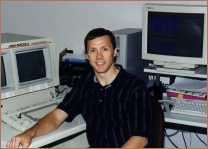 Larry Hanke
Minneapolis, Minnesota