World's #1 finishing resource since 1989
No login needed: Chime right in
topic 1428b
Technique for Mirror Polishing Aluminum
Q. I am going to polish the frame on my 97 CBR900, - I am ordering a polishing kit to use with a regular power drill. If it does not work, I know a guy who has done it personally and it looks like chrome. I am just as skeptical as the rest but I feel it can be done at home with great results. I hear different ways to do it but they all sound the same in principle. I will share my results if I hear from you.
Steve R
[last name deleted for privacy by Editor]
---
Q. I have had pretty good results polishing my swing arm with a variety of sewn wheels using a drill and polishing compounds. The only part I am having trouble with is getting rid of the fine swirl marks on my pieces. I tried mothers, rubbing compound, etc., it makes it worse.
Antoine h
[last name deleted for privacy by Editor]
Cleveland, Ohio
---
A. Hi folks. The only way you can get to a mirror finish is with a super fine buffing compound; compounds as fine as india ink have been used for this. But just as you could theoretically dig the excavation for the foundation of a skyscraper with just a teaspoon but it would take eternity, polishing rough aluminum to a mirror finish with a very fine buffing compound would also take eternity. The only real way to grind/polish/buff is in numerous steps, with each step employing abrasive which is just course enough to remove all the marks caused by the immediately previous step.
While I admit that I haven't actually done it myself, I've been told a hundred times that the best way this can be monitored is to make each polishing step perpendicular to the previous. In other words, you start with a course abrasive capable of every scratches, and you go until there are no scratches left whatsoever except the ones you're making. You then go to a finer abrasive and at right angles to those previous scratches and keep going until you see no trace of the previous step and are left with only the new scratches. Now you switch to the third abrasive, and run the same direction as you had on the first abrasive.
This implies that any swirl marks are totally the result of your final buffing step and can be corrected without going back further. Maybe redoing this final step, making sure that you complete it in one direction, instead of swirling around, will mask it if not eliminate it.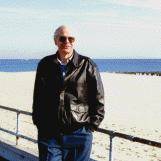 Ted Mooney, P.E.
Striving to live Aloha
finishing.com - Pine Beach, New Jersey
---
Q. Just bought some old centerline wheels for a mustang. the aluminum is looking kind of dull and I want the mirror finish they had when they were new. Any suggestions on how to bring back the shine? I don't want to damage the surface, just buff it up or so.
graham c
[last name deleted for privacy by Editor]
Maple Ridge, BC
---

5 Years in aerospace industry, deburring dept. Went on my own grinding and polishing aluminum. Mostly performance intake manifolds among other things. Flatness is a sought after goal for many of us but only the few great ones can ever achieve it manually. Good luck! : ) Practice makes perfect. Oh yea,
I'm looking for a hand held belt sander.
I've been doing all my grinding work with strait and angle die grinders.
Louis F
[last name deleted for privacy by Editor]
- Port Richey, Florida
---
A. Aluminum polishing is far from easy. A few things that I do is always finish polishing by hand this gets rid of the swirl marks. It is also very important to sand straight along the longest part of metal instead of short strokes. If you use a drill to do you final polishing you will always have swirls and round scratches. And use Mother's Mag & Aluminum Polish [affil. link to info/product on Amazon] it works awesome...I get a much deeper shine when I polish by hand.
mark m
[last name deleted for privacy by Editor]
- Santee,Ca.,us
---
2001
A. Regarding how to avoid swirls on polished aluminum: There are air-inflated wheels, used as back up wheels for various buffing belts that leave a straight line finish -- there are no swirls whatsoever. It really eliminates a lot of trouble. You use wool or cotton belts on the wheels with the polishing compound you prefer. The wheels are mounted on a hand tool (air or electric) that needs to run at about 4000 rpm.
Ann H
[last name deleted for privacy by Editor]
- Cleveland, Ohio
---
September 28, 2009
Q. I bought some sheet aluminum (0.040" and 0.025" guage) to put on the roof of my house under asphalt shingles to prevent the buildup of ice dams which causes water to back up and leak into the house.
There was some left over. I'm looking for ways to polish it to mirror finish and install it on a few places on my house to save heating/cooling energy.

Aluminum has the property of reflecting energy (heat, light, radio waves, etc.) directed towards it. It will reflect up to about 80% of the energy if polished to a mirror finish. Aluminum is the only metal with this property.
Kermit Karns
Retired - Imperial, Nebraska, United States
---
---
May 6, 2016
Q. I've got a 40 foot long aluminum enclosed trailer I have polished the side of it it looks great until the Sun hits it and then I can see all of the swirl marks I have used mothers as the final one and hand rubbed the entire side of the trailer all the swirl marks are still there any suggestions would be greatly appreciated
Don YEATER
- upper sandusky ohio usa