World's #1 finishing resource since 1989
No login needed: Chime right in
topic 1414
Accomplishing heavy oxidation on Copper
1998
I am trying to accomplish a finish on copper that approximates a sample that I found in the shop of my grandfather, copper that could easily be thirty years or more older. It has acquired a deep red color, and the surface is still shiny. It is part of a sculpture that is a six foot cross in a sanctuary. Copper leaves on a screen, three inches from the surface of a mahogany box/case cross.
I need to do this finish by a vaporous oxidation, rather than by applying a chemical or heat directly to the metal, because the specificity of location when using these other methods results in too strong, and too poorly handled treatment of the finish. My client really only wants me to kick start the oxidation, and not really take it to a point, and seal it. Any help is appreciated.
Paul Kiler
- Art As Servant
---
1998
Here is a formula for "antique coloring for copper". I don't know if it reddens the copper, or instead turns it green. You may want to test it on a penny. Somebody who has these chemicals in a lab, try it on a penny and let us know. I have seen that beautiful red color on artwork, is there no reference on how to get this color in a textbook on technique?
copper nitrate [affil. link to info/product on Amazon], 4 oz., Acetic acid 1 oz.,Water 2 oz., Dissolve by stirring together in a glass vessel. To use: Wet the copper and apply the above solution hot.
What do you mean by 'vaporous oxidation'? If you found a aqueous solution that worked, you could mist it with a fine spray, and mask off other parts of the piece.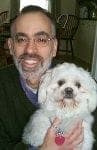 Tom Pullizzi
Falls Township, Pennsylvania
---
1998
I am trying to accomplish the same problem to a project of mine. I have been experimenting on a copper tube with some house hold chemicals. I have discovered that by applying a coat of hydrogen peroxide to the copper will give the copper a red-ish looking stain. By adding more coats to the copper and letting it dry will make it look more red-ish and let it still be shiny.
Another way is to use a low amp DC current. Soak the copper in a Hydrogen chemical water and add the low amp current. This will change the copper faster.
If you find a better way to change the copper to look old please let me know. Thank You.
Gabriel Stoia
---
1998
I have a wind chime that has a copper piece to catch the wind. It has a salmon colored oxidation on the copper. Do you have any ideas on how to replicate this color on new copper?
Rich Grams
---
1999
This is a question, we are trying to buy 1 oz. copper with oxidation on one side, if anybody knows of a company where we can get this please let us know. Thank you
Racaar
M. DONOVAN
- CHATSWORTH CA
---
2000
Part of my roof on my home is made out of copper. I'm trying to make the copper green, but don't want to spray dangerous acids all over my roof. Any ideas on how this can be accomplished?
Demetrios Syrpes
- Denver, Colorado
---
2002
Using a wire brush will bring out a burn't kind of red from copper. I would think that using water with copper would turn it green - certainly acidic substances do, especially plumbing fluxes.
Daniel Machet
Copper Tubing Africa - Gauteng, South Africa
---
2007
Turning copper green. I experimented with hydrogen peroxide(from the pharmacy safe for topical wound use)table salt and a six volt battery. I put the piece in a flat glass baking dish, hooked up the piece to the battery with alligator clips ( or wire would do fine if you don't have those)negative on one end and positive on the other so that the piece in the middle completed the circuit coming from one battery terminal to the next. I then poured the hydrogen peroxide over the piece (not submerged but just enough to make it stay wet) and sprinkled table salt on the piece. I left it like that and over night the piece went from dark red to blue green. It was most green where old darker blackish oxidation already existed so don't polish the copper if it has already turned darker from exposure to the out of doors.
Jeff Martinich
- Portland, OR