World's #1 finishing resource since 1989
No login needed: Chime right in
topic 1413
Cleaning corroded chrome plated steel
1998
I have a chrome plated steel table designed and produced by Marcel Breuer about 1927. The chrome has several areas of black spotting, which I assume is some type of corrosion. I have tried to use a commercial metal cleaner, which did remove some of the spotting, but also seemed to remove the chrome plating, since the surface I treated became quite dull. I would appreciate your advice on removing the corrosion without doing serious harm to the chrome plating. I understand that under the best of circumstances the chrome will not look new. I am, of course, also aware that I probably could have the piece cleaned and replated, but that would lower its value, both financially and artistically. I would appreciate any tips you could give me.
Thank you,
Bruce Leimsidor
Vienna, Austria
---
1997
Chromium plating was about 2 or 3 years old when your table was plated, so I am not sure if there is a nickel undercoat.
If you have an area you could test, maybe a solution of citric acid will remove the spots (if they are iron salts)?
If you ever photograph the table, send us a print and we will scan it for display here at the site.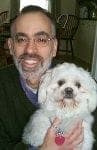 Tom Pullizzi
Falls Township, Pennsylvania
---
2000
I own a honda hornet motorbike, the exhaust pipes are chrome plated, and due to either the heat from the engine or from road salt the chrome has discoloured to a dark patchey brown can you advise me on how best to remove this staining without damaging the chrome plating.
steven alcock
- England
---
2001
I also have the problem of dark spotting on the tailpipes of my 1985 Yamaha Virago. If anyone has anything that will remove this, I would appreciate it. Thank You Faye
Faye Hanvey
- Medina, Wa. USA