education ... fun ... aloha spirit
Chime right in! (no registration req'd)
-----
"Problems with discoloration on nickel plating"
I am inquiring if any one has seen this discoloration or staining before or has any advice on what is happening. This is a base to an electrical connector that is plated nickel. After machining out of 360 1/2 hard brass it is degreased, chemically deburred, tumbled, heat treated in a drawing salt bath to stress relieve the metal, and then nickel plated where it is then sent through a solder wave where the legs are dipped then water washed. I have traced the problem back through our process to find a small percentage with a few brown spots on them after the plating. After studying the parts after the chemical deburring step, I found these designs which look like the final discoloration marks on the part. (two parts on left side of picture).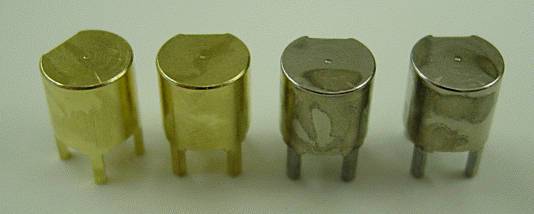 Since all our other parts go though this chem deburr with out a problem it is my reduction that it is the heat treatment in the salt bath. This is also only occurring on approximately 20% of the parts which has also got me confused. Could the chemical deburr solution and the salt bath be pulling the impurities to the surface which burn through the plating? I believe heat applied after plating increases this occurrence.
Any opinions or advice to further my investigation would be appreciated.
Thank you,
J Zacharias
- Waseca, Minnesota
^
---
September 14, 2011
Hello, did you find an answer to your discoloration question? Thank you, Jim
Jim Polk
apm - Pensacola, Florida
^