topic 13797
Post treatments for Black Oxide -- Chromic Acid Dip?
A discussion started in 2002 but continuing through 2017
2002
Q. What is the purpose of the chromic acid dip after black oxide treatment as per MIL-DTL-13924 [link is to free spec at Defense Logistics Agency / dla.mil] ?
Mario Rodriguez
- Phoenix, Arizona, USA
---
2002
A. What are you black oxiding? I know that with copper a chromic acid dip will passivate the surface and protect it against attack from acids.
Scott Campbell
- Tempe, Arizona, USA
---
2002
Q. I'm doing black oxide on 4130 steel, but we want to know what is the purpose of chromic dip requirement after black oxide.
Thanks,
Mario Rodriguez
[returning]
- Phoenix, Arizona
---
2002
A. Probably to passivate internal diameters, as for tubular work (to prevent bleed-out rust).
Tom Pullizzi
Falls Township, Pennsylvania
---
2002
A. As a specification writer, it's needed to meet the spec. Also, it's needed to meet the 96-hour salt spray requirement. Without it, don't pass. Also, caustics can be very nasty to rinse off and the chromic acid will aid in neutralizing it.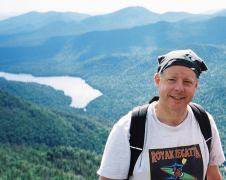 Milt Stevenson, Jr.
Anoplate Corporation
Syracuse, New York
---
January 2014

Great answer, Milt -- thanks!
Regards,
Ted Mooney, P.E.
finishing.com
Pine Beach, New Jersey
---
---
Smoothing black oxided parts with vinyl pencil erasers
Q. I'm interested in learning about how black oxide parts are finished-off.
From what I understand, some companies use a synthetic vinyl or rubber material (similar to pencil erasers) to smooth the edges of finished parts. I'd like to know more about this.
Is this a common practice used throughout the industry or does it just pertain to certain types of applications?
John S
[last name deleted for privacy by Editor]
- Bradenton, Florida
---
A. I have never heard of this. What kind of parts are you referring to?
Tom Pullizzi
Falls Township, Pennsylvania
---
May 26, 2008
A. Hi, John. I agree with Tom. I personally have never seen anything like that. Please tell us what kind of edges of what kind of parts would benefit from this kind of process. Thanks!
Regards,
Ted Mooney, P.E.
finishing.com
Pine Beach, New Jersey
---
---
Post treatment of cold black oxide parts
2003
Q. Our company currently utilizes cold black oxide finishing for many parts we produce. Rust is starting to appear on some parts a month or two after the cold black oxide application. I would like to know if a post treatment is available that would leave the parts with a finish that is not saturated with oil, and is relatively clean. Is it also a possibility that the employees are not performing the cold black oxide process properly? Is hot black oxide an economic alternative? Thanks!
Marc Dumais
- napanee, ONTARIO, Canada
---
2003
A. Neither hot nor cold black is a corrosion resistant finish, and some people claim neither offers any corrosion resistance at all -- that only the post-treatment offers corrosion resistance. There are water soluble waxes that you may find unobjectionable. Hot black is a nicer finish on almost all accounts and is no more expensive, but it can be dangerous because it operates at well above the boiling point of water such that raw water entering the tank can explosively flash to steam.
Ted Mooney, P.E.
finishing.com
Pine Beach, New Jersey
---
2003
A. I will respectfully disagree with Ted on the cost issue. I did cold black oxide out of pickle buckets with expected results. Hot black oxide requires heat which is not cheap as well as somewhat more special tanks. I think that it shows surface flaws more than cold does. I think that hot is a better finish. Talk to your cold product tech services. It may be as simple as dumping the tanks and remaking the solutions. Also, look at some different oils. Most use a dry to the touch "oil" which leaves a very very thin coat. Properly used, some of the waxes look great and last longer.
James Watts
- Navarre, Florida
---
January 2014
Thanks Jim. Cold blackening offers significantly lower capital cost, so for very low volume, you are certainly right that it's cheaper and sometimes appropriate for machine shops. I am limited to book knowledge on this, and your hands-on experience certainly trumps it, but for high volume I lean towards thinking hot black oxide (a true oxidation process) is less costly than cold black oxide (the deposition of a selenium sulfide coating). And the hot black oxide not only looks better, but it doesn't rub off as a smut.
Regards,
Ted Mooney, P.E.
finishing.com
Pine Beach, New Jersey
---
2003
A. Agreeing with Ted and adding some additional thoughts. Again, ALL the protection comes from the top coat. In the case of so called "cold black oxide" (which it is not) the coating without a top coat is corrosion promoting. Top coats come in three general classifications:
- OILS in various viscosities, water based and water displacing, do "heal" when scratched, but erode away in outside exposure.
- LACQUERS which do not heal if scratched but stand up better outside. And finally the third class is
- WAXES which are half way in between the healing properties and the outside corrosion properties of oils and lacquers.
Water Displacing oils sometimes leave the water on horizontal "shelves" and this spot rust the next morning. Water displacing oils are not reliable inside of drilled and/or tapped holes. Water soluble oils get into holes and over and under shelves. Once dry, the soluble oils do not have a tendency to redissolve but they do tend to wash off in outside exposure.

Robert H Probert
Robert H Probert Technical Services
Garner, North Carolina
---
---
October 24, 2017
Q. In the "Military handbook -- Phosphating and Black Oxidizing of Ferrous Metals" (Mil-HDBK-205A [link is to free spec at Defense Logistics Agency, dla.mil]) they specify hot chromatic acid rinse, dry and oil. Since they also specify hexavalent chromium levels in the solution, which is a genotoxic carcinogen, it might do more than passivate? If not, aren't there other ways of passivating?
Abrie Preller
- Secunda, Mpumalanga, South Africa
---
November 1, 2017
A. Hi Abrie,
Phosphate coatings are slightly porous to some degree. A dilute chromic acid rinse helps "seal" these pores and passivate the exposed base metal. As a result corrosion resistance is improved. This is the primary function.

To address your question, yes they do more than passivate. Acid rinses can remove soluble residues on the part surface from previous steps. In this case, the hot chromic rinse is thought to remove nitrates and phosphate ions. The result is improved paint adhesion. You'll note that a lot of phosphated mil spec work is pre-paint.

Outside of the MIL-SPEC there are other ways to passivate this step. There are some modified trivalent/hexavalent rinses that form a chromate that acts like a gel in the pores. I've heard this referred to as a "reduced chromium rinse" but I don't have any personal experience with it. The previously discussed hot chromic rinse is far more common.
Jameson Grout
- Indian Orchard, Massachusetts


If you have a question in mind which seems off topic, please Search the Site