60,000 Q&A topics -- Education, Aloha, & Fun
topic 13628
Passivating stainless steel causes loss of mirror polish
A discussion started in 2002 but continuing through 2020
2002
Q. We are manufacturing SS components. After polishing we get a almost mirror finish in barrel. However the problem is that we have to passivate the components now according to customers requirement. On passivating with HCl we find that the components lose polish. Obviously if we polish again then passivating it would not make sense. Can someone suggest how to retain the polish of the components with passivation.
A. Sal
- Gujrat, India
---
2002
A. Are you passivating (pickling) with HCl or HF? An HF pickling would etch the surface and ruin any polished appearance. But, I don't know if it is needed. Passivation generally calls for Nitric Acid (ASTM A380 [link is to the practice at TechStreet] ) or Citric Acid ( ASTM A967 [affil. link to spec at Techstreet] ). Neither should significantly change the appearance of the stainless.
Nitric/HF is generally considered pickling rather than passivating. It is useful in removing the discoloration from the weld or heat affected zone. However, I prefer a mechanical cleaning of the weld zone followed by citric passivation as a safer alternative to using Nitric/HF. I have never heard of any one using HCl to passivate Stainless Steel. The Chlorides would cause more damage than good.
Good luck on your treatment of the metal.
Todd Turner
- Monroe, Louisiana
---
2002
A. When you passivate parts you should not change the surface condition. If material and process is correct, you stated using HCl for passivating, you might want to check you spec's. Most often Nitric acid or citric acid is used and citric acid only should be used when the verifying that there is no Iron on surface.
Chris Snyder
plater - Charlotte, North Carolina
---
2002
A. To the best of my knowledge Passivation of Stainless steel is performed with a nitric or Citric acid solution.HCL will definitely "etch" most Stainless and result in a duller appearance at best.
Bill Grayson
- Santa Cruz, California, USA
---
2002
A. You definitely cannot use HCl to passivate stainless steel. As stated above, this will harm the surface more than help it. You must use either nitric acid or citric acid formulations according to ASTM A967 [affil. link to spec at Techstreet] .
Lee Kremer
Stellar Solutions, Inc.

McHenry, Illinois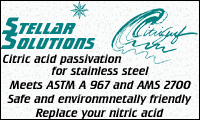 ---
2002
Q. I made a mistake while typing. We passivate with Nitric Acid only and not HCl. The parts we passivate are used in spray guns or automotive applications. But on passivation we lose the mirror polish.
A Sal
[returning]
- Mumbai, India
---
2002
A. Sounds like you need to clean or degrease your parts thoroughly before passivation, as any surface contaminants will react badly with nitric acid, and leave a dull appearance.
Good luck.
Jeff Swayze
- Kelowna, B.C., Canada
---
---
January 6, 2018
Q. If there was contamination during passivation leading to a patchy / dull finish, is there a way to put this right? We recently passivated with citric acid, according to ASTM A967 [affil. link to spec at Techstreet] , but there are some patches which look cloudy. Could this also be from inadequate rinsing after passivation? Again, any way to fix?
Joseph Emans
brewery - Oakura, New Zealand
---
January 10, 2018
A. Joseph,
This is usually one of two things.

Less common, it is dried residue of the acid due to poor rinsing or rinsing with water that is far from clean enough. It's generally not very hard to get residue off, though.

More commonly, the surface has been etched. Can you tell me what grade of stainless these parts were, and the pH of your citric bath?

Ray Kremer
Stellar Solutions, Inc.

McHenry, Illinois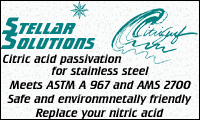 ---
January 11, 2018
Q. Thanks Ray,
The grade is 304.
pH was recorded as 1.77
Regards,
Joe.
Joseph Emans
[returning]
- Oakura, New Zealand
---
January 18, 2018
A. Joseph,
I would not expect surface etching under those conditions, unless the steel is some out-of-spec garbage from China, etc.

I would start a fresh bath, just to make sure there isn't something in there that shouldn't be, check that your rinse tanks are good clean water, double check that what you're dealing with is not residue after all, and monitor things to see if was an isolated incident or if it happens again.

Ray Kremer
Stellar Solutions, Inc.

McHenry, Illinois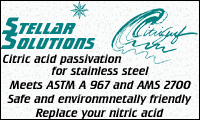 ---
---
Change to Surface of SS Etched with Nitric Acid increases adhesion
January 9, 2020
Q. Greetings from a Troll, who finally must request some help. I've been removing pure Ag from a sputter system tooling by physically knocking off the thick deposits, then etching the thinner stuff off in 50% Nitric Acid in water at 50 °C. Until lately, the thicker material has been easy to knock off. More recently it is adhered very strongly and refuse to chip/scrape off. Have I modified the SS surface through numerous Nitric acid followup etches, such the tooling surface is now better suited for Ag adhesion? If so, how should I attempt to restore the surface to closer to bulk/original composition.
Allan Knoll
SuperPower, Inc - Schenectady
---
January 2020
A. Hi Allan. Nitric acid can certainly etch and pit stainless steel. The components in question may have originally been electropolished; theoretically, at least, they can be electropolished again. This is an electrochemical process which dissolves the asperities and high spots, turning the surface smooth again for minimum adhesion of the silver.
Regards,
Ted Mooney, P.E. RET
finishing.com - Pine Beach, New Jersey
Aloha -- an idea worth spreading
adv.