Education, Aloha, & Fun
A roundtable with 60,000 topics and a seat for you
topic 13388
Galvanized roofing for shower, bathroom walls & kitchen backsplash
Current question and answers:
September 18, 2020
Q. Looking for some information regarding installation of corrugated metal around the inside of a bathroom window that is located in the shower. Need to be able to have a tight water around the frame where the metal meets the window but not sure how to go about framing it or how to seal it. Has anyone done this before or have any advice?
Thank you!
Courtney Sierra
- Louisville, Kentucky
---
---
---
Previous closely related Q&A's starting in:
2002
Q. In an inspired or ignorant moment, I thought it would look cool to use galvanized roofing (both corrugated and V-crimp) as paneling and tub surround in a bathroom. Do I need to put some kind of topcoat on it to keep it from corroding with the constant steam from the shower?
Thanks,
Stewart C
[last name deleted for privacy by Editor]
- Austin, Texas
---
2002
Q. All the paint experts I've talked to suggest that no kind of varnish/lacquer/urethane would adhere to galvanized. What about some kind of paste wax? Car wax?
Thanks,
Stewart C
[returning]
- Austin, Texas
---
---
2004
Q. I am installing galvanized roofing tin in my master shower and I was wondering what I would clean it with on a weekly basis to remove soap scum, etc. without damaging the tin?
Linda Tifft
home owner - N Las Vegas, Nevada
---
-- this entry appended to this thread by editor in lieu of spawning a duplicative thread
2005
Q. I am hoping to install a galvanized counter top in a mud room and would like to know if anyone has answers as to what type of sealant or finish should be used to protect it from stains.
Luke Puckett
homeowner - Scottsdale, Arizona
---
---
2006
Q. I'm writing in response to previous posts regarding using galvanized corrugated tin for shower walls. Some of these posts are quite old so I'm hoping that at least one of the attempted projects has been completed by now! Can anyone tell me whether or not you consider your project successful -- and if so, how did you prepare the galvanized tin for use in this water-y environment.

Thanks.
Dianne Graves
- Topeka, Kansas
---
2007
Q. I have read the postings and I am not certain there was a real response. I am wanting to utilize tin on my outside shower wall and the backsplash in my kitchen. Any response would be helpful!

Thanks,
Billy W. Sumrall
- Monticello, Mississippi
---
---
May 25, 2010
Q. We are having issues with our bathroom and our ceiling has mold spots on it. We currently have drywall. We are in the process of replacing and rerouting our ceiling exhaust fan and will be replacing the entire ceiling. I like rustic decor and am considering getting galvanized tin for the ceiling. Will this be OK? We already have ceramic tile surrounding our shower stall, so the tin won't be directly over the shower.
Jill Sinn
working mom - Sparta, Illinois, United States
---
---
March 20, 2011
-- this entry appended to this thread by editor in lieu of spawning a duplicative thread
Q. Can galvanized sheetmetal be installed on the walls in a kitchen or dining room as a wall covering / decoration where it can be touched by humans. will a/c or heating conditions affect the oxidation process? For instance condensation.
carl moore
homeowner - kerrville texas usa
---
---
June 29, 2016
I have an answer and a question...
A. I did have a galvanized metal countertop, manufactured and installed in my kitchen in 1995. It looked great. Not near the sink or any other moisture. The issue I found was that acidic foods would not just stain it, it also exudes a poison called antimony. Not good around food! I solved the problem by covering the counter with clear contact paper. I know it sounds weird but it totally disappeared and looked great! Of course I had to be careful with hot pans and always using a cutting board but I was very happy! I had a very cool kitchen island!

Q. My question is about the shower area as I am about to use corrugated metal for the walls of that. I need to know if anyone tried prepping and sealing theirs and did it work? Were you happy with it? I know that it's a rustic look that is not for everyone. I may try coating it with the window film that is used for Windows. Has anyone tried that? Thanks, in advance!
Bamma Kline
- Jonestown, Texas U.S.A.
---
June 30, 2016
! I just looked back on this thread. Every single one of the questions originates in US.
Can anyone explain the American obsession with using totally inappropriate materials and then endlessly worrying about them?
The rest of the world does not seem to have this problem.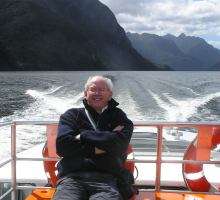 Geoff Smith
Hampshire, England
---
---
January 16, 2017
Q. My husband and I installed galvanized roofing as a shower surround. My question is, what are some ideas as to finishing the seams where the panels overlap so there are no hidden sharp edges?
Shelley Sweat
- Glen Saint Mary, Florida, USA