Live! From beautiful Pine Beach New Jersey: Welcome to the world's most popular metal finishing website
topic 13388
Galvanized roofing for bathroom shower walls
A discussion started in 2002 but continuing through 2018
2002
Q. In an inspired or ignorant moment, I thought it would look cool to use galvanized roofing (both corrugated and V-crimp) as paneling and tub surround in a bathroom. Do I need to put some kind of topcoat on it to keep it from corroding with the constant steam from the shower?
Thanks,
Stewart C
[last name deleted for privacy by Editor]
- Austin, Texas
---
2002
A. Unfortunately I think so, Stewart. Galvanized coatings are not considered a decorative finish: the galvanizing will protect the steel, but in indoor use where it is wet and has little opportunity to "breathe" and form tight carbonate complexes with the carbon dioxide in the atmosphere, the galvanizing itself may corrode with white rust ("wet storage stain"). So you probably need to put a lacquer or clearcoat on this, and it will be hard to get good adhesion without a pretreatment that ruins the metallic look. You could try scrubbing it down it with trisodium phosphate [linked by editor to product info at Amazon], then washing with vinegar before lacquering -- but don't bet the farm on the lacquer sticking well. Good luck.
Ted Mooney, P.E.
finishing.com
Pine Beach, New Jersey
---
2002
Q. All the paint experts I've talked to suggest that no kind of varnish/lacquer/urethane would adhere to galvanized. What about some kind of paste wax? Car wax?
Thanks,
Stewart C
[returning]
- Austin, Texas
---
2002
A. Hey Stewart,
You might want to try using Johnsons Paste Wax for hard wood floors. I had a similar posting for Galvanized counter tops; I got no response so I went looking. Johnsons says you can use this wax for metals. I waxed an area, and then put dabs of ketchup, soy sauce, water, vinegar and I let it sit over night. All of the above wiped clean the next day. Whereas on the unwaxed part it left some residue. Give it a try and see what you think.
Dwayne Hagan
- Pottsboro, Texas
---
---
2004
Q. I am installing galvanized roofing tin in my master shower and I was wondering what I would clean it with on a weekly basis to remove soap scum, etc. without damaging the tin?
Linda Tifft
home owner - N Las Vegas, Nevada
---
2004
A. I don't really think that's a great application for galvanized metal, Linda. Galvanized metal requires good natural ventilation to provide plenty of carbon dioxide in order to maintain a "tight" adherent corrosion product, and I would be afraid that you'll get white rust instead in a shower application.
But if you are determined, then Dwayne's recommendation sounds like a good one.
Ted Mooney, P.E.
finishing.com
Pine Beach, New Jersey
---
-- this entry appended to this thread by editor in lieu of spawning a duplicative thread
2005
Q. I am hoping to install a galvanized counter top in a mud room and would like to know if anyone has answers as to what type of sealant or finish should be used to protect it from stains.
Luke Puckett
homeowner - Scottsdale, Arizona
---
2006
Q. I'm writing in response to previous posts regarding using galvanized corrugated tin for shower walls. Some of these posts are quite old so I'm hoping that at least one of the attempted projects has been completed by now! Can anyone tell me whether or not you consider your project successful -- and if so, how did you prepare the galvanized tin for use in this water-y environment.

Thanks.
Dianne Graves
- Topeka, Kansas
---
2007
Q. I have read the postings and I am not certain there was a real response. I am wanting to utilize tin on my outside shower wall and the backsplash in my kitchen. Any response would be helpful!

Thanks,
Billy W. Sumrall
- Monticello, Mississippi
---
A. Hi, Dianne. I also would like to hear from people who have tried it rather than to continue to extrapolate based on book knowledge too :-)
Billy, there were responses that predicted lack of success for an indoor shower due to: 1). the galvanizing itself being unable to resist unsightly white rust in this wet but low airflow environment; 2). the unlikelihood of a durable lacquer or clearcoat being able to adhere to the galvanizing.
But an outdoor shower (plenty of air movement) is a very different thing, and indoor use in the drier environment of a kitchen might be fine too.
Regards,
Ted Mooney, P.E.
finishing.com
Pine Beach, New Jersey
---
December 1, 2009
A. I saw they used this in a magazine and am thinking of doing it in my bathroom they say to use Rust-Oleum Crystal Clear Enamel =>
before screwing them into place and they suggest using self sealing roofing screws and sealing with metallic caulk. I hope this helps. I have seen the use of the metal in restaurants and it looks really cute in the new modern ones.
Debbie Ingram
- Oklahoma City, Oklahoma
---
October 24, 2010
The article that has a picture and the process along with the materials are in the June 2009 Country Living Magazine.
Dianna Briggance
- Grand Rapids Michigan US
---
December 27, 2009
? Wow... do any of you have photos you can post. I am thinking of doing this!
Sec Tee
- San Francisco, California
---
March 8, 2010
A. I have a friend who did the galvanised in her kitchen. It rusted after about 4 years near the sink. About 1 foot out on either side where folks stacked the dishes.

I do not recommend it on a wet counter.

If you had a dry food prep area that would be different. Over by her microwave and over where she kept her toaster and coffee maker it still looks good.
Carol Vance
- Austin, Texas
---
March 20, 2011
-- this entry appended to this thread by editor in lieu of spawning a duplicative thread
Q. Can galvanized sheetmetal be installed on the walls in a kitchen or dining room as a wall covering / decoration where it can be touched by humans. will a/c or heating conditions affect the oxidation process? For instance condensation.
carl moore
homeowner - kerrville texas usa
---
---
June 29, 2016
I have an answer and a question...
A. I did have a galvanized metal countertop, manufactured and installed in my kitchen in 1995. It looked great. Not near the sink or any other moisture. The issue I found was that acidic foods would not just stain it, it also exudes a poison called antimony. Not good around food! I solved the problem by covering the counter with clear contact paper. I know it sounds weird but it totally disappeared and looked great! Of course I had to be careful with hot pans and always using a cutting board but I was very happy! I had a very cool kitchen island!

Q. My question is about the shower area as I am about to use corrugated metal for the walls of that. I need to know if anyone tried prepping and sealing theirs and did it work? Were you happy with it? I know that it's a rustic look that is not for everyone. I may try coating it with the window film that is used for Windows. Has anyone tried that? Thanks, in advance!

Bamma Kline
- Jonestown, Texas U.S.A.
---
June 30, 2016
! I just looked back on this thread. Every single one of the questions originates in US.
Can anyone explain the American obsession with using totally inappropriate materials and then endlessly worrying about them?
The rest of the world does not seem to have this problem.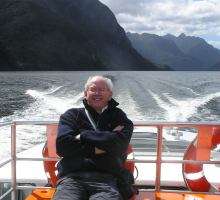 Geoff Smith
Hampshire, England
---

As Tommy Lee Jones told us, Geoff, the USA is No Country for Old Men :-)
Regards,
Ted Mooney, P.E. RET
finishing.com
Pine Beach, New Jersey
Striving to live "Aloha"
---
---
January 16, 2017
Q. My husband and I installed galvanized roofing as a shower surround. My question is, what are some ideas as to finishing the seams where the panels overlap so there are no hidden sharp edges?
Shelley Sweat
- Glen Saint Mary, Florida, USA
---
January 2017

A. Hi Shelley. Sorry that this advice is probably more applicable to a future reader than to you, but the best approach is probably rolled edges =>

Regards,
Ted Mooney, P.E. RET
finishing.com
Pine Beach, New Jersey
Striving to live "Aloha"
---
---
February 24, 2018
Q. I did the shower surround and a wash tub sink. Tub surround has held up well. I believe the best thing I did was to put a rainfall type shower head on a extender in shower. Minor amounts of water hit the walls. The wash tub sink bottom began to rust within a month. I currently am trying to repair by spraying with new galvanized paint, then used marine clear acrylic paint over that. Then decided to go a complete different direction and tiled the bottom on the tub with 1 in tiles. I made the sink slope so water will drain better. Time will tell if this will work.
Shirley fulton
- missoula, Montana


If you have a question in mind which seems off topic, please Search the Site