topic 13329
How to Blacken Cast Iron? Finishing of Cast Iron Farm Bell
An ongoing discussion from 1999 through 2015 . . .
(1999)
Q. I purchased a new cast iron farm bell that will be mounted outdoors. Is there a low maintenance finish that could be applied to minimize rusting? Would black oxide be durable?
Thanks.
Rich Lee
- Mansfield, Pennsylvania
---
---
Finishing of Antique Cast Iron Book Press
(2002)
Q. I am an antique collector and I recently acquired a 19th century cast iron book press for my wife who is an artist and art book maker. I have cleaned the dirt and surface rust off the device and want to apply a finish that stabilizes the surface but still leaves a patina. I don't want to apply any paint or lacquer. I have heard that rubbing bees wax onto the surface will work. Can anyone confirm that or are there any other suggestions? Any help would be greatly appreciated.
Andy J
[last name deleted for privacy by Editor]
- Chicago, Illinois
---
March 12, 2008
Q. I am looking to buy an antique hand book press 19th century. What should I expect to pay. Anybody know places to get one?

John
NC
john kline
- chapel hill, North Carolina
---
---
How to make cast iron black?
(2004)
Q. I would like to know, how to plating or anodizing to make cast iron BLACK?
Ronar Loo
Production - Jakarta, Indonesia
---
---
Refinishing Antique Cast Iron Pedal Scroll Saw
(2006)
Q. I have recently come into possession of an old cast iron scroll saw that operates like a bicycle. The piece is probably from the 1920's and is constructed of Cast Iron and Walnut Wood. The cast iron is coated with rust to varying degrees. I would like to refinish the piece, as it is very interesting, and am not sure the best way to go about this, as I am not experienced with refinishing metal. My first instinct is to get the cast iron frame clean, and I do not think I could do an adequate job with a wire wheel on my drill, so I was thinking some type of blast cleaning, but not sure what the best aggregate would be, or the level of cleaning, i.e. SSPC-SP10, etc. A friend had suggested taking the piece somewhere for an acid dip, but I do not have a good feel for how well that process works.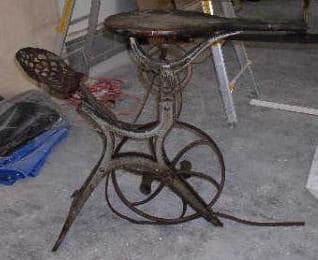 My questions are ultimately:
1) what type of cleaning would be recommended for a cast iron piece that fits in an envelope of roughly 60" L x 24" W x 48" H while assembled?
2) Is it recommended to disassemble before cleaning, as some of the original hardware is rusted/seized, but is otherwise suitable? 3) What types of finish other than painting would be recommended, I was initially thinking a black oxide and clear lacquer? 3) How is it recommended to locate and qualify a job shop that can provide both the cleaning and metal finishing for a part like this?
Jeremy Schweitzer
Consumer / Hobbyist - Bethlehem, Pennsylvania, USA
---
---
March 1, 2012
-- this entry appended to this thread by editor in lieu of spawning a duplicative thread
Q. I'd like to know what chemical solution I should use to antique new cast iron casters?
Denise Loewe
designer -
Harrisburg, Pennsylvania, USA


This public forum has 60,000 threads. If you have a question in mind which seems off topic to this thread, you might prefer to Search the Site