topic 13255
Stainless steel pipe for sea water?
A discussion started in 2002 but continuing through 2017
(2002)
Q. I am a project engineer at the Utility Projects of a petrochemical complex in Turkey. We are working on a project about feeding the fire water system with sea water under emergency. There will be a 50 m pipeline from the sea to the pump suction collector. This line will be full of sea water at all times. There will be couple valves on the line. We plan to choose stainless steel type 304 material for the pipe, A312TP304. Would it be OK against sea water? What do you suggest?
Mustafa Inamli
- Izmir, Turkey
---
(2002)
A. Stainless steel will corrode in seawater. The extent to which it will corrode and the speed of corrosion depends on many factors.
Good passivation after fabrication will help.
Avoiding close proximity to dissimilar metals will also help.
Electropolishing is better than simple passivation.
Avoiding an air/seawater interface in the piping is important so you should avoid the situation where the piping is partially filled for long periods.
Avoiding oxygen starvation in the piping is also important so if the pipe is to be left flooded at all times you should periodically change the water to avoid the situation where oxygen is depleted by bacterial action.
SS316 is better than 304. There are other stainless steel alloys that are even better such as AL6XN or Seacure but cost becomes a factor.
If other metal structures are nearby and immersed in seawater also, you should consider sacrificial zinc anodes. The design of such a protection system is more than I can help with in this public forum.
I hope these comments are of help.
Good luck with your project.
John Holroyd
- Elkhorn, Wisconsin
---
(2002)
A. Hi Mustafa!
May I recommend you use something that doesn't corrode!
You've got two viable alternatives. One is PVC, the other is HDPE.
Both would need concrete anti-flotation weights to hold them in place and to prevent movement in tidal surge, too. Both would cost far less than stainless.
I'm not too sure WHY you would want any valve on that line, certainly not two! An on/off one perhaps. But beware if that valve could be shut off or restrict the flow when the pump is operating!
You didn't mention the pipe diameter but I'd assume it would be well within the range of standard PVC pressure pipe whereas HD Polyethylene (fusion joining) pipe can be had on this continent up to 5 feet diameter!
If I had the choice I wouldn't use my favorite plastic, PVC but would select Polyethylene due to its flexibility and its more forgiving nature. May I also suggest you oversize your pipe leading to the pump connection as this would make the pump, under suction conditions, more efficient ... but as you are an engineer you've most likely realized that.
Lastly, should your line suck up any sand, HDPE is known in mining circles for its very good abrasion resistance in slurries... but sand would play hell with your pump!
Cheers !
Freeman Newton
White Rock, British Columbia, Canada
(It is our sad duty to
advise that Freeman passed away
April 21, 2012. R.I.P. old friend).
---
January 30, 2008
Q. Hi

My name is Amir from Malaysia currently studying in the University of Manchester.

My question is: Which materials and grades is the most suitable for piping for a raw seawater pumping service in an offshore environment?

I have been looking into Copper-nickel alloy (Incoloy) but cost will be an issue because this alloy is very expensive. I have also looked into carbon steel and stainless steel as well.

Any opinions? Suggestions?

Thank you,
Amir Latiff
student - Manchester, England
---
December 3, 2008
A. Why such hard thinking of using the stainless steel. You have another option very suitable for the corrosion, will not happen at all, with the flexible design and for a long term period (less maintenance of course!). You may choose GRE [glass reinforced epoxy] pipe.
Siti Mazniza
- Malaysia
---
February 26, 2010
Q. For 25 bar pressure and ambient temp 45 °C PIPE SIZE 8"&10" IN SEA WATER SERVICE.
PIPES ARE IN STAGNANT CONDITION FOR FIRE WATER SYSTEM. What material suits for better resistance to corrosion?
bhaskara rao Lanka
Technology support - Chennai- India
---
May 27, 2010
A. We are manufacturer of Stainless Steel Pipes, generally we suggest customer using type 316L, it is better than type 304.
Ruth Fan
steel company - Lishui, Zhejiang, China.
---
---
July 28, 2016
Q. Which pipe material is suitable for desalination plant?

1) There are four available types of piping materials: commercial steel, drawn copper, stainless steel and polyvinyl chloride. Select one and explain your choice.
kimberly kim
none - JB malaysia
---
July 2016

Hi Kimberley. Because you dismissed the earlier suggestions of GRE and HDPE without comment, and from the general form of the question, I think you posted your homework :-)
So a better approach might be for you to pick one of the four options, and explain your choice, and then the readers can be devil's advocates, allowing you to refine your answer until it is top notch.
Regards,
Ted Mooney, P.E. RET
finishing.com
Pine Beach, New Jersey
Striving to live "Aloha"
---
January 1, 2017
A. Kimberly,
My choice is pvc due to corrosion concerns as mentioned by OPs!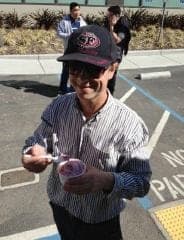 Blake Kneedler
Feather Hollow Eng.
Stockton, California


This public forum has 60,000 threads. If you have a question in mind which seems off topic to this thread, you might prefer to Search the Site