Live! From beautiful Pine Beach New Jersey: Welcome to the world's most popular metal finishing website
topic 13213
"Jeweled"/"Machine Turned"/"Dowel"/"Dot" Finish
Q. I'm looking for information on a finishing process that is NOT a plating process. It's more or less a polishing process. I believe it was referred to as "spot finishing" or "dot finishing", but that may have been someone's misnomer. When I saw it demonstrated, it was done with a manual Bridgeport mill. It involved a piece of wooden dowel that had been flattened on the end, and then a wet abrasive applied to make dots. The workpiece was moved half the diameter of the dowel each time a dot was made. The product was overlapping dots. I'm sure most people have seen this type of finish before. I'm searching for information on producing the same results with a CNC mill. If anyone knows where I can find this information, it would be an immense help. If anyone knows the correct term for this process, that would help as well, as it might steer me in the direction of the information I'm seeking.
Thanks!
Kurt Forsberg
- Tacoma, Washington
---
? Ummm, what is "jeweling" or "engine turning", Alex?
Ty Murphy
- Seattle, Washington
---
-- this entry appended to this thread by editor in lieu of spawning a duplicative thread
Q. I've been searching around for quite some time and can't quite figure out how to make the finish I'm looking for, in fact, I'm not even sure what the technical name of the finish is. what I want is the turned metal look, perfectly spaced circles sanded into the finish, overlapping, so it looks almost like a machined finish. An example of what I'm talking about can be found here:
www.axolotl.com.au/samples/content/browse_content15.htm
using a drill press and exact measurements will create the proper measurements between circles, but what I'm struggling with is the appropriate tool to use in the press. (I want to create this surface on aluminum) I've tried sandpaper, but it seems to just gum up with the grit from the aluminum. I've also tried 0000 steel wool [linked by editor to product info at Rockler], but it polishes the surface, as opposed to creating a pattern.

Any help is greatly appreciated, I'm stuck on this one and don't know where to turn! Thanks in advance.
Curt Thompson
hobbyist - Seattle, Washington
----
Ed. note: Sorry, Curt's link is now broken. But if you go to the Internet Archive at archive.org and plug in Kurt's URL you can see it.
---
A. Hi, Curt. That finish has a half dozen names from jewelled to dowel finish to machine turned finish to dot finish. We combined a few threads which illustrate it and discuss how to achieve it. Good luck.
Regards,
Ted Mooney, P.E.
finishing.com
Pine Beach, New Jersey
---
2006
A. From the description that I'm seeing, I think it is done with a circular wire brush about 30 mm diam, fitted into a drill stand and brought down to create an overlapping swirl effect ,used in the early days on race car dash panels so as not to reflect too much while driving, hope this is of some help, big Al
allen peters
- Adelaide Australia
---
---
To minimize your searching efforts and to offer multiple viewpoints, we've combined some threads into the dialog you're viewing. Please forgive any resultant repetition or failures of chronological order.
---
---
2003
Q. I AM A PROFESSIONAL MECHANIC. I AM IN THE PROCESS OF REBUILDING A 1955 PEDAL CAR FOR MY SON. I HAVE FABRICATED SEVERAL ALUMINUM PIECES FOR THE CAR. I AM TRYING TO FIND OUT THE NAME AND TECHNIQUE OF A FINISH I HAVE SEEN ON THE DASH BOARD OF SEVERAL OLDER CARS. THE FINISH LOOKS LIKE A SERIES OF BRUSHED CIRCLES THAT OVERLAP EACH OTHER. IF ANYONE KNOWS HOW TO PRODUCE THIS FINISH I WOULD APPRECIATE ANY HELP.
RYAN ROSSON
- MUSKOGEE, Oklahoma
---
2003
A. When I was a teenager this finish was on a number of dashboards, and surrounded the tail lights and rear end of Chevy Supersports (somewhere around 1963) and was considered the coolest special effect there was. I believe it's called a "dowel finish".
Ted Mooney, P.E.
finishing.com
Pine Beach, New Jersey
---
2003
A. Ryan:
Mr. Mooney is on target but I believe the correct terminology should be "Engine Turning". The work can be completed using a section of dowel rod and some lapping compound placed on the end of the rod and then rotated against the surface of the Aluminum to create the "swirl" effect. Check with the Eastwood Company, I believe they have a kit and maybe even an instructional video regarding this matter.
Good luck !
Bill Miller
- Shinnston, West Virginia
Ed. note: We don't know about an Eastwood video, but they have a kit and a pdf at https://www.eastwood.com/images/pdf/13117-13118Q.pdf
---
2003
A. Ryan, this is called "jeweling" and can be done with an abrasive stick (like a pencil eraser with grit in it) or a round wire brush and valve grinding compound or other abrasive grit. The size of the stick or brush will determine the size of the circles. The stick or brush is mounted in a drill and spun on the metal to make the circle. Each one overlaps the next to give the design. Some practice will give you the design you want. It takes a little time, but results can look great.
Good luck,
Ed Kay
- St.Louis, Missouri
---
2003
A. 3M has a 4 1/2" abrasive disc with a velcro backing. You use your 4 1/2" grinder. Turn it on first then as flat as you can touch the surface and press firmly. The back up pad costs roughly $20.00, they also sell the velcro pads. You can also produce a tight weave (or zig-zag) type pattern, Experiment and have fun.
Scott Roberson
- Las Vegas, Nevada
---
---
To minimize your searching efforts and to offer multiple viewpoints, we've combined some threads into the dialog you're viewing. Please forgive any resultant repetition or failures of chronological order.
---
---
2003
Q. Recently I have been experimenting with different finishes on my metal (10 gauge steel) cutout silhouettes and I have a question that I was hoping you might be able to help me with. I have seen, in art shops, metal silhouettes done where the bare metal is either ground or painted to a luster that allows reflected, light swirls to shine through from the metal. The piece is then coated with Candy colored paints and then clear coated. I can find no way to grind/buff/paint the metal in order to get the light swirls and not get the scratch marks from the grinder. Using a finer grit eliminates the scratch marks, but only makes the metal less reflective. Maybe this isn't possible using steel? Maybe is art is done with some other type of material? Any help you can give me would be most appreciated.
Thank You,
Leslie Norvell
Metal silhouettes - Janesville, California, USA
---
2003
A. I'm not 100% sure what you mean by swirls, so a photo would help. But maybe you mean that finish of a dozen names: dowel finish, machine finish, engine turned finish, jewelling, dot finish, spot finish, damascene, and probably more. It's something like what is shown here --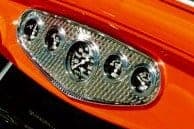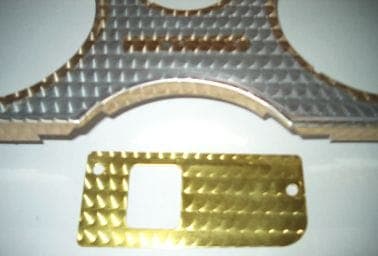 Ted Mooney, P.E.
finishing.com
Pine Beach, New Jersey
---
2003
A. If the picture that Ted sent is what your looking for, the most consistent and trouble free method I've found is using an abrasive imbedded rubber dowel commonly sold as "Cratex" =>
-- they work well for us.
If you're talking about larger swirls going in random patterns (as commonly seen in aluminum and stainless art furniture), example:
http://www.brucegray.com/htmlfolder/html_subpages/triad.html
-- then you can do this using a hand held disk sander with a foam backing (or modify an angle grinder). I've used 220 grit with good results. Many times they then coat it with polyurethane which after a few years yellows with age reducing luster, you can buy UV resistant polyurethane that never yellows and is crystal clear but costs upwards of $75 per gallon. Some artists use aluminum and anodize it for coloring, but thats another topic.
Jason Aube
- Flint, Michigan


If you have a question in mind which seems off topic, please Search the Site