Where the world gathers for
plating, anodizing, & finishing Q&As since 1989
Electrolytic cleaning

-----
June 2, 2022
In anodic electrocleaning does the surface area of the cathodes have an effect as to the current required?

I normally only supposed the work to be cleaned, e.g., that the positive charge is being applied to, has an effect on the surface area required.
Boris Siljanoski
- Perth, Western Australia
---
June 2022
A. Hi Boris. In most electroplating-related operations the recommended anode-to-cathode ratio is between 1/2:1 and 2:1 depending on the operation. In electrocleaning I think you can be anywhere in that range without it being critical.

The only 'incident' I ever saw in that realm was de-zincification in brass plating because of a very poor setup arrangement in anodic cleaning: The tank had submerged steel anode rods, and the operator decided he didn't really need to hang anodes from them. It concentrated all of the current onto the top row of parts on the plating racks and etched them.
Luck & Regards,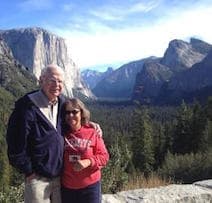 Ted Mooney
, P.E. RET
Striving to live Aloha
finishing.com - Pine Beach, New Jersey
---
---
---
Closely related historical posts, oldest first ...
2002
Q. How does cleaning take place in anodic cleaning & cathodic cleaning?
P. BHALAJEE
bicycle mfgr. - Chennai, India
---
2002
A. Well, in anodic cleaning, oxygen is released at the workpiece; in cathodic cleaning, hydrogen is released at the workpiece. In either case this results in a good scrubbing action as the gas bubbles form right at the surface of the part.
As far as the polarity is concerned, cathodic cleaning generates twice as many bubbles because the water which is being electrolyzed into gas is H2O -- two parts hydrogen to one part oxygen -- and it does not lead to tarnish or attack on sensitive non-ferrous metals, but it can lead to hydrogen embrittlement and deposition of a smut on the parts. There is a great chapter in The Garden State Branch AESF Electroplating Course Manual entitled "Fundamentals of Metal Cleaning" that covers all the implications. See our "must have" booklist.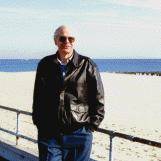 Ted Mooney
, P.E.
Striving to live Aloha
finishing.com - Pine Beach, New Jersey
---
2002

Your question is a little vague. What is it you want to clean? Why do you want it cleaned? Give us a little more to work with and I am sure you will get some useful answers.
John Holroyd
- Elkhorn, Wisconsin
---
2006
A. Electrolytic cleaning: means metal cleaning with the aid of an applied voltage potential in the presence of a medium which conducts electricity, wherein the metal is one electrode submerged in the electrolyte.

Cathodic cleaning: when the metal is connected as the negative electrode wherein it will be having an oxidation potential greater than the other electrode(viz. platinum). so we can clean steel by making it the cathode in an electrolytic cell where the anode is platinum and the electrolyte should be any current conducting solvent like CaCO3.

Anodic cleaning: when same steel is cleaned by connecting it as anode and cathode is copper which is having higher oxidation potential than steel in the same electrolyte (CaCO3).

Even for arresting corrosion they make the corroding element as the cathode by inserting another element as anode with a higher oxidation potential, and the corrosion of pipeline is averted and newly inserted anode will start corroding. This is termed as anodic protection.
Kailash Subramanian
metal processors - Chennai, Tamilnadu, India
---
---
October 27, 2015
Q: required amperage for an electrolytic cleaning tank with two cells to clean steel strip at process speed of 600 FPM, using reverse polarity rectifier 5000 amps with output of 24 VDC. Input voltage = 480 volts/3ph/60 Hz

maximum strip width = 60"
JORGE IBARRA
- IRVING Texas USA
---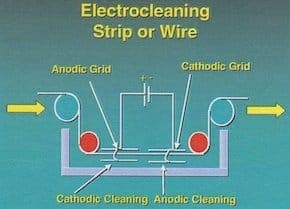 October 2015
A. Hi Jorge. The general guideline I always used/heard was 50 Amps/square foot minimum, but my experience was in rack plating rather than high speed strip lines. Your strip is five foot wide and presumably two-sided such that there is 10 square feet of surface for every linear foot. If your strip line uses cathodes 10 foot long (in the direction of travel of the strip), you would need 5000 Amps per the standards I am familiar with.
A question back to you: I thought it was conventional to use both an anode and a cathode in strip cleaning, per the attached graphic from the AESF Electroplating & Surface Finishing course.
Regards,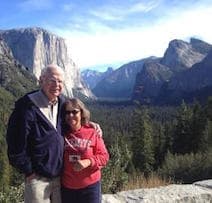 Ted Mooney
, P.E. RET
Striving to live Aloha
finishing.com - Pine Beach, New Jersey
---
---
Should I use nozzles for turbulent flow in electrolytic tank?
February 10, 2018
Q. Hello Gentlemen,

I have a question. In electrolytic tank, I want to install some nozzles to make turbulent flow for removing iron oxide easier. Is that correct? Please advise me.

Thank you so much.
Dinh Van Mao
Hoa Sen Group - Ho chi minh city, Vietnam
---
February 2018
A. Hi Dinh. When I started in the electroplating industry a long time ago, power washers of various sorts were a quite common process step; today they seem to be a real rarity in the USA but I don't know exactly what changed. Perhaps, either with the development of ultrasonics, the more widespread use of electrocleaning, or changes in chemistry, they have generally been deemed not worth the incremental cost anymore.
If you will tell us what chemistry you are employing (is it rust removal or is it actually degreasing/cleaning, and is it acid or alkaline), what kind of parts you are speaking of, and what your feelings are about ultrasonic cleaning, we can probably talk about it more deeply. Good luck.
Regards,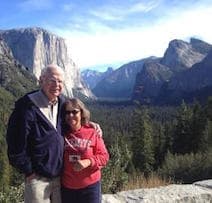 Ted Mooney
, P.E. RET
Striving to live Aloha
finishing.com - Pine Beach, New Jersey
---
February 12, 2018
Q. Dear Mr.Mooney,

I'm very thankful for your support.
I'm using Alkaline for our electrolytic tank at cleaning section of continuous galvanizing line, and I'm carrying out Galvalume and Galvanize (FH and CQ grade).
Please advise me if I increase turbulent flow in my electrolytic tank, then efficiency of cleaning will increase or not?
And please give me more information about ultrasonic cleaning, I have never seen that method. Is that method used in continuous galvanizing line?

Thank you so much.
Dinh Van Mao
[returning]
Hoa Sen Group - Ho chi minh city, Vietnam
---
February 2018
A. Hello again, Dinh. Although I've seen continuous coil lines a few times, it's not really an area that I've worked much in. Ultrasonics are often applied to more complex shapes, but can certainly be applied to coil; they produce sort of the same type of scrubbing bubbles as electrolytic cleaning except that do it through ultrasonic vibration of the cleaning solution which causes cavitation. Usually ultrasonics would be applied in an alkaline cleaning station which is not electrolytic, so they've very often used on cleaning lines for aluminum, where electrolytic cleaning cannot be used.
It seems to me that cleaning time is usually quite limited in a coil processing line, so I would think that turbulent flow might gainfully be applied ... but again I have no actual experience in it.
Regards,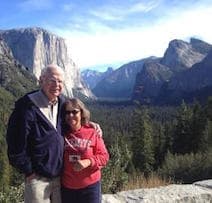 Ted Mooney
, P.E. RET
Striving to live Aloha
finishing.com - Pine Beach, New Jersey