World's #1 finishing resource since 1989
No login needed: Chime right in
topic 1367
Need help polishing hardened steel without introducing pits
1998
As an ever-growing part of my graduate work, I'm trying to produce thin, electrically isolating coatings on bearing-grade 52100 steel (bearing grade means ASTM A295).
A machinist friend (whose friendship I'm fast losing) and I are trying to reduce the height of all defects to 50 nm (2 microinches) or less on the surfaces of some four inch (100 mm) diameter disks. We sent the disks out for lapping, which seemed to replace scratches with pits 5-15 microns (0.0002" to 0.0006") in diameter and 0.3 microns deep. Polishing seems to help somewhat, but after we get to a point, we seem to be moving pits around rather than removing them.
I'd like to find out either
how not to introduce pits while making scratches less deep, or
how to eliminate pits already on the surface
Any suggestions would be much appreciated. If it helps,
we've tried both diamond sprays (4-6 micron and 0-1 micron) and pastes, all oil-based
we've polished by hand and on a small (8") metallurgical polishing wheel available to us
we've tried both napped (synthetic suede) and napless cloths.
Again, thanks for any help -- I'll answer any questions as best I can.
Dave Nickel
Purdue University
---
1998
Have you tried electropolishing? Doesn't the metallurgist sometimes use electropolishing to develop the grain of a sample, using various electrolytes? Graham's Electroplating Engineering Handbook (page 117) gives formulas for polishing of metallographic samples, I believe for the purpose of brightening them.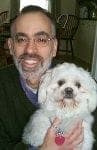 Tom Pullizzi
Falls Township, Pennsylvania
---
2001
Try using and mixing different grades of natural[very important] diamond powder with veg/olive oil and lap with bamboo. Synth diamond powders or paste can produce pitting. Also lapping is dam near an art. patience patience patience
Thomas L Malo
S.P. Carbide Die - Lewis Center, Ohio