World's #1 finishing resource since 1989
No login needed: Chime right in
topic 1335
Revealing grain boundaries in aluminum alloy 357
1998
Dear Madam, Sir:
Revealing grain boundaries in aluminum alloy 357.
Thusfar, I haven't found a way to reveal the grainboundaries in my aluminum alloy 357 micro-samples. I was told anodizing was the way to go. However, nobody I know seems to know what kind of anodizing solution I should use to reveal the grainboundaries, nor the minimum voltage necessary. I found dozens of etching and anodizing solutions which reveal the dendrites, but none of them revealed the grainboundaries (celboundaries).
I'm hoping someone could help me with this problem, or direct me to someone else. I would really appreciate this.
Thank you very much for your time.
Sincerely,
Nico DeSmedt
- University of Idaho
---
1998
The anodizing method that you have been advised about does not etch the grain boundaries, but does provide a method of showing a contrast between adjacent grains under polarized light illumination. The method that I have used is an anodizing method where well polished samples are anodized at 0.2A/cm2 (about 20V DC) in a solution of 5ml of HBF4 (fluoroboric acid) (Barkers Reagent) using a aluminum cathode for about 1 minute.
The anodized surface is examined using cross polarizers. Grains structure is very colorful variations of blues and reds. I have used this method successfully with 357 Al castings.
Another method for grain boundary delineation has been proposed recently by researchers from Kaiser Aluminum. This method utilizes special heat treatments and etching to reveal grain boundaries. See "Materials Characterization" March 1997 for details.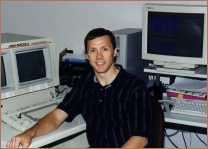 Larry Hanke
Minneapolis, Minnesota
---
1998
A wild guess here - something with sulfuric acid in it might work, perhaps electrolytically. I say this because sulfuric anodizing sometimes "brings out the grain". I know the standard 1/2% HF and Keller's reagent don't delineate grain boundaries.
John Ullman
---
1999
Some years ago an English aircraft propeller manufacturer used an inspection process where-in the propeller blades were highly polished (mirrow finished) and subsequently chromic acid anodized. After the blades were anodized an inspection was performed using a magnifying glass which the manufacturer referred to as "reading the grain boundaries". The purpose of the inspection was to pinpoint any rapid or abnormal change between boundaries which would indicate fatigue or stress risers in the blade. The alloy of the material of which these blades were manufactured was propriortary. I do not know if this technique would work for your needs. The manufacturer is Dowty Aerospace in Cheltenham, England. There is also a Dowty Aerospace repair facility in Sterling, VA.
Alan Cooper