World's #1 finishing resource since 1989
No login needed: Chime right in
topic 1329
Hydrogen Embrittlement of 301 Extra Full Hard SS caused by Electroplating.
1998
I am working an improving the fatigue life of small electrical "snap" dome contactors stamped from coil form, thin strip stainless steel. The material we have used in the past has been 302 full hard which has produced poor results. I have begun testing contactors produced with 301 extra full hard and have had great success. I produced samples from the un-plated material then I had the remaining material silver plated. (The plating process requires a nickel strike before silver. The material is plated for conductivity purposes. Apparently the natural passivity of stainless causes intermittent non-conductance.) After plating the material did not exhibit the same fatigue life, it had dropped substantially.
I have received some information on hydrogen embrittlement which could be the culprit. 301 extra full hard is cold worked reduced to about 50% and contains more martensite than the others in the 300 series. And as I understand it martinsite is susceptible to hydrogen embrittlement. I also understand that the effects can be alleviated by baking after plating which I will try in the near future. (However, my current plater does not have the capability to bake my coils after plating, therefor I need some help with a new source?)
Now that I've given the background here are my questions:
Does anyone know if there exists a vibratory type barrel plating operation that could silver plate the stamped parts non-electrically? I have heard of electroless nickel, is there an electroless silver? I need a vibratory means in an effort to keep the parts from stacking.
If a vibratory process is not possible, does anyone know a way to de-passivate the surface of the bare strip, thus alleviating the need to plate the material? And would the de-passivation last?
Does anyone know of a shot-peening process that can be used on these small parts? (I think I will need to incorporate a shot-peening process into this solution to get the fatigue life I am after.)
I would greatly appreciate any help for any of the points I have raised and questions I have posed.
Scott Niggemann
---
1997
Scott,
- Your parts become embrittled due to silver plating regardless of activation (Woods Nickel).
- Electroless nickel will also result in hydrogen evolution at the part surface, and - IS POSSIBLE ONLY WITH A DEPASSIVATION treatment - typically the same Woods strike. This would normally apply to E-less Ag, which to me is an exotic procedure.
- You absolutely need an embrittlement relieve bake regardless of plating procedure (except if you use mechanical deposition, which I do not know if it exists for silver).
We may run a test batch for you (with bake and using special "low embrittlement solution) - check out our ad here on finishing.com.
Max Stein
captive metal finisher - Montreal, Québec, Canada
---
1998
Scott:
Are you sure that your problem is hydrogen embrittlement? You can expect a drop in fatigue life with most metallic plating on high-strength stainless steel wire. Most plating materials will not have the ductility or fatigue strength of the wire. Cracks initiate in the plating due to the bending stresses, then propagate into the wire substrate.
Full hard 301 stainless steel has relatively low notch toughness, which will contribute to fatigue cracking from even minor surface flaws.
By all means, check out possible remedies to hydrogen embrittlement. You may also want to try an experiment with a fatigue test after stripping all plating from the samples before testing. Stripping will not diminish the hydrogen embrittlement, but will remove the crack initiation in the plating.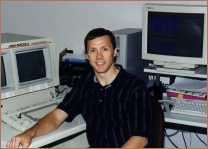 Larry Hanke
Minneapolis, Minnesota
---
1998
I don't think that H.E. resulted from electroless nickel strike and silver plating. The HE might arise from the acid pickling process before nickel strike. If HE is not a case for the decrease in fatigue life, Larry's response is a key to solve Scott's problem. At this moment, Scott needs a baking experiment to determine whether HE is the factor reducing the fatigue life of silver-plated SS coil.
Ling Hao
- Grand Rapids, Michigan