World's #1 finishing resource since 1989
No login needed: Chime right in
topic 1301
Nickel Sulfamate: Gone Matte
1998
I am running a sulfamate nickel bath in a deep tank mode for printed circuit boards. The nickel is followed by a soft (pure) gold bath for wire bonding applications.
The nickel bath has NO organics added, & generally plates as a semi-bright finish. Last week it went flat, matte. Can lead cause this at a 5 ppm level? I am also looking into organics, which can leach into the solution from the plating mask.
It is pretty much a text book bath:
130-135F
Nickel Sulfamate = 11-14 oz/gal
pH = 3.4-3.8
Nickel Bromide = 1-2 oz/gal
Boric Acid 5-7 oz/gal
Has anyone ever used ion exchange for lead removal?
Matt Byrne
Hadco
---
1998
Electrolyzing the bath on corrugated dummy cathodes at 5ASF (use good agitation), should remove lead quickly, but I don't think that 5 ppm will cause the problem.
A bath without organics is very susceptible to ppm quantities of some organics; continuous filtration over carbon dusted wound cartridges is effective, or you might need a carbon treatment.
If you can see the matte finish in a Hull Cell test, you could carbon treat a small quantity in the laboratory (5lbs/100 gallons), and also try a hydrogen peroxide (1 pint 30vol/ 100 gallons), 5 minutes, then carbon treatment (5#/100) for 30 minutes, filter through Whatman #40 in a Buchner funnel and vacuum flask.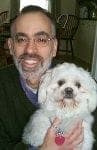 Tom Pullizzi
Falls Township, Pennsylvania
---
1997
Hi,
Sudden matte sounds more like copper contamination than iron. Unless you are using lead tape, a NO NO, how could you have gotten lead into it?
I would dummy plate it at 2 ASF with good agitation at a lower temp overnight or over the weekend. Also carbon treat it. Unless you have something unique in your system, you should not have to high pH and peroxide treat a sulfamate tank. The iron co plates out faster than it would normally get in with good plating practices and does not do much except make it harder.( yes, it does have some effect on the internal stress) .
Why such a high temp? You do not gain much above 130F, and you risk sulfamate breakdown at the heater surface unless you are using derated heaters or steam.
Jim
James Watts
- Navarre, Florida