topic 12926
Electropolishing with citric acid
A discussion started in 2002 & continuing through 2017
(2002)
Q. Does anybody have experience of electropolishing stainless steel and/or other metals using citric acid as one of the constituents of the electrolyte.
Mark Ambrose
Electrosheen - Clevedon, North Somerset, UK
---
(2002)
A. I haven't used the system, but I am aware of one with the following composition:
Citric acid - 55-60% by weight;
sulphuric acid - 15-20% by weight;
water - remainder;
Temp: - 83-93 °C;
Current:- 100-250 ASF
Apparently austenitic stainless steels can be run at slightly lower temperatures than ferritic stainless steel.
This recipe was published in "Surface Finishing of Stainless Steels", published by the Stainless Steel Development Association in London back in the 1960's.
I have periodically wondered how good it is, but suspect it has some major drawbacks because it doesn't seem to be in wide use now. With the environmental lobby both in Europe and the US, if it was as good as the sulphuric/phosphoric systems, I would have thought it would have superseded them ... However, I may be wrong!

Trevor Crichton
R&D practical scientist
Chesham, Bucks, UK
---
---
June 15, 2017
Q. Hello, I found this thread probably is old, but I'm currently working in the implementation of electro polishing for SS 304 in my work, I did an internet search and bought the Electroplating Engineering Handbook as recommended in multiple occasions.

We initiated doing lab trails with a phosphoric/sulfuric acid solution recommended in the Metal Finishing Guidebook

Phosphoric acid 63%
Sulfuric acid 15%

We ran some parts and achieved good results.

Then we tried Trevor's suggested solution of citric acid and also got good results. I attached some pictures so you can see the samples.

Sample 1 phosphoric acid -- Sample 2 original part -- Sample 3 citric acid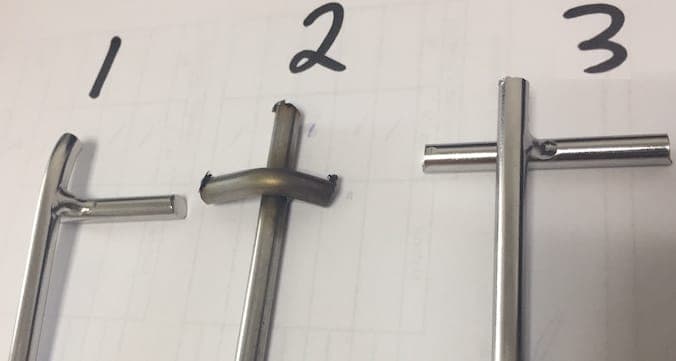 I have one question about the cathode, should this be made similar to the form of the part or it could be in the wall of the tank as in the anodize process? The parts are cubic banquets.

Regards
Yohands Rey
- Chihuahua, Mexico
---
June 2017
A. Thanks Yohands!
I've personally never seen conforming (shaped) anodes used for electropolishing. If anyone has, please chime in.
Regards,
Ted Mooney, P.E. RET
finishing.com
Pine Beach, New Jersey
Striving to live "Aloha"
---
June 20, 2017
A. I've seen lots of conforming cathodes used for electropolishing. Inside tubes, tight bends, inside corners, complex shapes.

Usually made of lead, just like hard chrome.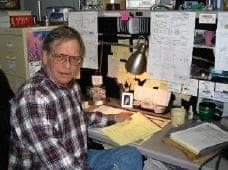 Jeffrey Holmes, CEF
Spartanburg,
South Carolina
---
July 6, 2017
Q. Hello,

I'm still working on the implementation of the electropolishing process; doing some testing. We electropolished a part that came up with several defects on the same part that you can see in the pictures (we use the citric acid solution):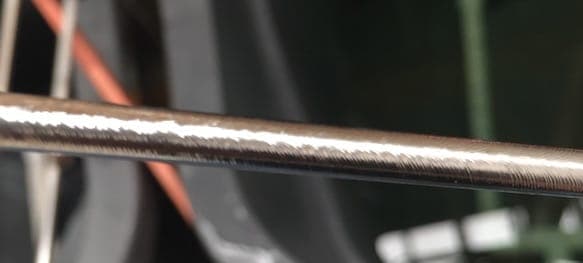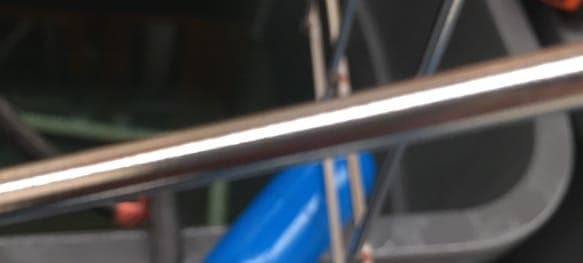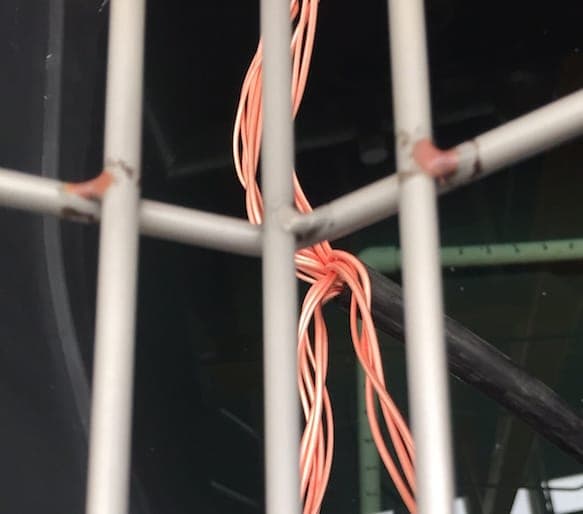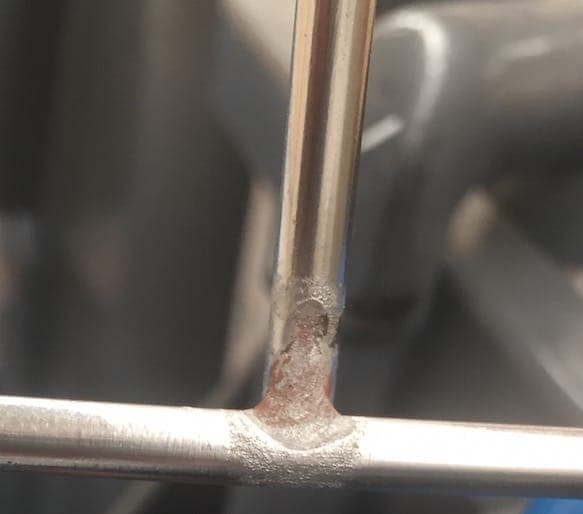 Temperature 160-180 °F
10 minutes electropolishing
copper rack
stainless steel cathode
current 100 Amps/sq ft
Probably not the exact concentration of the citric acid due to solidification in the bottom of the tank.

Im looking for some guidance maybe this defect also happens with the phosphoric process and the solution of the problem could be similar?

I will post the results after the implementation of your suggestion.
Yohands Rey
[returning]
KAT - Chihuahua, Mexico
---
August 16, 2017
A. Hi, Rey..
You should add Tergitol 1 ml/l to the solution and decrease current density!
Regards,
ASMER SIANTURI
- Bekasi, Indonesia


This public forum has 60,000 threads. If your question seems off topic to this thread, you might prefer to search the site: