Where the world gathers for
plating, anodizing, & finishing Q&As since 1989
-----
Electropolishing with citric acid

www.finishing.com is made possible by supporting advertisers like ...
this text gets replaced with bannerText

Q. Does anybody have experience of electropolishing stainless steel and/or other metals using citric acid as one of the constituents of the electrolyte.
Mark Ambrose
Electrosheen - Clevedon, North Somerset, UK
2002
A. I haven't used the system, but I am aware of one with the following composition:
Citric acid - 55-60% by weight;
sulphuric acid - 15-20% by weight;
water - remainder;
Temp: - 83-93 °C;
Current:- 100-250 ASF
Apparently austenitic stainless steels can be run at slightly lower temperatures than ferritic stainless steel.
This recipe was published in "Surface Finishing of Stainless Steels", published by the Stainless Steel Development Association in London back in the 1960's.
I have periodically wondered how good it is, but suspect it has some major drawbacks because it doesn't seem to be in wide use now. With the environmental lobby both in Europe and the US, if it was as good as the sulphuric/phosphoric systems, I would have thought it would have superseded them ... However, I may be wrong!

Trevor Crichton
R&D practical scientist
Chesham, Bucks, UK
---
---
"Electroplating Engineering Handbook"
by Larry Durney
from Abe Books
or

Affil. Link
Your purchases make finishing.com possible
Q. Hello, I found this thread probably is old, but I'm currently working in the implementation of electro polishing for SS 304 in my work, I did an internet search and bought the Electroplating Engineering Handbook →
as recommended on multiple occasions.

We initiated doing lab trails with a phosphoric/sulfuric acid solution recommended in the Metal Finishing Guidebook

Phosphoric acid 63%
Sulfuric acid 15%

We ran some parts and achieved good results.

Then we tried Trevor's suggested solution of citric acid and also got good results. I attached some pictures so you can see the samples.

Sample 1 phosphoric acid -- Sample 2 original part -- Sample 3 citric acid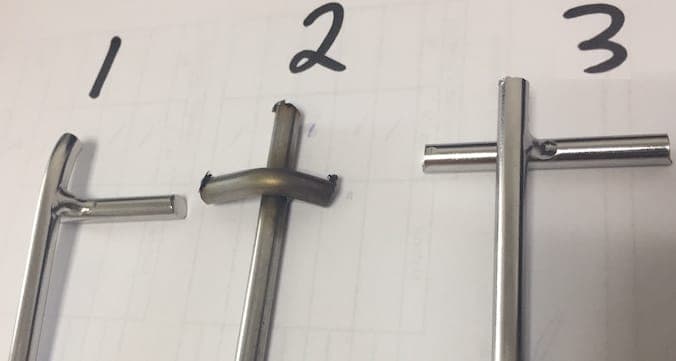 I have one question about the cathode, should this be made similar to the form of the part or it could be in the wall of the tank as in the anodize process? The parts are cubic banquets.
Regards,
Yohands Rey
- Chihuahua, Mexico
June 15, 2017
A. Thanks Yohands!
I've personally not seen conforming (shaped) anodes used for electropolishing. Would those who have, please chime in.
Regards,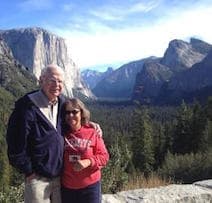 Ted Mooney
, P.E. RET
Striving to live Aloha
finishing.com - Pine Beach, New Jersey
A. I've seen lots of conforming cathodes used for electropolishing. Inside tubes, tight bends, inside corners, complex shapes.

Usually made of lead, just like hard chrome.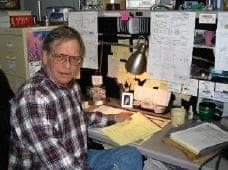 Jeffrey Holmes, CEF
Spartanburg, South Carolina
Q. Hello,

I'm still working on the implementation of the electropolishing process; doing some testing. We electropolished a part that came up with several defects on the same part that you can see in the pictures (we use the citric acid solution):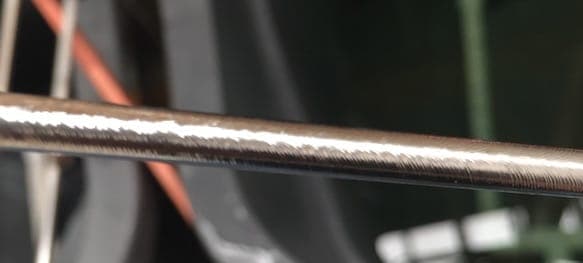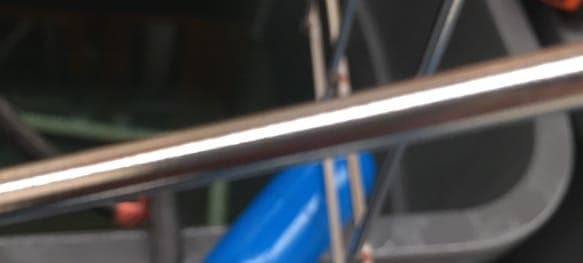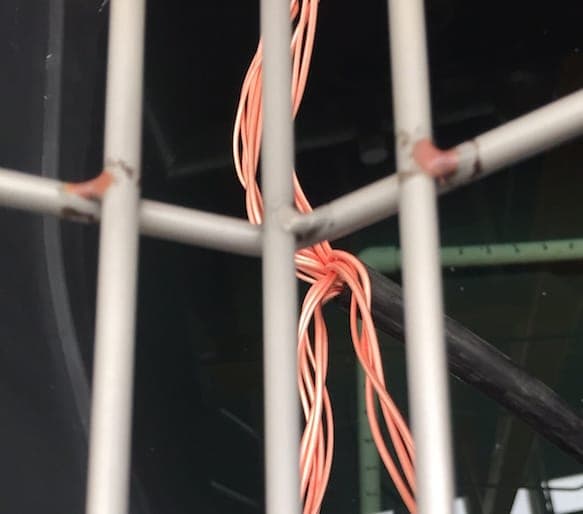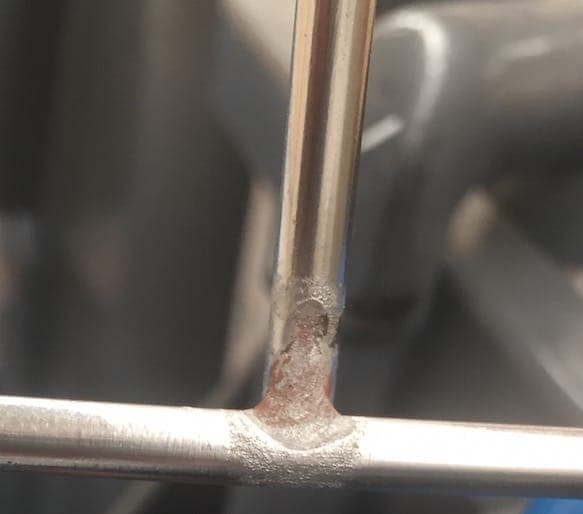 Temperature 160-180 °F
10 minutes electropolishing
copper rack
stainless steel cathode
current 100 Amps/sq ft
Probably not the exact concentration of the citric acid due to solidification in the bottom of the tank.

I'm looking for some guidance -- maybe this defect also happens with the phosphoric process and the solution of the problem could be similar?

I will post the results after the implementation of your suggestion.
Yohands Rey
[returning]
KAT - Chihuahua, Mexico
July 6, 2017
A. Hi, Rey..
You should add Tergitol 1 ml/l to the solution and decrease current density!
Regards,
ASMER SIANTURI
- Bekasi, Indonesia
August 16, 2017
A. Hi. I would not want to bet more than a cup of coffee because I'm not sure, especially with a citric acid bath that I'm not familiar with, but I think you need to increase the current density, not decrease it, because your final picture seems to show etching which is typical when current density is too low :-)

Luck & Regards,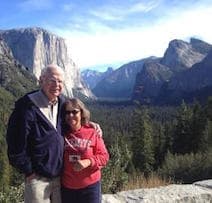 Ted Mooney, P.E. RET
Striving to live Aloha
finishing.com - Pine Beach, New Jersey



Tutorial:
(to provide context, hopefully helping readers more quickly understand the Q&A's)
Kris' posting contains a lot of good information on passivation of stainless steel with citric acid, but newbies should be alerted that he is offering information relevant to passivation of stainless steel, not electropolishing.
A. Yohands Rey was asking about Citic Acid treatment of 304 Stainless Steel. This is a late reply because I just now came by and then saw this question. I had been looking for the same information so as to clean 304SS after using 75% Silver solder + flux paste. Here is my summary of info I had collected this past week from several metal-business and enameling websites (the caps are mine, for emphasis to myself, but I decided to just leave them that way), so I hope this is still useful!:

For the Austenitic Stainless Family (which includes 304 and 316) you would use 10% BY WEIGHT of Citric Acid in distilled water, heated to 150 °F - immerse part(s) for 20 minutes, to 30 minutes MAXIMUM. You must also make sure the surface is METICULOUSLY CLEANED and well-rinsed with *distilled* water, THEN passivate, rinse, and dry.

Laboratory tests have indicated that citric acid passivation procedures were more prone to "flash attack" (black pitted corrosion) than nitric acid procedures. Factors causing this attack included excessive bath TEMPERATURE, excessive immersion TIME and ESPECIALLY bath CONTAMINATION, which is why the metal must be thoroughly cleaned BEFORE the acid treatment.
Kris Krieger
- Richmond, Texas USA
October 23, 2017
A. It's an interesting question. I've had lots of people ask me if my citric acid product can be used for electropolishing. I always encourage them to give it a try and let me know. Only one ever came back to me with a good report, and he achieved it by adding sulfuric acid to the citric.

I'm not sure replacing a phosphoric-sulfuric mix with citric-sulfuric is any real advantage as far as reducing the use of hazardous acids. The sulfuric is just as bad if not worse than the phosphoric.

Ray Kremer
Stellar Solutions, Inc.

McHenry, Illinois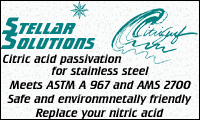 November 2, 2017
---
---
Q. What concentration of citric acid should be used in a 250 gal tank?
I'm trying to polish a thin SS sheet approx. 36" by 40" will a 100 amp 12v inverter be enough?
James Roll
Shop - TEXAS
February 20, 2023
A. Hi James. I don't think anyone here has suggested that they are familiar with electropolishing with citric acid alone; rather, with 55-60% by weight citric acid plus 15-20% by weight sulphuric acid.

Unfortunately your 100 Amp DC isn't even 5% of what you'll need. Your sheet is 10 square foot each side, 20 square foot in total; and as Trevor noted, 100 Amps per square foot would be the minimum required. You'll need 2000-5000 Amps. More bad news is that your thin sheet, depending on how thin it is, may not be able to carry sufficient current even if fed from all four edges. You might start practicing with a much smaller sheet.
Luck & Regards,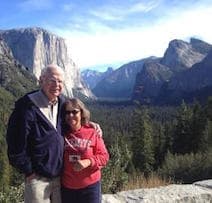 Ted Mooney, P.E. RET
Striving to live Aloha
finishing.com - Pine Beach, New Jersey