Not a lecture hall but a roundtable with a seat for you!
60,000 topics spanning 36 years. Education, Aloha, & Fun
topic 12570
Passivation of 316L SS per ASTM A380
A discussion started in 2002 but continuing through 2020
2002
Q. I currently need to passivate a partly electropolished 316L stainless steel process system.
The passivation procedure I intend following, in general, ASTM ASTM A380 [link is to the practice at TechStreet] -96, is Standard Recommended Practice for Cleaning and Descaling of Stainless Steel Parts, Equipment and Systems".
The passivation routine, following cleaning run is a mixture of;
4% w/w Citric acid
5% w/w Di-ammoniumhydrogencitrate
0,5% w/w Titriplex III(PH EUR, BP, USP)
90,5% Deionized water
at 80 °C for 1 hour.
I recollect being informed that the 5% di-ammonium hydrogen citrate can effect electropolished stainless detrimentally, and that electropolished stainless should be removed from the system before running the passivating solution. Although cannot see the reason obviously myself?
Could someone confirm or deny this effect?
Regards,
Jack Lyons
- Ireland
---
2002
A. Jack:
This formula should not hurt your electropolished surfaces. There are better formulations for doing what you want, however, that are available on a proprietary basis.
You should be using ASTM A967 / A967M [affil. link to spec at Techstreet] for passivation specification, not ASTM A380 [link is to the practice at TechStreet] is just a recommended practice. It is also quite out of date and needs to be updated. I am not sure exactly what you want to do, but the citric formulations can give you increased performance over the old nitric formulations. Let us know if we can help.
Best regards,


Lee Kremer
Stellar Solutions, Inc.

McHenry, Illinois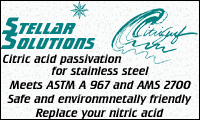 ---
A. Hello Jack,
I think you may be thinking of ammonium hydrogen difluoride which is often used in place of hydrofluoric acid in pickle solutions. This would attack electro-polished surfaces and is not the kindest way to treat them. I agree with Lee that what you are proposing should not be a problem with the EP'd surfaces.
John Holroyd
- Elkhorn, Wisconsin
---
A. Jack:
Never use Ammonium Bifluoride on Electropolished Stainless Steel. If you let this solution inside your S.S. 316L Electropolished system it will start to get a blueish coloration, indicating the damage done to the electropolished surface. In the past we used ammonium Bifluoride flakes at 10% concentration for descaling purposes but we discontinued this practice for the same reason, it is very harmful, toxic and causes damage to this surfaces.
Hope this will help
Julio C. Nazario
- San German, Puerto Rico
---
August 6, 2008

INTERNAL PICKLING & PASSIVATION FOR SS SPOOLS?

DEAR SIR,

I WOULD LIKE GET CLARIFIED FROM THESE PASSIVATION METHOD AS I NEED FROM YOU IS WHAT RECOMMENDED PROPORTION OF WATER TO CHEMICAL SHOULD BE MIXED IN A BATH FOR IMMERSION TO PICKLE & PASSIVATION OF THE SPOOLS & WHICH WATER SHOULD BE USED.

TANVEER PATIL




PROJECT ENGINEER - RUWI, MUSCAT, OMAN





---

August 9, 2008

Hi, Tanveer. To my knowledge it is not possible to do a combination pickling and passivation. I believe you must pickle the spools with an acid which contains fluoride in some form -- often a standard nitric-hydrofluoric pickling acid or pickling paste, and follow this either with electropolishing or with nitric acid passivation or citric acid passivation to the standards discussed above. You do not need super quality water for these processes; DI or RO water will be fine.

Usually it is best to send the spools to a metal finishing shop which is already experienced in and equipped for the process. The spools are probably too expensive and important to risk to trial & error in a training program. If the piping system is already assembled, there are service companies which specialize in on-site pickling & passivation projects. Good luck.

Regards,




Ted Mooney, P.E.




finishing.com - Pine Beach, New Jersey




Striving to live Aloha




---
---
When does nitric acid need replacement when Passivating SS 316L?
February 4, 2020
Q. Hello,

We are doing cold drawing of SS 316L grade tubes and at final stage we perform passivation, mainly to remove iron contamination. Can anyone suggest how can we determine whether nitric acid bath needs replacement.
Also, post passivation, neutralization is necessary?
bhavesh parikh
temptek technologies - GANDHINAGAR, India
---
February 10, 2020
A. Hello,

Keep your Iron at 2% maximum and have good rinsing after. pH in final rinse should be between 5-8

Good Luck,
Micheline Forth
Edwards Interiors - Rincon, Georgia USA
---
February 12, 2020

Q. Thanks Michelene.
Any idea about detecting iron concentration in nitric acid?


bhavesh parikh

[returning]




temptek technologies - Gandhinagar, Gujarat, India





---

February 2020

A. Hi cousin Bhavesh. It probably seems to you that your follow-up is just different aspect of the same topic, but the only way readers can find the relevant info here without reading all 60,000 threads is by striving to maintain different threads focused on different topics :-) Thread/topic 36868 already addresses "Procedure for analyzing Iron in a Passivation solution", and we don't want the people reading that thread, to also have to scour the whole site to find this one, so please review 36868 and post there if you still have questions.
Thanks!

Regards,

Ted Mooney, P.E. RET

finishing.com - Pine Beach, New Jersey

Aloha -- an idea worth spreading
---
June 25, 2020
A. Parts that I have run have exhibited noticeable aesthetic changes after being processed through solutions in which the nickel ion concentration exceeds 30 g/L.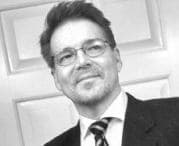 Randall Fowler
- Fowler Industrial Plating, LLC
Cleveland, Tennessee, USA