topic 12414
Powder coating vs. high build epoxy paint
I would like to know the pros and cons of a painted high-build epoxy finish on exterior steel balcony railings versus a powder coated finish.
John Heili
- Portland, Oregon
---
Hi John,
Stay away from any epoxy based coating for exterior work. It tends to chalk in the sunlight. An acrylic would be a better choice, but it might be difficult to achieve the depth like you would expect from a high build coating.
Hope that helps,
Jake Koch
G. J. Nikolas & Co., Inc.
Bellwood, Illinois
---
As you might expect from my company name I would push for powder as a viable topcoat. There are many excellent liquid topcoats available and have been used in this type industry for many years. I would suggest acrylic if using liquid. Powder is a perfect topcoat for this type environment. You would probably not want to use epoxy for either liquid or powder because its chemistries make it chalk prematurely in uv or sunlight. This does not mean that its performance will be diminished, only it's cosmetic appearance. A good TGIC powder will give years of service to a properly prepared surface. For a few bucks more per pound of powder, you can change the powder chemistry to super durable. This is top flight for any outdoor usage of the type. Powder's performance hinges in the substrates pretreatment and must be applied within a shop and brought to the field and assembled. Liquid on the other hand still needs proper pretreatment, but the paint can be applied in the field if necessary. Make sure you check a laws regarding application of this material in the field.
Bob Utech
Benson, Minnesota

A Guide to High Performance Powder Coating
by
Bob Utech
[link is to Amazon]
---
October 16, 2009
Hello,

Regarding painting, you need better anti corrosive properties, which you will get with high build epoxy. You can paint epoxy high build with top coat of aliphatic Poly urethane paint which will have better exterior durability.
Mody, India
E A Mody
consltanat - Mumbai, India
---
---
Epoxy vs. powder coat vs. vinyl dip on outdoor metal
October 11, 2013
Q. I am making a series of bike baskets and am debating the best way to finish them.

The baskets are wire and mesh like these: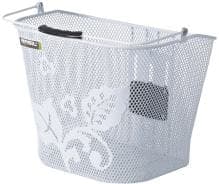 In the past mesh baskets like these were sold as epoxy coated. I have used one of the epoxy coated baskets for 5 years with no chalking or fading. Now it seems that most of these baskets are being powder coated and some even vinyl dipped.

I have two projects one is steel mesh and the other aluminum wire. They both need to be weather & UV resistant(may sit outside on a bike most of the time)and durable (some people put heavy locks or other items in these baskets that bounce around when riding). The standard life expectancy is 5 years.

My inclination is to epoxy coat as it gives a bit of a rubbery texture that dampens and noise or rattling when riding however I am curious what expert finishers might suggest.

I have also heard people epoxy coating with a Urethane top coat.

Your suggestions would be appreciated.
Emma Lee
product designer - Toronto, ON, Canada
---
October 16, 2013
A. Hi, Emma.
I have an expanded metal patio set that survived 14 years of year-round outdoor exposure on my deck on a salt water lagoon. It was properly phosphated, e-coated, and polyester powder coated. I'm convinced that that is also the best finishing option for your expanded metal bicycle basket.
There will be burrs, pits, and hard to reach spots on those baskets where no liquid or powder will offer you the coverage of e-coating.
Regards,
Ted Mooney, P.E.
finishing.com
Pine Beach, New Jersey


This public forum has 60,000 threads. If you have a question in mind which seems off topic to this thread, you might prefer to Search the Site