topic 12403
Passivate NiTi "shape memory" material
I am a maker of medical devices. I am starting a new project using NiTi as the material. One of the queries is to passivate the material after electropolishing.
I need help to understand what is meant by passivation in this material. I am not clear as to what the chemical process entails with passivation of NiTi.
I have done a search of the internet on the subject. I have not found any links or references with respect to this subject in the detail as mentioned above.
Your help is very much appreciated.
Fred Garcia-Cartaya
- Miami, Florida
---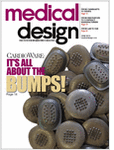 Provides design and manufacturing professionals in the Medical Device Industry with cutting edge technical and market information they need to develop, manufacture, and bring to market finished devices in today's fast paced and cost conscious medical device market.
Subscribe FREE
(USA & Canada)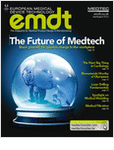 The only trade journal designed exclusively for manufacturers of finished medical products. Written by leading experts in their fields, European Medical Device Technology's peer-reviewed articles cover a wide range of technical and regulatory topics.
Subscribe FREE
(Europe, Turkey, Israel)
Fred,
Unlike mechanical polishing the electropolishing process forms passive surface film of 0.1 micron thickness, resulting in corrosion resistance. This means that electropolishing process already works as passivating process. If the requirement of medical community is to obtain much thicker passivating film on Nitinol implants, then process can be slightly modified to increase thickness of such layer, but I doubt that there is a need. We electropolish Nitinol in solution based on salts, not acids, thus making it possible to better control the process, obtaining high precision polishing.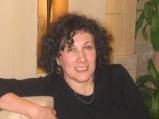 Anna Berkovich
Russamer Labs
Pittsburgh, Pennsylvania
---
Titanium is highly reactive but passivates readily on exposure to atmosphere. The reaction is similar to that of stainless steel. The essential prerequisite is good cleaning. Electropolishing cleans the surface, removes contaminants and exposes the surface to oxygen resulting in a very passive surface.
John Holroyd
- Elkhorn, Wisconsin
---
Dear Fred,
I am supporting the answer of Anna Berkovich. Do not see any sense to passivate Ni-Ti.
Andrey Igolin
- St.Petersburg, Russia
---
December 23, 2008
-- this entry appended to this thread by editor in lieu of spawning a duplicative thread
What type of acid and concentration is best for passivation of Nitinol
Terry Peterson
product designer - Plymouth, Minnesota


This public forum has 60,000 threads. If you have a question in mind which seems off topic to this thread, you might prefer to Search the Site