topic 12380
Ferric Chloride resistant SS grade
2002
Hi, we are trying to spray Ferric Chloride in a tank to improve our results with etching brass. Is there a stainless steel grade that we can use for the shaft of the pump that will resist the effects of the acid? The only other metal we know of is titanium, but we don't want to go there.
Thanks for you advice.
Wayne Gaybba
- Cape Town, South Africa
---
First of two simultaneous responses2002
Hi Wayne,
It sure helps to know just WHAT type of pump you have!
Some centrifugals can come equipped with CPVC covered shafts (the immersion type) but why in the heck use a stainless pump (shaft etc)when there are some good plastic pumps around? ... I'm thinking, re Ferric Chloride, of PVC, CPVC and, I believe, PP
Were you to use photoresist as well as Ferric Chloride, I'd opt only for PP.... but then I don't know what you are processing.
Surely your pump supplier (providing he/she is impartial and not 'tied' to stainless and metal pumps) could come up with a helpful answer, eh?
May I suggest you get a chemical resistance chart (of metals and for plastics)... this might help you, too.
Cheers!
Freeman Newton
White Rock, British Columbia, Canada
(It is our sad duty to
advise that Freeman passed away
April 21, 2012. R.I.P. old friend).
---
Second of two simultaneous responses2002
Yes, there are such grades of stainless steel. For any particular grade, there is a critical temperature below which there is no attack and above which there is considerable attack. What would be the temperature of the stainless steel and ferric chloride?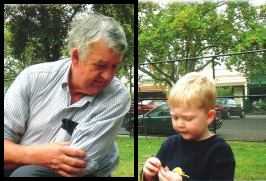 Bill Reynolds
consultant metallurgist
Ballarat, Victoria, Australia
We sadly relate the news that Bill passed away on Jan. 29, 2010.
---
(2004)
We manufacture both metallic and non-metallic pumps and conduct a lot of business pumping Ferric Chloride for both metal finishing, as well as Water Industry.
Polypropylene is quite suitable, for temperatures up to 60-70'C, and ETFE for temperatures exceeding that, with a max of 120'C.
Ferric being a particularly nasty liquid is absolutely ideal for a magnetic drive pump to avoid possible leakage to environment - but be careful with cheap magnetic drives as the SG of Ferric is quite high, and cheap mag-drives usually means cheap magnets which will slip and de-couple.
Ashley Fenn
- England
---
2007
We use air-powered diaphragm type pumps for all acid moving/spraying operations - no acid/metal contact at all. For surge free spraying, an optional surge arrester can be attached to give even flow rate.

(My statements are in no way endorsed or should be linked with my employer's opinions)
Mark Edwards
- Australia
---
January 13, 2008
Both options will work and are quite suitable, just one differential between the two options, Air operated Diaphragm pumps will give a pulse flow, while the mag-drive will give a smooth flow, both have advantages and disadvantages. For chemical milling applications for example, a smooth flow is best, mag-drive pumps have been used in the Industry for many successful years.

Also, you will find that a mag-drive centrifugal, by design, will give longer operational life than AOD - this stuff is not the nicest when you have to repair pumps which have been exposed to Ferric.

Hope this helps.
Ashley Fenn
- Northants, England
---
February 25, 2011
I Think everybody forget here to answer the actual question
You can use SS316 L
But I will vote for titanium
good luck
Ajay Wadhwa
- New Delhi, India


This public forum has 60,000 threads. If you have a question in mind which seems off topic to this thread, you might prefer to Search the Site