topic 12284
How to get cornstarch from banana
I have a question... How could you get a cornstarch made from banana? It's my teacher's question. Is it possible? Or not. Please answer my question a.s.a.p.
Arvin Galaman
- Manila
---
First need a copper iridium rice-pulling coin.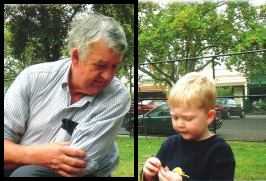 Bill Reynolds
consultant metallurgist
Ballarat, Victoria, Australia
We sadly relate the news that Bill passed away on Jan. 29, 2010.
---
Bananas are loaded with starch. If you were to extract the starch from a banana wouldn't it be banana starch?
If you want to fix your teacher try this for an answer.
Transfect the genes for starch production from a corn seed to a banana seed. Grow the banana seed into a mature plant. Harvest the bananas. Eat one or two and extract the starch from a couple of others. The resulting starch will (theoretically) be corn starch though it will still taste of bananas. :)
John Holroyd
- Elkhorn, Wisconsin
---
Ooops
My daughter came across this and pointed out that bananas do not propagate from seed. Yeh, I knew that.
Don't kids love it when they can catch the parents out?
OK then lets take a cell from the banana plant, do gene transfection as before. Propagate the single cell into a full grown banana tree using tissue culture and you are back making corn starch from a banana plant.
John Holroyd
- Elkhorn, Wisconsin
---
You can't get cornstarch from banana. What you can get from banana is banana starch. Cornstarch is the kind of starch you get from corn.
Guian Angelo
- Dumaguete, Neg. Or., Phil
---
Starch is starch. If the banana is not too ripe, you will find starch.
Tom Pullizzi
Falls Township, Pennsylvania


This public forum has 60,000 threads. If you have a question in mind which seems off topic to this thread, you might prefer to Search the Site