topic 12234
Re-grain weld area on 300 series stainless steel to a #4 finish
Our firm's custom metal department has an issue presented by a client regarding "all surfaces and edges to be of a consistent finish". The material being used is 304 #4 finish stainless steel. We have had No issue with our metal finishing for the food service industry or even most architectural clients. This particular client is especially fussy. We always endeavor to give the best finish but have always wondered if there is a process available that will help us achieve a truly blended #4 finish. Of course, every mill has it's own version of this grade and that is the real dilemma. We are even open to considering regraining an entire piece of material after welding and before forming if necessary. Our suppliers have really been of no help. Is there a practical process or piece of machinery available that someone out there is aware?
Dennis Terhove
- Calgary, Alberta, Canada
---
As you stated, surface finishing seems to only apply to the end customer or a Q.C.inspector who has a some kind of sample to reference visuals. In other words, these standards seem to be variables. The best way to measure surface finish is via RMS/Rq. This may not answer your question properly; however, about the best way to modify materials to these questionable standard is to use a non-woven wheel. Your results will also vary depending on the hardness of the metal and the composition of the non-woven wheel. That's about the best I can do for you, the rest is a learning curve and/or customer relations.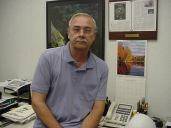 AF Kenton
Hatboro, Pennsylvania
---
We have had good luck regraining SS parts with a machine supplied by Suhner Company. It is basically an industrial strength "Dremel [linked by editor to product info at Amazon]" tool with interchangeable heads and finishing pads. They have a website. No connection other than a satisfied customer.
Dan Weaver
- Toccoa, Georgia


If you have a question in mind which seems off topic, please Search the Site