topic 12131
Punch Polishing
We manufacture punches for the metal stamping industry and have a job that requires a 16 rms polished finish. If we do no have a gauge to check this with, how would you compare this finish to a common part. eg: the same as a valve stem in a car? smooth as glass? We usually polish with a buffing wheel but are never sure what is expected for different rms finishes.
Thanks,
Ken Weiler
precision products - Waterloo, Ontario, Canada
---
Not sure how to answer your question. A 16 RMS is not a very fine surface finish. It is a good quality finish for secondary chemical plating processes. A profilometer will instantly tell you your RMS. Comparables are first, normal mill steel finish is 35 RMS, if refined or worked in a mass finishing system using a coarse ceramic preformed media shape, about the best results would be about 22 RMS. Using a fine to medium composition from coarse, you may achieve close to a 16 RMS. You may require a 3 step process. Depending on the size and aggressiveness of the deburring system this can take anywhere from about 30 min./cycle to 4 hours. There are a lot of variables here.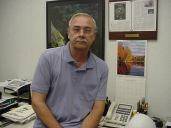 AF Kenton
Hatboro, Pennsylvania


If you have a question in mind which seems off topic, please Search the Site