topic 12077
Nickel plating removal from brass
I have a brass object that has been nickel plated. It is possible that it has been silver plated and then nickel plated. Is it possible to remove the nickel plating? If so, how? Crazy "I can do it in my garage" ideas are welcomed and even encouraged, of course any input is much appreciated
Timothy Michael Anzalone
- West Vally, New York
---
Timothy,
That undertaking is usually accomplished using alkalinity and ammoniacal chelating agents. You might have some success by preparing a solution as follows (you should wear eye and breathing protection if you do this):
1. Fill a plastic, 5 gallon bucket to about 2/3 capacity with scalding hot water.
2. Slowly blend in about a gallon of liquid drain cleaner (you know the kind I'm talking about).
3. Slowly blend in about a half gallon of pure ammonia.
This solution should strip the nickel deposit. There are two problems associated with this procedure. You will have to keep the solution hot (around 150-170 degrees F), and you will have to keep adding ammonia, as it will tend to gas off with heat.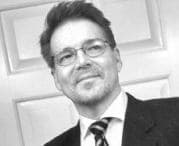 Randall Fowler
- Fowler Industrial Plating, LLC
Cleveland, Tennessee, USA
---
Thanks, Randy. Just a reminder to Timothy about the kind of liquid drain cleaner you are talking about, because it can be dangerous to mix household cleaning ingredients. Anyway, Randy means the traditional sodium hydroxide or potassium hydroxide drain cleaners like Drano or Liquid Plumber. You need to be careful today because they are also selling sulphuric acid drain cleaners, and that is not what you want; mixing strong acid with ammonia could be a serious danger.
Ted Mooney, P.E.
finishing.com
Pine Beach, New Jersey
---
Ted, thanks for the clarification. Yes, I mean the one(s) which contain sodium hydroxide or potassium hydroxide. Timothy, please read the label carefully before attempting this procedure. What is the common phrase? "Don't try this at home"? (So if you do, go over to a neighbor's house!). OK, sorry, just trying to be funny.
Randy Fowler

- Fowler Industrial Plating, LLC




Cleveland, Tennessee, USA



---
On a similar line of questioning, let me pose one. I have a friend who is trying to remove nickel plating from a brass surface. He cannot let acids get under the brass, or it will ruin the item. Right now he's using a polishing compound, on a brass buffing wheel. It works, but is very slow. Is there a better, faster way?
Steve Cunningham
Antiques - Houston, Texas
---
Hi, Steve. There are proprietary nickel strippers that are designed to remove the nickel without substantially affecting the brass. See the banner at top right corner of this page. But I do not know whether they will sell this stripper to individuals like your friend because, perhaps depending on the toxicity of the chemicals, some companies may have stewardship and liability issues permitting them to sell only to industrial addresses.
Regards,
Ted Mooney, P.E.
finishing.com
Pine Beach, New Jersey
---
I have a vintage polished brass searchlight. A prospect claims that it was originally coated with nickel. There is no evidence of this. He wants to know how the nickel was removed.
Can you answer this?
Thanks,
Joel Jacobs
MARINE EQUIPMENT - Ft. Pierce, Florida
---
August 19, 2009
In Randy's response to Timothy, won't the ammonia damage any exposed brass or brass in areas where the plating is thin?
Rob Moore
- Enterprise, Alabama
---
August 20, 2009
Hi, Rob. I think you are correct that ammonia isn't really good for brass, and also darkens it. You wouldn't do this on a structural component, nor on a very delicate engraving or filigree. Proprietary metal finishing chemicals are invariably better than household chemicals, but this question was posed in terms of a "do it my garage" situation.
Regards,
Ted Mooney, P.E.
finishing.com
Pine Beach, New Jersey


If you have a question in mind which seems off topic, please Search the Site