topic 12056
Will a penny rust faster in an orange, lemon, or lime?
I want to find out if a penny will rust faster in an orange, lemon, or a lime? I'm 12 years old and I am doing this for a science fair project at my school please help!
Beanca Buorris
- Chas, South Carolina
---
Providing that your science project isn't due tomorrow, I'd suggest going to the grocery store and getting an orange, a lemon and a lime and doing the experiment yourself. Generally speaking, projects are for the students to do themselves so they will learn the relevant information. I will give you one hint though - each of your fruits are acidic in nature. Now go find the relationship between acids and rust.
Dan Brewer
chemical process supplier - Gurnee, Illinois
---
Hello,
I guess you aren't going to find out until you do it yourself! Use pennies minted after 1984 otherwise you will have varying test results because pennies were minted with different alloys before this year. You are testing citric acid's effect on the penny, as well as different concentrations of this acid in the different fruits. Citric acid can be found in all sorts of fruit, it's also known as vitamin C - but I'm sure your teacher has explained all of this to you, where else would you come up with an experiment like this?
Jake Koch
G. J. Nikolas & Co., Inc.
Bellwood, Illinois
---
Sounds as though you need three pennies and three pieces of fruit, so that you can do the experiment and find the answer.
Citric acid and vitamin C are two of the thousands of substances present in citrus fruit. Vitamin C is also known as Ascorbic acid. Citric acid has no similarity to, or chemical connection with, Ascorbic acid.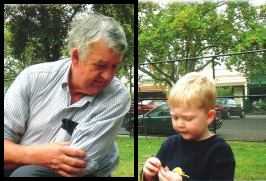 Bill Reynolds
consultant metallurgist
Ballarat, Victoria, Australia
We sadly relate the news that Bill passed away on Jan. 29, 2010.
---
A penny won't rust; it's made of copper.
Jon Quirt
- Fridley, Minnesota


This public forum has 60,000 threads. If you have a question in mind which seems off topic to this thread, you might prefer to Search the Site