topic 12052
Bead blast for alloy wheel polishing?
I am currently attempting to polish a set of deep dish alloy wheels. Due to the design of the wheel I am having great difficulty is getting the casting grain off the end of the spokes, where they meet the deeply dished rim. I have an 8" polishing wheel, but obviously this is of no use for this application. I also have a flexi-shaft tool, but I find that using small headed rotary tools for roughing tends to take little 'scoops' out of the workpiece which will be visible when polished.
I have a large compressor and grit blasting gun, could I use this in conjunction with grit or beads to speed up the polishing process and then buff by hand? If so, what beads/grit should I use?
Thanks
Paul Horrocks
- York, UK
---
Paul
You have a lot of hard work ahead of you if you go down sand blast street. I have a lot of experience in polishing alloy wheels (cars and bikes).
First of all you must understand what is happening when you polish metal such as alloy.
When you cast and machine alloy you leave the pores wide open,thus letting water and all kinds of stuff into the metal,and we all know that when water gets into alloy it starts to grow(that white powdery stuff). So the first thing we have to do when polishing is to close off the pores,and you can't do this with sand blasting. Another problem with sand blasting is that unless you are doing it yourself and you are using new grit/sand then the chances are the bloke that is doing it for you has just blasted some old bit of steel and is going to use the same grit/sand on your pretty little wheels and what your going to get back are wheels that have been peppered with old bits of rusty steel that will in no time at all start to rust on your nice polished wheels.
The way that I tackle alloys is to
1)strip off any powder coating/lacquer using a good quality paint stripper.
2)If you have access to a turning lathe clamp the wheel into the chuck and get into it with your wet and dry paper(adding a drop of washing-up liquid to your water helps).
3)Using a wet and dry pad get into the spoke areas to remove the casting grain (this is best done on the bench and not in the lathe as you will need your fingers later if you want to finish off the job)
4) when you are happy with the finish then you should start the mopping process to get the required finish.
This is a very 1-2-3 answer and I hope it helps you out. Hey don't forget I have been doing this for a living for over 10 years now (so I tend to think I do know what I am on about ) ha ha ha . good luck.
Andy Chatten
- co armagh
---
Hey Andy let me know the durability of the finish you are getting. I am an auto dealer and could really get ahead by refinishing wheels for myself and others sometime.

Regards,
Dan Stevens
- North Salt Lake, Utah, USA
---
I have a 01 Monte Carlo SS and am not really sure what type of "alloy wheels came stock on it...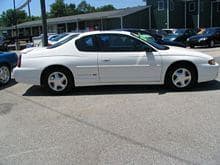 I'd like to polish them by hand.. a slow process yes but I don't have all the high speed tools to machine polish them... I do my own aluminum wheels and tanks on my 95 international semi... what grit paper would I use in steps and what type of polish would I use in steps.. I got all winter to make them puppies shine.. can anyone help me out.. . thanks rich from Indiana
Rich Foreman
foreman trucking - North Webster, Indiana, USA
---
December 20, 2008
I polish the odd set of wheels myself, just wondering what processes you guys use for polishing. Was thinking of investing in a wheel polishing machine, am Living in Ireland any suggestions from anyone? Any info greatly appreciated, thanks
Michael Cummins
- Cork, Ireland


If you have a question in mind which seems off topic, please Search the Site