topic 12004
Recommended preventive plating of High Tensile Bolts
2001
We want to use High Tensile Bolt in our welding machines. To avoid corrosion in marine shipment, what kind of plating should be done without affecting the tensile strength of the bolts and brittleness?
Brijesh Khanderia
- Pune, India
---
2001
If one could dismiss environmental concerns, cadmium plating is always the ideal coating for a high strength fastener due to its sacrificial protection, its bakeability for hydrogen embrittlement relief, and its excellent lubricity and freedom from sticky corrosion products (which leads to consistent torquing). So there are still some applications where cadmium is the only acceptable plating. But you might consider mechanical plating of zinc, or electroplating of zinc-nickel alloy.
Ted Mooney, P.E.
finishing.com
Pine Beach, New Jersey
---
2002
Hi,
The most useful solution in our India is the Xylan fluoropolymer based coatings for those fasteners.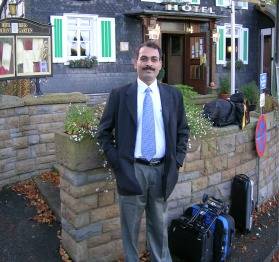 Kalyan Dhakane
Mumbai, India
---
2002
Best preservative from corrosion during marine shipment is Molykote Metal Protector Plus, 5% Salt spray test is 510 Hours, it is also simple in use i.e only dip the bolts in MPP liquid and pack.
Vinit Jain
- Kanpur, India
---
2002
Dear Brijesh Khanderia,
What are your High Strength bolts normally treated with? They are often used in the construction of steel framed buildings, where they must also resist corrosion. The conditions of a construction site are different, not as aggressive as the marine environment. However if it is only for a sort exposure time, perhaps only an additional barrier (possibly Teflon based) might be all the extra protection you need.
Zinc and zinc alloy platings (mechanical or electro-) need a finish in chromate to get maximum corrosion protection. And chromate, like cadmium, has great material properties and is highly toxic.
Ian Brooke
university - Glasgow, Scotland


If you have a question in mind which seems off topic, please Search the Site