World's #1 finishing resource since 1989
No login needed: Chime right in
topic 1272
Metal concentration climbing in bright acid tin plating bath
A discussion started in 1999 but continuing through 2019
1998
Q. Is it normal procedure in a bright sulfuric acid tin bath to have trouble when the tin metal reaches 2 oz/gal ? We have found that we have to actually cut the bath when the tin metal climbs to this level. I have been told that this is unusual. Is there a way either to keep the tin metal constant or allow it to reach a higher level before problems start ? Thank you.
Keith Rosenblum
plating shop - St. Paul, Minnesota
---
1997
A. Keith,
From my experience, bright tin works best with excess of acid and minimum of tin in the solution. It is not a natural phenomena to have tin concentration climb by itself: I think you are trying to keep it at the max and are overdosing the tin sulphate, since the chemical dissolution of tin anodes is next to nothing. You may want to try to overcome the problem by overdosing the acid. If it works, wait till tin concentration decreases due to drag-out and oxidation and keep it low and acid high.
Max Stein
captive metal finisher - Montreal, Québec, Canada
---
1997
A. Max, tin has a tendency to increase and addition of sulfuric acid does not solve the problem.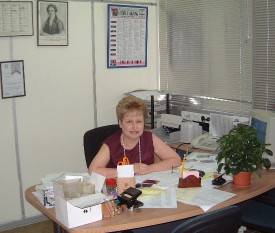 Sara Michaeli

chemical process supplier
Tel-Aviv, Israel
---
1997
A. I have been dealing with bright sulphate tin baths for 20 years: we had a home-mix brightener back in Russia in a solution that contains approx. 10% by volume sulphuric acid and 8 - 40 g/L of tin sulphate, similar solution with proprietary brighteners from Enthone-OMI (first) and McGean-Rohco (using with very good results for the last 4 years).
In our operation now (and in my experience, ever!) the tin metal has had a tendency to decrease. I have always used tin bars for anodes, and back in Russia the anodes would be taken out from the solution when the tank is idle: we have had some Bismuth additive which would be depleted by substitution:
3Sn0 + Bi2(SO4)3 => 2Bi0 + 3SnSO4
Here, without the Bi additive, there is no reason to remove the anodes. Nevertheless, the chemical dissolution of Sn in sulphuric acid is too slow to account for Sn build-up, and it does not occur in our solutions. If you are using tin balls in titanium baskets, you may have an electrochemical reaction which leads to tin build-up? - I do not know if that may be the reason but, in our conditions, there is no Sn build-up.
Max Stein
plating shop - Montreal, Quebec
---
1997
A. What kind of trouble are you having when the tin goes above 2 oz/gal? I maintain a bright acid tin bath at 3-4 oz/gal without any problems. The sulfuric acid is maintained at 8-10%. Tin does have a tendency to increase if the bath sits idle. You may be able to control it by removing some anodes. One common mistake with tin plating is turning the rectifier up to brighten parts instead of adding brightener. This can lead to flaking and blistering, especially on larger parts.
Phil Pace
captive plating shop - Tulsa, Oklahoma
---
1997
? Keith,
What exactly is the problem?
I run my rack bath at 2.4 to 2.6 oz/gal and my barrels at 3.0 to 3.2 oz/gal.
Can you be more specific?
Ray Delorey
metal finishing shop - Cambridge, Ontario, Canada
---
1998
Q. Ray:
Currently, we cut the bath at 2.8 oz/gal of tin. Interestingly, We used to buy anodes from a different supplier, and the bath would have to be cut at 2.2 oz/gal with these anodes. The problem we encounter is poor adhesion. Sulfuric acid is kept at 8%-10%.
Keith Rosenblum
[returning]
plating shop - St. Paul, Minnesota
---
---
1999
Q. I have a question that I would like to ask. I have this certain part that I barrel plate, and some times I have dulls spots on them. Only a few parts are affected though. Other parts that I barrel plated do not have these dull spots on them. I've tried adding brightener, carrier, additive, acid, nothing seems to work. I keep the acid right around 11% and the tin metal around 2 oz. per gal. The parts have no markings on them before plate though. So I was hopping that someone could give me a little insight to my problem. Thanks.
Kevin Frankart
plating shop
---
---
2004
Q. I want to know what is the basic composition of bright tin acid carrier and how can I renew large amount of brightener, not give brightness. Thanks.
Heba
[last name deleted for privacy by Editor]
- Cairo, Egypt
---
February 13, 2019
A. If you are experiencing problems with your tin metal rising uncontrollably, make sure to check you anode surface area. Too many anodes in your tin plating bath can cause your tin to rise. Be careful because too little anode/cathode ratio could lead to polarization. Typically, the recommended anode:cathode ratio is 2:1.

Hope this helps.
Aaron Toth
- Fort Smith, Arkansas