World's #1 finishing resource since 1989
No login needed: Chime right in
topic 1208
The I.S. Meter - alive or dead?
1997
Twenty some years ago one could buy in Britain an instrument for measuring internal stress during deposition (electro- and otherwise) called I.S. Meter. Its action was based on the extension or contraction of a thin metal strip kept in tension as a stressed deposit was being plated onto it.
Does anyone know if these instruments are still being manufactured by anyone anywhere in the world? Any information would be greatly appreciated.
Thank you, Berl


"PlaterB" Berl Stein
NiCoForm, Inc.

Rochester, New York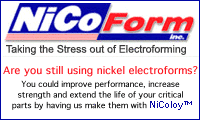 ---
1997
Berl,
Martin Marietta in Orlando was rumored to be using a continuous input device run thru a computer to maintain absolute zero stress in electroforming. Oak Ridge's electroforming department may have some knowledge of this also.
Other than that, the only thing that I am aware of is the stress tabs, a moderately accurate estimation of stress that is much faster than a contractometer.
James Watts
- Navarre, Florida
---
1997
Might be worth a try to ask Wm. Cannings of the UK if the instrument you are seeking is still available.

Ken Lemke
Burlington, Ontario, Canada
---
1997
Further to Mr. Lemke's discussion, The Canning Handbook mentions a device "devised by Hoar and Arrowsmith" described in Electroplating and Metal Finishing 1968, 21, 85 and Trans. Inst. Institute of Metal Finishing 1957, 34, 354, Trans. Inst. Metal Finishing 1965, 43, 84, and Trans. Inst. Metal Finishing 1964, 42, 68.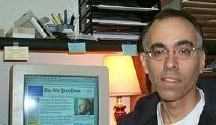 Tom Pullizzi
Falls Township, Pennsylvania
---
1997
Hi Berl,
When I worked at Sel_Rex a long time ago they marketed IS meters which they got from Czechoslovakia. Sel-Rex is now owned by Enthone-OMI. Perhaps they still have them or know where to get them.
Cheers!
Bob
Bob Teichmann
Avon Products, New Jersey
----
Ed. note: This is a very old thread (14 years!), but all threads on finishing.com are monitored and still "alive", so updates are welcome.