Where the world gathers for
plating, anodizing, & finishing Q&As since 1989
-----
Silver lacquering
We have purchased 2 very large silver plated candelabra (32 inches high by 25 inches wide). As they are very ornate polishing would be a problem so we need to know if we can lacquer them in some way ourselves without affecting the value of them. What kind of lacquer would we buy, how would we apply and would the lacquer yellow over time? We live in the Twin Cities and would be willing to pay an expert but the preeminent silver people in this marketplace (Oxening silver) seem to have gone out of business. The other silver professional has damaged our pieces before so we can't use them. Any help would be greatly appreciated!
Pam Gutz
- St. Paul, MN, The GREAT USA
---
Hi Pam,
You could probably do this job at home, depending on how much time you want to spend. Polish the silver, clean the compound off with thinner or acetone Acetone [affil link], and apply a lacquer. I'd use an acrylic lacquer, it won't yellow, and should adhere to the silver plate even if it contains rhodium. This can be found in aerosol cans at the hardware store or in some cases directly from the manufacturer. Give it 2 or 3 coats, let it dry and you are done.
Jake Koch
G. J. Nikolas &Co.,Inc.

Bellwood, Illinois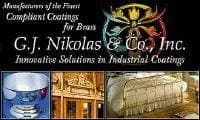 ---
I be very careful about coating silver with anything, especially an organic coating. Very small traces of sulfur will blacken the silver in short order, then the coating will make it impossible to remove the tarnish. I'd leave them alone. Some silver polishes contain small amounts of mercaptans (strangely enough, these are sulfur compounds) that inhibit tarnish to some degree....
George Brackett III
- Utica, NY
---
Oexing Silversmiths, Inc. is still in business. They are in Bakersville, NC.
Barbara Magnan
- Isle, MN, USA
---
It's nice to know Oxning is still in business. It's along way from where Lars had it in his day! As to lacquer I use to swear by the G.J. Nikolas [a finishing.com supporting advertiser] Clear nitrocellouse 2105 spray lacquer. Really good stuff! Unless Nikolas has something newer.
Jon Quirt
- Fridley, Minnesota