Where the world gathers for
plating, anodizing, & finishing Q&As since 1989
"Pitting problems with polished 316L SS pumps in sea water"
-----
We manufacture sea water axial flow pumps for aquaculture applications. The submerged parts (suction bell, impeller, and diffuser) are fabricated from 316l SS. The inside of these parts have water velocities in the range of 4-5 m/s, while the outside surfaces are in almost still water. We have been using this material for the last 10 years with good results... although pitting and crevice problems have occurred on the outside surfaces on a few applications and after long periods of time (2 year service w/o maintenance), over 90% of the pumps never showed signs of attack.
Until 6 months ago, we did not perform any SS surface preparation (grinding, pickling or passivation) after fabrication except for running a SS wire brush on the welds and heat affected zones. We decided to improve the crevice and pitting resistance by improving the surface finish on the parts by first polishing and later passivating with nitric acid. The results were terrible. The pumps failed to pitting in less than a month. We now know that a big part of the problem was to use a ferrous based abrasive and not a zirconium/alumina.
My question is: Is it better to improve the surface finish (with the correct abrasive) and then do picking and passivation of these surfaces.... or is it better just to do picking and passivation alone.
Riccardo Delfini
- Guayaquil, Ecuador
---
Riccardo:
If there are welds in the parts that you are making, it is always better to treat them before use. This is the weak link in any assembly of stainless steel. You CANNOT use ferrous based materials in the polishing process. It sounds like this was the cause of your problem. A good stainless steel brush or non-ferrous polish will work well, followed with a good passivation process. You can also electropolish the parts, followed by passivation, to obtain the ultimate in corrosion resistance. Grit blasting with a non-ferrous material, followed by passivation will work well also. You may want to try passivation with citric acid proprietary formulations to obtain the BEST passivation of 316L. See our web page for details on this. Salt water environments are one of the worst conditions you can find, so there is no way to protect the surface forever, probably.


Lee Kremer
Stellar Solutions, Inc.

McHenry, Illinois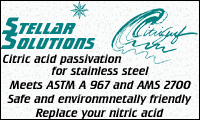 ---
Your external corrosion problems are most likely caused by galvanic corrosion.
You seem to have found the major problem for your pitting and your situation will be improved by using the correct abrasive.
In high chloride environments the pitting can be improved dramatically by electropolishing. I have had electro-polished 316L castings in a salt spray test for months with no degradation. Without electropolishing they degrade in hours. Have your electro-polisher remove at least .0005 inches and you will have the ultimate 316L surface for corrosion resistance and it will make your pumps look prettier too.
The velocities should not be a problem unless there are particulates in the salt water.
John Holroyd
- Elkhorn, Wisconsin