Not a lecture hall but a roundtable with a seat for you!
60,000 topics spanning 36 years. Education, Aloha, & Fun
topic 11826p2
Why black line on face from gold jewelry?
---
< Prev. page (You're on the last page of the thread)
---
A discussion started in 2001 but continuing through 2020
October 14, 2012
Q. I have an appointment next week to get my levels tested for low iron. I have been researching on this topic and I just tried this test. I had no make up on when doing it the first time there was no black line, then I thought just to see I put some mineral powder on and try again. And there it was a think black line. Not sure why this is and if it's just the make up. I guess I will find out when I see the doctor to confirm.
Mel Duncan
- Alberta Canada
---
December 8, 2012
A. I actually have Hemochromatosis, which is TOO much iron and have phlebotomies to remove the excess iron in my blood and I have black marks under my rings and I've rubbed the rings on my face and have black marks there as well. The marks must relate to acidity or something different like Zinc or another mineral that we have in our bodies that react with the gold.
Suzanne Ouellet
- Cochrane, Ont Canada
---
---
March 22, 2013
Q. I was told a while back by my best friend that if you run a gold or silver ring down your check, across your forehead, etc., a black mark will appear, and you supposedly have low iron deficiency. Of course, me being like "OMG I have to try this," I borrowed my stepmom's silver wedding ring and drew on my best friend's forehead. I had known beforehand that she was anemic, and when I ran the ring across her forehead a black line showed up. I did it to my other best friend and she had a line appear also, but when I ran the ring across my stepmom's cheek nothing showed up. I looked up symptoms of anemia and they consisted of: fatigue, dizziness, headaches, shortage of breath, cranky/grumpiness and so on. So far I have had every one of these symptoms except the headaches after I work out. The symptoms have been with me for the past several weeks. I did the ring test multiple times tonight and every single time I ran that same ring across my cheeks I had black lines show up. They also showed up on my stomach, neck, and my arms. I was wondering if the ring test was proven to be at least 90-95% true?
Allyson Jordan
- Lexington, South Carolina, USA
---
April 9, 2013
A. Hi,

I'm writing to you all in reference to gold rings leaving black smudge marks on our skin while we wear our beautiful jewelry. Well, I went to the doctor to find out and the first thing the Doctor says is you're probably anemic. So, I had my blood check for being anemic, vitamin D and vitamin B. Two out of the three tests came back normal. The test results came back as severely vitamin D deficiency @ 6.2. I was immediately
put on a prescription for 50,000 units one (1) pill a week for four weeks. And, I just went to have more blood work done and I should know something by 4/11/2013.

But the interesting part to my story is that after the second week of taking the vitamin D, the black marks went away; and now after taking all 4 pills in 4 weeks there are no black smudges rings or marks of any kind. So, I just wanted to share my story with you girls maybe it something you could have checked out. I never had this Vitamin D problem before in my life until I started working 3rd shift at my job. So, ladies no sunshine no vitamin D. Is my problem. I hope this helps.
Deb Lewis
- Louisville, Kentucky United States
---
July 31, 2014
A. My wedding ring will leave a black line on my face. I've have never been anemic. The same ring on my husband's face does not leave a black mark and he is extremely anemic with a ferritin level of only 4.5.
Carol White
- Dillsburg, Pennsylvania
---
December 10, 2015
A. I am iron deficient and take an iron pill most days. If I miss them for about 4 days I get big dark black line under my gold wedding ring or engagement ring. I have never worn gold but thought it was cool that it absolutely is reactive to my actual iron levels. I would have guessed that it was an old wives' tail but without fail I get the line after a few days of missing my iron.
Susie Greenberg
The Loka Life - Chicago, Illinois
---
April 7, 2016
A. I have a beautiful gold ring on my right hand. My blood test came back to say I was low in iron. I've been taken iron tablets for a week only and you guessed it my finger was black on the plain side, right along the finger.
Kim Crosbie
- Torquay Victoria australia
---
---
July 2, 2017
Q. I recently purchased 4 x 9 Kt Gold rings from an Aussie jewelers and have the black mark on each of those fingers, but I also wear three 9K Gold rings I bought in England.
The Aussie gold rings all leave black marks on my fingers, but the English gold rings do not leave a black mark. So I am wondering if the Aussie gold rings are made up of a different quantity of gold (poorer quality maybe?)and the other metal mixes are what's making my fingers turn black. I do not have low iron as I had it tested recently.
Has anyone else found this to be true of jewellery from other countries?
Mel Price
- McCracken, South Australia
---
February 26, 2018
A. This is 100% true. I have iron anemia and pernicious anemia. When my iron is low and I need to get my iron infusions I will notice darkening around my fingers where my 14k rings are. I also noticed that after my levels go up after the infusions this stops happening.
Melanie Skipper
---
April 12, 2018
A. I didn't believe the theory either until I saw it with my own two eyes. I did it on myself with a golden ring and it left a black line on my cheek, I had makeup on at the time I did it. I also thought it was just an reaction with my makeup.
I then removed my makeup, and washed my face, and tried doing it again, and when I did it for the second time it still left a black line on my face. But, I haven't gotten tested for low iron -- therefore the truth about the gold ring leaving a black line on my face because I have low iron is unknown. I am going to go to the hospital to get tested just in case.
Hannah Burry
- Gander, NL, CANADA
---
April 2018
Thanks Hannah. Please let us know what you find :-)
Regards,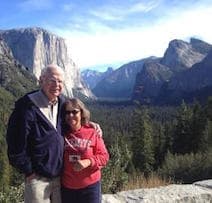 Ted Mooney, P.E. RET
finishing.com - Pine Beach, New Jersey
Aloha -- an idea worth spreading
---
---
November 15, 2018
Q. I am currently trying to find a link between iron deficiency and the smudge gold jewelry leaves on the skin, but am struggling to find a completely valid solution. My Science teacher has told my class to come up with a theory, and she suggested it possibly having to do with the shade of your skin or possibly hair color. I'm actively trying to figure out what's happening and I will try to get back to you if I come up with a possible theory. It does not work on me or any of my family members, but has worked on several students in my class. I will get back to you with my thoughts at a later date.
Sydney Lutz
- Kansas City, Missouri, United States
---
January 4, 2020
A. I wanted to add to this thread as I value and catalogue antique jewellery for a living and have done for thirty years.
I never use acid to test the purity of the gold, I honestly just rub it on my hand, after this many years, I can identify the carat of the gold by the depth of colour of the mark left on my skin !
I never really gave it much thought till someone asked me how long it takes to carefully test antique jewellery without damaging and how come there were never any test stains left on items I had catalogued for sale.
For me, I guess it's a kind of a bonus....I never gave it much though till I read this...!
Barbara Dixon
Antique jewellery specialist - London, London, United Kingdom
---
March 11, 2020
A. I am anemic. Whenever I went to the doctor's office, my doctor could look at me and tell me my iron was really low. They would do the test and sure enough he would be right. One day I decided to ask him how was he able to tell without any blood work. He said the gold jewelry I wear turns me black when it is low.
D. Loggins
- Fayetteville Georgia