Where the world gathers for
plating, anodizing, & finishing Q&As since 1989
-----
Corrosion pitting of electrodeposited chromium in swimming pool
I have a problem with the corrosion of electroplated chromium (no nickel) over bronze in chlorinated swimming pool water. After a few weeks only the parts are pitted in drifts over much of the exposed surface. At higher magnification the damage appears as a spiral pattern surrounded by a dark colour, but no visible corrosion products. The pattern is in a VERY thin surface layer of chromium which when disrupted (very easily) to reveal a bright pit. Microscopic examination of sectioned pits reveals that the chromium alone is attacked, the surface is undermined around a fine defect, the chromium is dissolved (no apparent corrosion residues) leaving a very thin surface film of the original plate and the pit stops just short of the substrate bronze.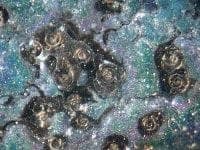 The attached pictures are of the pitting corrosion in the electrodeposited chromium referred to. The first is of the untouched appearance and the second is after disrupting the thin film over the top of the hole. The magnification is of the order of 20 times at 100x85 mm.
Metals Handbook suggests on one page (in a table) that electrodeposited chromium is resistant to a 10% solution of sodium chloride at normal temperatures and slightly attacks it at elevated temperatures (55). It is completely resistant to seawater and to chlorinated water. On the very next page it describes sodium chloride pin holing in very similar terms to the above description of the problem. Hydrochloric acid and halogen acids result in corrosion. I am confused - anyone able to help please?
Robert (Bob) Redfern
- Christchurch, New Zealand
---
The Handbook tables may be useful is some regard, but as a practical matter, look at how chromium is used; it appears as a top coat of a duplex or triplex (or more) system. The plating system of copper, semi-bright nickel (low sulfur), bright nickel, then chromium was developed over many years to solve the problems of corrosion of steel, zinc diecastings, aluminum, and copper, brass, and bronze.
How much chromium, and from what kind of bath, has been deposited?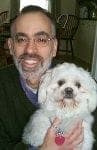 Tom Pullizzi
Falls Township, Pennsylvania
---
Usually chlorine in swimming pools is in the form sodium hypochlorite. It's made by dissolving chlorine gas in sodium hydroxide. Chlorine is constantly being liberated and is accelerated with increased temperature and low pH. Any material that is attacked by HCl will be consumed in short order. This includes chromium.
George Brackett III
- Utica, NY