Where the world gathers for
plating, anodizing, & finishing Q&As since 1989
-----
Establishing a good bond at the bottom of deep micro cavities
I have a company, Mezzo Systems, that fabricates micro molds using the LIGA micro machining process. Our version of the process is described as follows:
1. A 0.25 inch-thick 316 stainless steel disk (4 inch diameter is coated with nickel via wood strike).
2. A sheet of a polymer (i.e. PMMA) is applied to one surface of the disk and lithographically patterned using x-rays. After development, very well defined features in the PMMA are etched away, exposing the substrate surface.
3. We wish to fill the features that were etched into the PMMA with nickel. We use a sulfamate nickel bath to fill the features. Prior to plating, we attempt to activate the surface with C-12 activator.
4. We plate, then remove the polymer, and when everything works right, we have a nice tool to mold very small parts. However, we often get a bad bond between the electroplated structures and the substrate. We are not preparing the surface properly.
My question concerns how can I get a good bond between the sulfamate nickel and the substrate. Electropolishing and wood strike is worrisome with the polymer on the substrate, since bubbles get trapped in the cavities and prevent whatever beneficial action is supposed to occur from taking place. Is there an etch/plating procedure that might work?
Help!
Kevin W. Kelly
Mezzo Systems - Baton Rouge, Louisiana
---
Plate with 0.0005 inches of nickel upon the Woods's strike.
Then activate with cathodic electrocleaner. Use wetting agent to release bubbles, there should be enough in the electrocleaner. Ultrasonics may dislodge bubbles. Too much current may cause the bubbles to lift the edge of the resist.
The bubbles in a Woods strike stick pretty good since there is no wetting agent.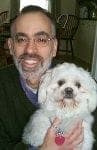 Tom Pullizzi
Falls Township, Pennsylvania