Where the world gathers for
plating, anodizing, & finishing Q&As since 1989
"Yellow passivation film is turning blue"
-----
We are electroplating steel drum closures with zinc followed by yellow passivation. The product is centrifugally dried at a temperature of 55 to 60 °C for 6 to 7 minutes. We ensure that the product is completely dried without any traces of water. We pack the product in Polyethylene bags with silica gel pouches. We find that over a period of a month the yellow passivation colour starts turning blue / bluish purple, this is aesthetically not acceptable. What could be the reason for the same and how can it be avoided?
K.V. Phadnis
- Mumbai, Maharashtra, India
---
Did you know that the yellow passivation is a hydroscopic gel? The yellow chromate gel retains water, and requires it to function properly. I wonder if the drying and silica gel dessicant are having a bad effect on the plating system. You should discuss this with your plater, and possibly the plater's chemical supplier.
Hexavalent chromate passivations often get this "rainbow" effect. We see if often on some of our parts. The passivate layer is very thin and has a microscopic thickness. Variations in this thickness can effect the color of the part. This is very hard to control. Normally, we allow color variation in our visual criteria when specifying this type of finish.
You may want to reconsider what is acceptable and not. Very few platers will want to even attempt to guarantee consistent chromate color. Maybe a different, and more expensive, finish would be more appropriate for your needs.

Tim Neveau
Rochester Hills, Michigan
---
Hi Tim,
In my experience, most platers provide remarkably consistent chromate color. For inconsistent results, I would suspect that the platers management system is severely damaged, or that the shape of the part being plated, or manner of plating (say, barrel vs. rack, or the incorrect rack, etc) is the major problem.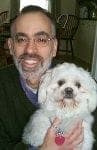 Tom Pullizzi
Falls Township, Pennsylvania