Where the world gathers for
plating, anodizing, & finishing Q&As since 1989
-----
Metals won't alloy for me
Q. I am working on some experimental jewelry processes combining gold with other metals to get new and interesting looks for my jewelry. The problem I am faced with is that some metals do not combine well with gold. What is the best way to combine gold with various metals? Right now I am trying to get a gold/aluminum combination ... but the two metals do not seem to want to mix. (the aluminum I am using is 99.999% pure aluminum not an alloy, the gold is 24K)
Thank you,
Vincent Tanner II
- Bridgeport, Connecticut, United States
---
A. A song from the Big Band era said "Wishing will make it so", but don't you believe it!
You can't arbitrarily select two elements and expect them to interact in the way you want them to. They will only interact in the way THEY want to.
This includes liquid miscibility and solid solution.
The respective atoms that you mention are sufficiently dissimilar that they won't alloy.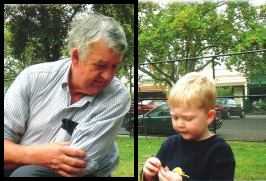 Bill Reynolds
[deceased]
consultant metallurgist - Ballarat, Victoria, Australia
We sadly relate the news that Bill passed away on Jan. 29, 2010.
---
November 9, 2012
A. Well this is not necessarily true. Along with the way we have been heating and treating metals for centuries now is old and outdated. There have been many reports of alloyed metals that dazzle and puzzle mainstream thought. This is not to offend anyone but offer insight and possibly a new way of doing things. A man named Nikola Tesla said that if you could put massive amounts of electricity through these elements by a cold electrolytic process could give these metals a liquid property without heating it, saving energy as well as being able to join "un-reactive" or in your case un-alloyable metals. This process also has the same effects with water as it separates the two gasses which the reverse theoretically could be done as well with your metals basically forcing these two metals together using electricity.
Alexander Nelson
- Houston, Texas, USA