Where the world gathers for
plating, anodizing, & finishing Q&As since 1989
"Irregular Passivation Appearance"
-----
We are passivating Stainless Steel and we are having trouble obtaining a consistent appearance on the same lot of parts. Some parts have a bright finish and some have a dull appearance, all being processed in the same basket. We clean in alkaline cleaner, hydrochloric acid pickle at 10% and then nitric acid at 30% for passivation. What can be the problem for the irregular finish? Can de SS be the cause, having irregularities with the alloy?
Enrique Segovia
- Monterrey, Mexico
---
Enrique:
It is possible that variance in the alloy is a problem, but it is much more likely variances in your process. If you give us more information about the alloy being used and the details of your process times and temperatures, all of us here who monitor Finishing.Com will be able to give you better answers. The pickling with HCl and passivation with nitric acid both can give you variable results. The variation depends on the alloy, time and temp. These mineral acids can actually etch the surface of the stainless steel and give you a "dull" finish under the wrong conditions. Is the pickling really necessary? The HCl is not something that is too good for stainless, but it is effective in removing scales. The nitric acid can cause dulling of the surface in several ways, if it is not controlled carefully.
You may want to consider citric acid formulations that are formulated to prevent this and give superior performance. See our web page for details.


Lee Kremer
Stellar Solutions, Inc.

McHenry, Illinois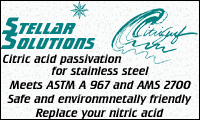 ---
Search this website for various key words on this subject. letters are available which have an explanation about organic acids being formed, alloy composition etc.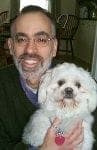 Tom Pullizzi
Falls Township, Pennsylvania
---
Thanks for your help,sorry I didn't mention that we are passivating type 303 SS.
We have to comply with spec QQ-P-35C [link is to free spec at Defense Logistics Agency, dla.mil].
We know it has been replaced, but the drawing requires this spec.
We process in nitric at 30% concentration for 30 minutes and ambient temp (70 - 90™F) Passivation Type VI on the specification.
We use the HCl pickling because when we don't use it, parts come out very dark, grey almost black. With the pickle we get better looking parts.
I know that ASTM A967 [affil link] allows for Citric Acid passivation, but what about QQ-P35? I don't see any mention of Citric.
Could we use it and be in compliance?
Thank you again for your help
Enrique
Enrique Segovia
- Monterrey, Mexico
---
A guess--
Inadequate rinsing on the parts in the middle of the basket. A film of caustic may be left that causes an unusual reaction with the nitric. Most likely, a film of HCl is left which when combined with the nitric acid is forming a poor mans Aqua Regia which will cause an accelerated surface reaction--IE: rough surface over selected faces of selected parts.
James Watts
- Navarre, Florida
---
Enrique:
There are a lot of things that can be going on here. If you are using 303, I assume that your are machining the parts. The high sulfur in 303 could be the culprit. The way to check this out is to soak the parts in warm 5% NaOH before passivation. Do the parts ever smell sulfury (like rotten eggs)? I have run into many problems like this with 303, where the surface stains from the MnS. It can be cured with the NaOH soak.
You should be able to get by with just a soak in NaOH and the passivation in nitric or citric, unless you have large amounts of scale that you are removing with the HCl.
I agree that if the parts were not rinsed well in the center of the basket it could be a problem.
You need to go to your customer and tell him that QQ-P-35 has been replaced with ASTM A967 [affil link] , unless it is aerospace, where they should be using AMS2700 [affil link] or AMSQQP35 [canceled, affil. link]. QQ-P-35 not longer exists. If your customer has QQ-P-35C Type VI on the drawing, you need to use this unless he agrees to get the drawing updated to current standards. If he really wants the nitric bath used he should specify ASTM A967 [affil link] Nitric 2 or AMSQQP35 [canceled, affil. link] Type VI.
Please feel free to call us to discuss this further. I am sure that you can get this done without the HCl, which is not good on stainless steel.


Lee Kremer
Stellar Solutions, Inc.

McHenry, Illinois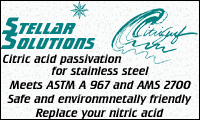 ---
Hello Enrique!
303 is a free machining stainless steel, and should not be run in a Type VI bath. The chart in the back of QQ-P-35 recommends type II, which my experience says ALSO gives poor performance. (See the Finishing.com FAQ on passivation for more case history). We use a Type VIII, we do not have a pickle beforehand, and we like the results. Our parts are machined from bar stock, not forgings or stampings.
Good luck!

Lee Gearhart
metallurgist - E. Aurora, New York
---
Thank you Lee Kremer, Lee Gearhart, James Watts, and Tom Pullizzi.
All of you provided good information. The parts are machined from bar stock and look very clean, no scale, so I'll try without the HCl pickle (if we don't use it we get dark looking parts)and the NaOH soak.
Lee, the parts do smell as rotten eggs.
Thank you again for all your help,
Enrique Segovia
- Monterrey, Mexico

www.finishing.com is made possible by supporting advertisers like ...
this text gets replaced with bannerText