60,000 Q&A topics -- Education, Aloha, & Fun
topic 11694p4
E-coating -- what is it?, p.4
---
< Prev. page (You're on the last page of the thread)
---
A discussion started in 2001 but continuing through 2020
May 3, 2016
Q. Is it possible to e-coat carbon steel with an additive that will exhibit static dissipative or static conductive properties? That is my equipment I want to resist static charge buildup and am wondering if there is an ecoat that can accomplish this versus a more expensive powder coating with carbon additives thank you
John Taylor
- Chicago, Illinois
---
---
May 4, 2016
Q. Dear Sir ,

For an e coating of 20 microns on CRC, what are the in house tests that we can do to check the quality of the e-coating?

One I know is salt spray of 480 hours; other than salt spray what are the other test that we can do in house?

Regards,
sugata roy chowdhury
- New Delhi / India
---
---
June 18, 2016
I work as a wet painter. I was informed a little about our e-coat process. I have the basics about it. It's electrolyzed with positive and negative. My question is if it's electrified and you happen to put your hand in the such and such gallon tank, can you die from being shocked?
RANDALL BOESEN
- Mayville Wisconsin
---
---
June 22, 2016
Q. We are powder coating job processors for Auto Industry at Pune India.
We are putting in a plant of CED. We wish to find out whether we can use a conveyorised oven for powder coating & CED at same time?
Both colours are black. In a row on conveyor one item may be PC & next may be of CED
Is it possible?
Please comment.
Thanks,
Vivek Nirgudkar
- Pune. Maharastra. India
---
---
July 13, 2016
Q. Hi,

I'm Umesh From Pune, India, looking as a Plant Head here... Would like to know about:
1. Can the CED give its effect of resistance to corrosion on Hardened Material?
2. And what if we do not remove any scale before coating and take directly in to 12 tank process?
Umesh Deshpande
finishing solutions - Pune, Maharashtra,India
---
July 2016
Hi Umesh.
1. I'm not aware of any reason that CED can't be applied to hardened steel. 2. I don't think anyone can predict whether an unspecified "12 tank process" will be able to remove unspecified "scale", but I think we can say that it's unlikely to be a really suitable process for the purpose. It's probably better to prevent the scale with an inert atmosphere, or oxygen excluding wrapping, or to blast the scale off. Just one opinion.
Regards,
Ted Mooney, P.E. RET
finishing.com - Pine Beach, New Jersey
Aloha -- an idea worth spreading
---
July 14, 2016
Q. Hi Ted,

Thanks for replying quickly and appreciate the same.

So, ED coat on hardened material will remain unresolved...
Umesh Deshpande
[returning]
finishing solutions - Pune, Maharashtra,India
---
---
September 14, 2016
Q. I am studying e-coat thickness on aluminum base. What is the relationship between base size and e-coat thickness? How to calculate by formula.
How to calculate the relationship of ED coating thickness by the no. of parts loaded in ED bath or in 1 hanger. Thank you.
Dors Zaide
- Manila, Philippines
---
September 21, 2016
A. Your e-coat paint should have an electrical efficiency rating of x amps per square foot per minute per micron. Your paint supplier should be able to supply you with the rating.
Dan Mack
- Horicon, Wisconsin USA
---
---
September 24, 2016
Q. Hi Guys, I would like to use E-Coating for "Paint coating", Chemical milled or acid etched; name plates, metal labels: we have purchased a small E-Coat bath and I would like some more information to assist me on this journey. Can anyone assist me with further detailed info or send me to a reliable source?

Kind Regards
Peter
Peter Vasic
- Adelaide, S.A. Australia
---
---
September 29, 2016
Q. Is there any food grade coating available by this method?
mahesh parab
Varie Valves pvt ltd - Mumbai, maharashtra , India
---
---
October 7, 2016
Q. I have a question regarding E-coating life on welding joints... Also have concerns if any impurities because of welding to any component may lead to the ED life ... How can we improve SST life on welding joint?
Umesh Deshpande
- Pune,Maharashtra, India
---
October 2016
Sorry, Umesh, I don't understand your question and would probably only add to the confusion by any attempt to answer. Please describe with several paragraphs exactly what steps you are actually doing. Thanks.
Regards,
Ted Mooney, P.E. RET
finishing.com - Pine Beach, New Jersey
Aloha -- an idea worth spreading
---
---
October 27, 2016
Q. I am using a spring that has been electroplated. We are experiencing a high failure rate due to hydrogen embrittlement. The spring is used in an outdoor environment and needs rust protection. If I e-coat instead of plating, will this prevent hydrogen embrittlement?
Steve Head
- Mesa, Arizona, USA
---
October 2016
A. Hi Steve. I doubt that e-coating alone will provide sufficient corrosion resistance for outdoor use. Hydrogen embrittlement can be caused by cathodic electrocleaning, or the acids required in the pretreatment, as well as the plating steps. Are the springs baked for embrittlement relief immediately after plating? Are we talking leaf springs used in earth-moving equipment or little coil springs like in ballpoint pens -- because appropriate solutions will depend on the size and the environment. Thanks.
Regards,
Ted Mooney, P.E. RET
finishing.com - Pine Beach, New Jersey
Aloha -- an idea worth spreading
---
October 31, 2016
Q. The springs are 28 mm OD 61 mm long and 4.5 mm thick, made from 1055 steel, hardened to 50-55Rc then stress relieved. Plating has been black zinc. I don't believe they have been baked after plating. Our failure rate is about 7%.
Steve Head
[returning]
MFG Direct - Mesa, Arizona, USA
---
October 2016
A. Hi again. The plating shop definitely should be baking these parts for hydrogen embrittlement relief as soon as practical after plating (preferably immediately, and certainly within a couple of hours).
Make sure you are dealing with a plating shop who knows their way around such issues because, unfortunately, the black chromate cannot be baked, which complicates the process and makes it: plate, bake, re-activate, chromate, dry. Good luck.
Regards,
Ted Mooney, P.E. RET
finishing.com - Pine Beach, New Jersey
Aloha -- an idea worth spreading
---
---
November 3, 2016
Q. We tried Ed coating for one powder metallurgy( sintered) part which is having porosity by process nature.This process suitable for this type part. After coating we found red patch mark on part surface.The following process sequence we tried.

Cleaning-Rinsing-Phosphating-Rinsing-Ed coating-Rinsing-Air cleaning- Baking.
Premkumar Rajendran
Sintered - Tamilnadu,India
---
---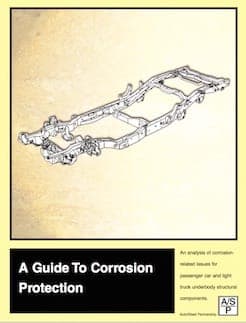 November 25, 2016
! Trying to tell someone that e coating will not properly coat the inside of a box frame. He believes it will because the solution can get inside. From what I have read it's not going to work properly except near the ends. Look in comments of www.youtube.com/watch?v=EDVCV0ekjKQ
Tony Eggel
- Ferndale California usa
---

Hi Tony. Even though the deposition is insulative and thereby tends to steer electricity to the uncoated areas, I think you're probably right that there will be little if any deposition in the middle of a box frame. This analysis by the Auto/Steel Partnership says as much, but notes that drilling holes can help =>
Regards,
Ted Mooney, P.E. RET
finishing.com - Pine Beach, New Jersey
Aloha -- an idea worth spreading
---
---
E-coat finish and ground straps
March 17, 2017
Q. I am intending to mount communications equipment on a steel plate coated with e-coat and will need to attach a ground strap to the plate. Does e-coat produce a resistive surface. Can anyone provide me with a conductivity characteristics please.
Andrew McKee
Cablex Pty Ltd - Bentleigh East, Victoria, Australia
---
March 2017
A. Hi Andrew. Although I don't have the quantitative data you want, I can tell you two things to put the situation in perspective:
First, the e-coat finish is essentially paint, not metal, so it's going to be resistive. Second, something that gives the process an advantage over other ways to apply paint is that the coatings are consistent in thickness everywhere, and the reason is that, as the ions deposit on an area and are converted to insulative paint, the current stops flowing to that area. In short, it is not going to be a satisfactory finish for a ground strap attachment.
Regards,
Ted Mooney, P.E. RET
finishing.com - Pine Beach, New Jersey
Aloha -- an idea worth spreading
---
E-coat Adhesion Concern
May 31, 2017
Q. Hi There,

What a wonderful site You've got here! I'm new on the finishing industry and in regards of e-coat, On the line where I run E-coat, I usually produce several customer's products during the same day under the same parameters, still, there is one customer that is often reporting a "Chip" condition after He does some riveting on the e-coated part, what gets my attention is that this is the only customer We're having problems with even when the others do similar processes after our paint.

The part has a zinc phosphate pretreatment done on the steel roll prior to the stamping process from my customer, and We think probably that is causing the adhesion failure, as the problem comes and goes on different lots.

We have done the quench testing on the part prior e-coat and part meets the spec, We have done the tape adhesion and the ethanol rubbing test and part meets the spec after e-coat.

We certainly don't know what else to do on the part to prove customer that paint is not an issue, any suggestions will be appreciated.


Alma Pinales
Alma Pinales
Plating Shop Employee - Mexico
---
---
April 18, 2018
Q. Looking to replace a 1964 Pontiac Steering Center. They offer e-coat, then a more expensive option for NON e-coating ... Seems like e-coating would be superior (thus more expensive) to no coating at all. Why would non e-coating be more expensive?
Pat Wood
- Dallas, Texas, USA
---
June 12, 2018
Q. Does black e-paint on a stainless steel 3XX piece outgas? I want to apply to a piece that is next to optics.
Kostas Zafiriou
- Somerville, Massachusetts USA
---
---
February 20, 2020
Q. We are using Electrophoretic Lacquer on brass chains, we need to increase the life of plating up to 6 months. Please suggest any method to increase the resistance to human perspiration.
Mayank Saraswat
Imitation jewellery Electroplating - Agra, Uttar Pradesh, India
---
February 2020
A. Hi Mayank. It's a tall order to suggest what to do starting with no information except that you are e-coating and not getting enough life. One approach is to polyurethane, lacquer, or otherwise clearcoat the chains after electrophoretic lacquer.
Regards,
Ted Mooney, P.E. RET
finishing.com - Pine Beach, New Jersey
Aloha -- an idea worth spreading
---
---
E-coating solvent: butyl glycol?
March 3, 2020
Hey;
Can we use the Butyl glycol As Solvent for E-coating polyurethane lacquer?

Thanks in advance.

Farida Ahmed
- Cairo, egypt