Where the world gathers for
plating, anodizing, & finishing Q&As since 1989
-----
Chromate conversion coating that can be used on a surface to be heated?
We are looking for an economical way to protect the (non-specular) aluminum surface of a carbon fiber composite panel. Since the end use of the panels will be on a large millimeter/sub-mm wave radio telescope, we are trying to avoid paint. We are familiar with the microwave performance of surfaces that have a thin, clear anodization, or a thin chromate coating. Our major concern is corrosion protection (without compromising the RF performance). A thin, uniform coating is required, as the effect of the coating is a dielectric on top of the reflecting surface. The aluminum foil skin (.003" thickness) is the first thing laid up in the mold. The cure process for the carbon fiber substrate is 125 C.
Is this totally incompatible with the chromate conversion process? Will this heat cause permanent degradation of the coating? The panels are quite large (of order 5 meters), so treating the finished panel is not really an option.
Any help would be appreciated!
Ronna Erickson
Radio Astronomy, University of Mass. - Amherst, Massachusetts, USA
---
You can spray clean and spray a chromate conversion coating on things a lot larger than 5 meters. You can even do it outdoors with the proper equipment to prevent the wind from taking the overspray, and a way to collect the liquid that runs off.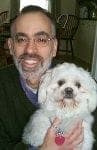 Tom Pullizzi
Falls Township, Pennsylvania
---
The contractor has now suggested an Alodine finish. My understanding is that this is a brand name of a type of chromate conversion coating (per MIL-C-5541 [affil link] ). Is this the type of coating you were referring to? How difficult is it to control the thickness of the coating? Typically, how thick a coating do you get if you are spraying rather than dipping into a tank? Thanks for your response!
Ronna Erickson
- Amherst, Massachusetts
---
In respect of your query, I will try to answer in respect of two differing aspects, based on my 25 yr aerospace experience.
1. Your process appears to be a low temperature curing carbon composite (ud or woven ?) over an Al foil, preferably carrying all necessary pretreatments for finished article. Given your intended use in radio telescope with presumably outdoor exposure, I would strongly recommend the anodised route to protect the aluminium, as conversion coated Al is unlikely to be sufficiently durable without subsequent coatings, especially after heating to 125 C, which causes a mudcracking effect of the complex hydrated conversion coat. This is not a problem with anodised coatings. However, if you want to proceed with conversion coat, spray application is relatively easily achieveable if desired, airlines do it all the time prior to paint.
2. As corrosion is a concern, I would recommend that you reconsider the selection of carbon as the composite reinforcement in this application. During co-curing process, point contacts between carbon and Al can arise that in-service will be the cause of corrosion. The natural moisture content of the composite will be sufficient to provide the electrolyte to form a corrosion cell, hence why aerospace avoids this combination of materials. Consider instead either glass or aramid or even boron fibre reinforcements to avoid this problem.
Regards,
Geoff Wright
- Preston, Lancs, UK