Where the world gathers for
plating, anodizing, & finishing Q&As since 1989
-----
Painting over corroded powdercoating, How?
A powdercoating shop here is Mexico did a crummy job powdercoating my galvanized steel panels that form Geodesic domes (i.e. exterior application). It seems that they did not put enough paint on. "White corrosion" comes through the paint.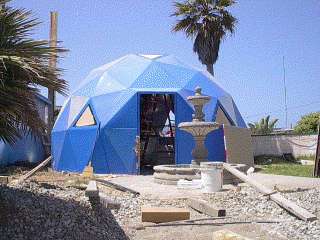 You can't really see the whitish "corrosion" coming through on this picture because this picture was taken after the paint had been on only a few days. It took a week or so for it to start coming through. However, it gives you an idea of what the application is.
Since the buildings cannot be disassembled, I need to paint over this on site. How can you paint over corroded powdercoating. What primers and paints would work for this?
Any help appreciated.
Robert Miller
Mexican Shelter - Rosarito Beach, Baja California, Mexico
---
Hello Robert,
Neat looking building, Bucky Fuller would be happy. If you have to do it on-site, sandblast the surface, apply an epoxy primer, then have somebody mix up the color you want in a two-part polyurethane or acrylic. It won't last as long as the powdercoating, but it can dry in the warm Baja air.
Good luck,
Jake Koch
G. J. Nikolas &Co.,Inc.

Bellwood, Illinois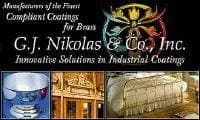 ---
Hi Robert,
Firstly the white corrosion you can see is called chalking. This is caused, not by insufficient powder but, by using the wrong system of powder coating. If, as you say the chalking appeared after only a week the applicator has most probably used an epoxy powder which has very little UV light resistance. So before you try to re-paint consult the powder applicator and establish which system of powder he used. For outside applications the system needs to be a polyester or a polyurethane, he should be aware of this basic knowledge and should re-coat the object F.O.C.
Hope this helps,
Drew Devlin
- Lincolnshire, UK
---
I work at a powdercoater. I think you should have it sandblasted and flamesprayed in plastic powdercoating it should last forever without rusting or chalking or losing glossleval.
Derek Kilfoy
- Newmarket, Ontario, Canada