Where the world gathers for
plating, anodizing, & finishing Q&As since 1989
"Scratch repair on clearcoated paint"
-----
I recently made a bad mistake, I washed my new Ford pickup at a you wash car-wash. The next morning my wife noticed many slight surface scratches on my paint job/clearcoat. How can I fix these without jeopardizing my paint job or clearcoat? Thanks for the info.
Timothy Morton
- Belfair, Washington
---
Hello Timothy,
If that Ford is new, I'd go to the dealer and ask him why your paint is scratching. Otherwise, I'd guess you could try one of those repair kits advertised on late night TV infomercials .

Jake Koch
G. J. Nikolas &Co.,Inc.



Bellwood, Illinois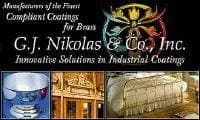 ---
Tim,
You might try a good wax. If this doesn't work, you will probably have to use polishing compound and a buffing wheel. Most auto parts stores have buffing and polishing compounds. Try the finest grade first and if doesn't take all the scratches out, you can go to the heavier grade that cuts faster. Just don't overdo it. Clearcoat can withstand a lot of polishing. Detail shops and used car dealers buff out the paint all the time. You can do it by hand, but it is a lot more work. It sounds like you got a dirty brush at the car wash, that someone used to take off sand and dirt and it worked just like sandpaper on your paint.
Good luck,
Ed Kay
- St. Louis, Missouri
---
If you are sure that the scratches came from the car wash facility? Then take your car to them and tell them you want it fixed. Plain and simple. If they say they won't? Get the owners name and phone number and address. Go to a lawyer and ask the lawyer to call them for you. About then..they will probably invite you back to have your car fixed by them or a professional.
Rich L
- Arlington, Texas
---
Tips for going to carwashes:
1. hand wash facility only
2. go early in morning [cloths are fresher]
3. request persons wipe straight [no swirling motion]
4. go to same facility [develop rapport].
5. most offer unlimited amount of monthly, or bi-annual carwashes for set cost. consider doing this after try-out. they usually also offer discounts for details etc with this.
6. tip well
7. keep your car clean!
Bill Casson
- Oakland, California
---
In response to scratches from car wash, you need to use a touchless car wash or wash it yourself (clean towels and rags with every wash), to get rid of the scratches this time have it professionally polished with high speed buffers, its worth the money, have them finish with a swirl remover and a glaze, you may ask how I know, I own the best detail shop in Nebraska and polish over 300 black cars a year without leaving swirl marks, thanks.
Marion Winger
- Omaha, Nebraska