Live! From beautiful Pine Beach New Jersey: Welcome to the world's most popular metal finishing website
topic 11551
Science Project: Coins in Vinegar
A discussion started in 2001 but continuing through 2018
2001
Q. Hi,
I wanted to find out what happens to coins after they have been in vinegar (brown, white and red wine vinegar) for 1 week.
Thanks heaps,
Emma R and Serena B
[last name deleted for privacy by Editor]
- Sydney, NSW, AUS
---
---
2006
Q. I am a year 8 student undertaking a science experiment by place coins in vinegar and leaving them for 7 weeks to see what the effect will be on the coins.

I was wondering:

I have 7 coins from different countries around the world and they are made up of different metal components. Should the vinegar have a different effect of each coin or will vinegar have the same effect regardless of the metal components?

Also I have placed these coins in glass jars the lids and I am not removing the lids over the experiment. I have noticed that my coins are not showing the same signs as other people experiments that have no lids or the ones that are taking theirs out of the vinegar to examine. Why?
Mitchell B.
[last name deleted for privacy by Editor]
student - Thornton, NSW, Australia
---
2007
Q. Hi, I'm in 10th grade and I need to figure out what the chemical equation is for the reaction of copper and vinegar. Could you please help me out. Thanks

Rachel
Rachel S
[last name deleted for privacy by Editor]
student - encinitas, California
---
January 31, 2008
Q. Is there anything that will stain a coin? I'm doing a lot of experiments on coins whether or not they can lose their color or change color at all. Give some more ideas for experiments too.
KC R.
[last name deleted for privacy by Editor]
- Mapleton, Utah, United States
---
March 25, 2008
Q. Hi!
I am doing a science fair experiment, and I would like if you can help me to answer some questions. The answers that you gave to the other people helped me to answer other questions.

- what is the effect of acids in metals?
(everywhere it says that is cleaning the coins, but I don't really know)

-where are the coins made?
(is it in a special factory with a special name, or just anywhere?)

- how do you recognize fake coins? what are they made of?

Wish you can help me.

My special thanks
Camila F
[last name deleted for privacy by Editor]
school work - Colombia
---
Students please search the site for similar letters or read our F.A.Q. on Cleaning Pennies.
---
July 27, 2011
Q. Hi
I am about to undertake an experiment in my year 8 science class where the aim is to identify which coins are most affected by standing in vinegar, but before I begin, I have to decide on what my dependent variable is going to be, and I'm unsure what I should be measuring? Could you please help?
Thanks
Jack O.
[last name deleted for privacy by Editor]
- Alstonville, NSW, Australia
---
February 11, 2013
Q. I'm doing a science fair project and I tried it but it didn't work. What did I do wrong?
I need some answers if ya'll be kind enough. I just don't understand what I'm doing wrong.
jodi g
[last name deleted for privacy by Editor]
- dover-foxcroft, Maine
---
---
November 25, 2013
Q. Hi, my son is in 4th grade and wanted to see which liquids cause coins to rust. He only tested quarters and pennies-- all from years 2009-2013. He has since learned that since coins do not contain iron, they will not rust, but rather will oxidize. He has completed his project but is working on the analysis part. Vinegar changed the color of the quarter (I assume this is copper oxide), soda changed the penny (zinc oxide?), and there were slight changes from the saltwater and lemon juice. Now, our question is why? I know that vinegar and lemon juice are acids but there are many discussions online about how acids will clean the coins--why did they corrode them or oxidize them? Is it possible that because the coins soaked in the liquids for 2 weeks, that the outer coating corroded and the inner material is what is oxidizing?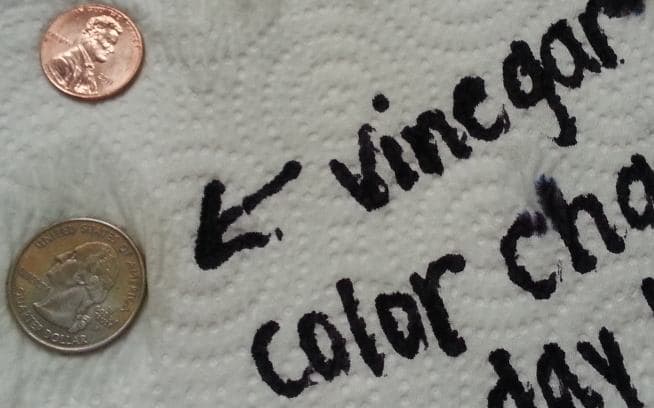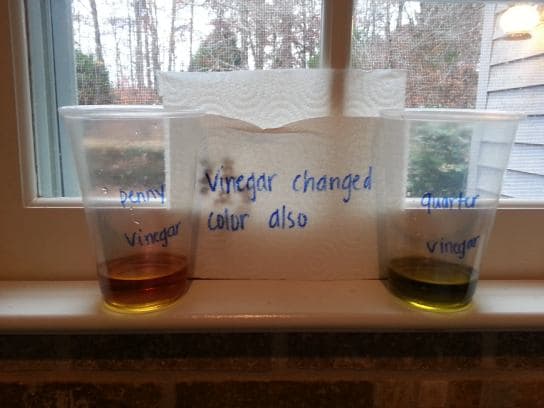 I wanted you to see how the vinegar had changed to bright green also. Interesting. Is this a copper solution of some type?
Thank you for any information you can provide. He has read a book on metals and have checked several websites concerning the topic.
Wendy K
[last name deleted for privacy by Editor]
mother and student - Greensboro North Carolina USA
---
---
DOES VINEGAR RUST OR NOT!!
September 12, 2018
Q. I am a girl in grade 5. For our major science experiment, we were rusting nails in different substances. Nothing rusted better than the vinegar. For science home work, I had to find out why vinegar rusts (that's not my question). Some sites said:
- vinegar rusts
- vinegar removes rust.
- vinegar doesn't rust.
Which, if any of them, are right!
Sammy M
[last name deleted for privacy by Editor]
- Perth, WA, Australia


If you have a question in mind which seems off topic, please Search the Site