Where the world gathers for
plating, anodizing, & finishing Q&As since 1989
-----
Embrittlement in silver plating
I have a problem with test for Hydrogen embrittlement in silver plating.
The process is:
Degrease in vapor solvent
Anodically degrease
Etch in HCl solution (60%)
Copper strike ( no cyanide solution)
Silver strike
Silver
Immediately specimens are baked in oven for 23 h. All specimens fail test.
Thank you,
Valeria Vinti
- Torre del Greco, Napoli, Italia
---
Try abrasive blasting in the place of the pickle.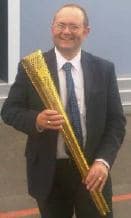 Martin Trigg-Hogarth
surface treatment shop - Stroud, Glos, England
---
In your opinion, can organics contaminants of HCl solution made embrittlement? Specimens are pickled only for 45-40 s and after silver plating specimens are baked for 23 h to 190 °C.
Thank you,
Valeria Vinti
- Torre del Greco, Napoli, Italia
---
Hello Valeria!
Could you tell us what test it is failing, and what the specimens are made from? In other words, is it a bend test using plain carbon steel that is cracking when you bend it, or is it a notched tensile test using low alloy medium carbon steel hardened to Rockwell C 55?
It has been my experience that a 190 °C bake for 23 hours is usually enough, providing the parts (or test samples) were not irreversibly embrittled already.
Good luck!

Lee Gearhart
metallurgist - E. Aurora, New York
---
Specimens are made by AISI 4340 and have a hardness of 55 HRC. Specimens are notched.
Valeria Vinti
- Torre del Greco, Napoli
---
Could you make the etch anodic too? I have been plating spring steel and Phosphor bronze using asymmetric a.c with very good results. I don't even bake the parts. They are just without hydrogen due to nature of the current.
Yashawant Deval
- Pune, Maharashtra, India
---
Mr. Deval:
You say that your parts don't need a bake because they don't get hydrogen but I don't understand how can Valeria (or anyone) avoid it if she is using two strikes after the etch? To my knowledge strikes are always very inefficient and thus liberate some H on the surface of the parts, don't they? So, you have your success because you use a different cycle after the etch or are your parts less subject to embrittlement? I would appreciate you or anyone that can enlighten us about this.
Guillermo Marrufo
Monterrey, NL, Mexico
---
The parts that I plate ARE extremely susceptible to Hydrogen Embrittlement. If plated with D.C. more than 90% fail during assembly.
I feel that Hydrogen needs some time to diffuse into the substrate. Before it has time to diffuse, if the substrate is made anodic, Hydrogen is released from the surface. That is what must be happening during asymmetric A.C. plating.
During preplating cleaning, either cathodic cleaning is avoided, or followed immediately by an anodic stage.
The steel and phosphor bronze spring components are working successfully for over three years now.
Yashawant Deval
- Pune, MAH, India
---
Your letter doesn't discuss what chemistry your using. The main component of concern would be brightener system and its concentration along with the current density utilized to plate. Plating should mirror your normal cycle, but if failures occur you need to start engineering the process to see if change is needed. Abrasive blasting of notched test specimens does change the surface condition, affecting results and is also prohibited in ASTM F519 [affil link] , here in U.S. Be sure of your amperage with the extremely small specimens. Don't rely on your large power supply meters, use an amp meter to verify what's going on. Secondary items could be reduced plating rates caused by low temp, high carbonates, etc. In essence, start back at square one.
Good luck,
Tim Martin
plating shop - Springfield, Massachusetts