Where the world gathers for
plating, anodizing, & finishing Q&As since 1989
-----
SS 410 finishing after hardness to prevent corrosion
Hi,
One component of SS 410 stainless steel toughened (near to get a surface hardness max of 30 HRc) is found to be rusting in just a week or so. This component is subjected to a normal tropical environment.
Will appreciate your ideas on what chemical treatment could be done such that there would not be any change in the external dimensions.
Vijaya Pillai
- Bombay, Maharashtra, India
---
Hello Vijaya!
Are you passivating the parts before you put them into service? Generally passivation is done by soaking the parts in nitric, citric, or some other acid to
1- dissolve any stray iron particulate, and
2- enhance the chromium oxide formation on the surface. If you are unfamiliar with passivation, check out the FAQ here.
As an aside, Rockwell C 30 is on the low side for 410 stainless steel. Are these castings that you are talking about? If so, they will have additional surface problems: you will usually need to pickle the parts before they become passive.
Good luck!

Lee Gearhart
metallurgist - E. Aurora, New York
---
Gotta get the heat scale off....even if vac heat treated. Its Iron rich, wants to rust. Use hot alkaline over acid pickle. Then passivate. Corrosion resistance poor at best.
Jon Quirt
- Fridley, Minnesota
---
Vijaya:
I agree with Lee & John. You need to to get the surface scale off, if any, and passivate. We have had excellent success with 410 grade getting corrosion resistance with surgical instruments using proprietary citric acid formulations. Common process is 15 minutes at 150F to get good corrosion resistance and appearance. Use of ultrasonics is common with this grade, as long as you use the citric formulations. See our web page if you have questions.
Regards,


Lee Kremer
Stellar Solutions, Inc.

McHenry, Illinois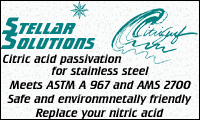 ---
January 27, 2009
After 410SS passivation if subjected to highly abrasive environment, will the passivated coat leave ? And rust staining come again ?

Thanks
André B
- Sherbrooke, QC, Canada

www.finishing.com is made possible by supporting advertisers like ...
this text gets replaced with bannerText