Where the world gathers for
plating, anodizing, & finishing Q&As since 1989
-----
Methods for electroless plating of silver
Q. My name is David and I am a science educator at the Oregon Museum of Science and Industry in Portland, Oregon. I am seeking assistance in finding methods to silver plate a jar using an electroless process.
The original instructions we have used have gone missing and the only other information I found on electroless plating of silver involves chemicals that I am not comfortable letting younger people use.
The method I used in the past consisted of three chemical solutions. The first solution was a mixture of glucose and ethanol and used as a "primer" for the jar. The second solution was ammonium nitrate and silver nitrate, and the final solution was sodium hydroxide. After the jar was primed with the glucose and alcohol, the silver nitrate was added, followed by the sodium hydroxide. Once the NaOH was added, the solution darkened and after swirling the jar, silver would deposit on the sides making a mirror. During this time, a dark precipitate would form and ammonia would be released.
The new directions I have includes many of the same chemicals, including concentrated sulfuric acid and concentrated ammonia.
If anyone has seen similar instructions to silver plating or know of any place to look for ways to silver plate that do not include such strong chemicals, I would greatly appreciate it. If I fail at finding a suitable way to carry out this exercise, I'm going to be drawn and quartered by some very angry 3rd graders.
David Fassler
Oregon Museum of Science and Industry - Portland, Oregon, USA
---
A. I am not familiar with the exact instructions you are trying to follow or replace, but apparently the silver is present as a soluble silver salt (silver nitrate) from which you want to "reduce" the silver into metallic form. This procedure is referred to as "two-part silvering", where one part is the soluble silver salt and the second part is the reducing agent. I believe that formaldehyde has been used as the reducing agent--but that is now considered carcinogenic. My suggestion is that you with one of the proprietary suppliers of two-part silvering solutions, who can probably offer you workable yet relatively safe "2nd component mixtures" for this operation.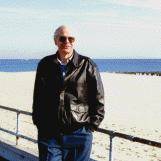 Ted Mooney
, P.E.
Striving to live Aloha
finishing.com - Pine Beach, New Jersey
---
A. There are many method you can use tartaric acid with sodium hydroxide and ammonia with silver nitrate.
Maher Shaker Afifi
G.L.S. - Cairo
---
A. Dear Mr. Fassler,
Please see and search other letters at this site, there are many cautions about the use of some of the methods, so you are right to worry about bringing the methods into a classroom.
Most of our letters caution about explosive mixtures as the components start to dry.
The search engine is available near the top of this page.


Tom Pullizzi
Falls Township, Pennsylvania
---
Q. Friend, I need the same answers concerning plating PCB board with silver nitrate.... it works when you dissolved with hydrogen peroxide (I've got crystals of silver nitrate) but layers are done in many passes and doesn't seem to " catch the copper well....any better experience would be much appreciated...
My best,
Ziko
- Cairo, Egypt
---
Q. I want to ask you, how to make the glass mirror in laboratory, because I want to develop it to industrial scale
I'm very expecting your reply
Thanks

Yours,
Edward
[last name deleted for privacy by Editor]
Indonesian Institute of Sciences - Jakarta, Indonesia
---
March 24, 2013
A. David,

I think you are looking for the Tollen's Reagent (also Tollen's test, Reaction, etc.)

https://en.wikipedia.org/wiki/Tollens'_reagent
E. Reed
- Annandale, New York