Where the world gathers for
plating, anodizing, & finishing Q&As since 1989
-----
Electropolishing bath is brown. Is it contaminated?
Q. We have a Electropolishing shop and have noticed that the copper fixtures used to hold the parts that are being electropolished (positive cathodes) are being deteriorated from the acid. Also we have noticed that the bath is turning a brownish color, as compared to a greenish color when the chemicals are new. Is this common? Is there a level of copper in the bath that makes the bath no longer effective in electropolishing? Is there a way to determine the copper level in the bath?
Charles Brown
- Tamaqua, Pennsylvania, USA
---
Hi Charles. It does sound like copper is dissolving into the bath, and it shouldn't. What is the composition of the solution you are using?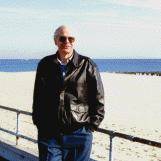 Ted Mooney
, P.E.
Striving to live Aloha
finishing.com - Pine Beach, New Jersey
---
Q. Our concentration in the EP bath is as follows: 75% Phosphoric(85%) and 25% Sulfuric (66 Degree, Baumé), maintained at 110 °F, solution agitated.
Charles Brown
- Tamaqua, Pennsylvania, USA
---
A. I'm going to have to halfway correct myself. While I have seen bare copper racks, and parts "wired" with bare copper wire, or hanging from copper S hooks, and although some reference books say copper racks are okay for phosphoric-sulfuric solutions, this is probably at least partially driven by expedience rather than best practice. Copper does dissolve to a degree, and the racks would probably better be either titanium clad or plastisol coated.
But, in any event, electropolishing is not an equilibrium process but a bleed-and-feed one, and it probably is time to decant some of the solution and replace it with fresh. Sorry, I don't know of a test for copper; hopefully someone else will. I am seen solutions in successful operation that had come halfway from pea green toward rust brown, but not all the way brown. It sounds like your solution has a lot of nickel and iron in it. Sorry I can't give a real hands-on answer, but I'm not a hands-on electropolisher.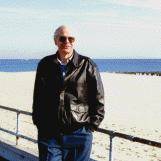 Ted Mooney
, P.E.
Striving to live Aloha
finishing.com - Pine Beach, New Jersey
---
A. Yep copper will dissolve both under anodic potential and just in contact with the solution. Don't fret too much, EP is very forgiving. Some sellers of solution put some copper sulfate in solution. Titanium racks are good to use but cost more and don't carry the current as well. I guess you cold use titanium clad copper but its expensive. We use both copper and titanium racks, Phosphorous Bronze actually and just cut the tips back as needed due to dissolution.
Jon Quirt
- Fridley, Minnesota
---
---
May 21, 2013
Q. I am trying to electropolish 301 stainless steel. The part is put thorough a photo etching process then electropolished. I am using a PVC coated EP tank and EP solution made up of 50% sulfuric acid and 50% phosphoric acid. After EPing very few parts the solution turned a brown color and does not seem to be behaving as it was originally. We use the same EP solution for other processes (different tank as well) and it usually would turn a green color. We are running at a temperature recommended by the vendor and the parts do not have surface contaminates prior to going into the solution. Any idea what else may cause EP solution to turn brown?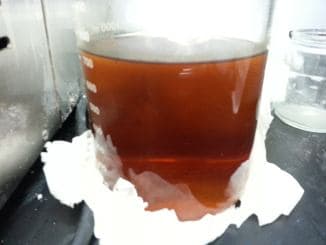 Bradley Day
- Burlington, Massachusetts, US
---
July 12, 2013
A. Bradley,
Yes, it is contaminated. One quick fix to try, assuming you are using an alkali descaler and a cold rinse and then polishing, is to add a hot rinse after the cold rinse. You see, when you are descaling the parts the temperature is pretty high and pores open up but then they close up during the cold rinse and sometimes contaminants can be trapped. The contaminant is probably MnO2.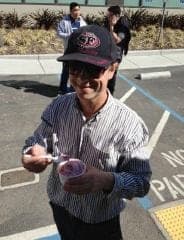 Blake Kneedler
Feather Hollow Eng. - Stockton, California
adv.: