Where the world gathers for
plating, anodizing, & finishing Q&As since 1989
-----
Taking antique brass beds apart
Trying to figure out how to remove the brass spindles on an iron bed.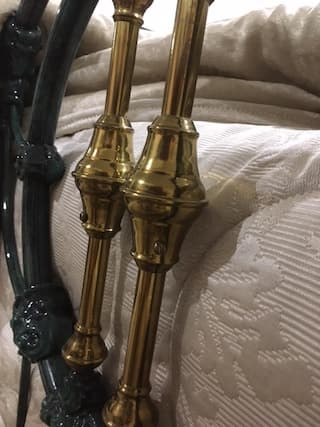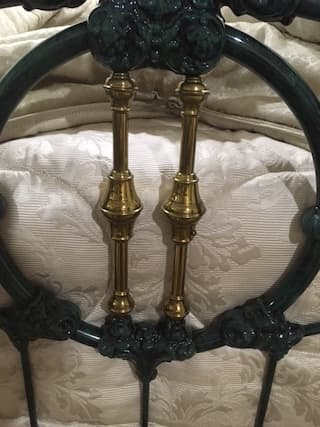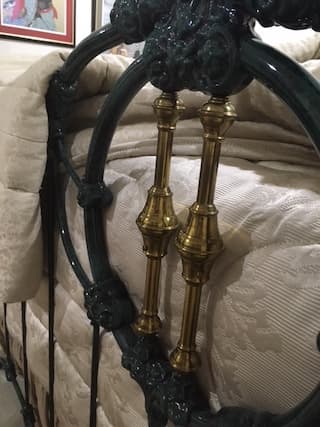 There is a screw in the middle part of each brass spindle. I have tried removing the screws but that seems to just allow the middle piece that the screw is located in to move.

I want to polish the brass and give it a lacquer coating.

Thanks for any help.
TJ Woodruff
Home Owner - Texas
June 23, 2023
---
---
↓ Closely related postings, oldest first ↓
---
---
Q. We found an old brass bed and would like to restore it. There doesn't seem to be any way to get it apart. On the headboard and foot board, there is a center section that must have been assembled first and then added to the main structure of two vertical bars and two horizontal bars. There doesn't appear to be any bolts on the outside. It wasn't welded anywhere. How did they put it together and how to you get it apart. It would be much easier to clean and refinish it is was in pieces. It is also a "puzzle". Any suggestions.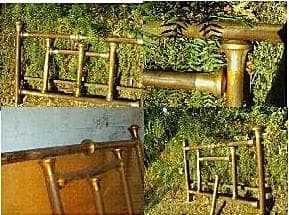 I hope someone who was also refinishing old brass beds might have run across the same kind of problem. We need to refinish it, but can't get it apart. The head and foot boards are too large to soak in anything we have at the house. We have to get it apart.
There appears to be small levers inside the main posts at the top and the bottom which attach to the main horizontal bars. They are about 10 inches down and cannot not be reached by any tool I have. The pieces are not welded or glued. The whole head board & foot board almost strike you as a puzzle. If I were to get it apart with damaging the metal, I don't think I could get it back together.
From reading the other postings, I know we can get it cleaned up if we can get it apart.
Susan Burnett
- Glendale, California
2001
A. Have you just tried unscrewing the pieces from each other? The fitting itself may be the screw into another part. Any chance of contacting the previous owner for advice. Any info about who or what company made the bed - they may have assembly/disassembly advice. Sounds like a job for a good furniture detective.
Dan Brewer
chemical process supplier - Gurnee, Illinois
A. Why break it apart when you can clean it fully assembled?
Bill Coffie
Warren, Michigan
Q. I have a bed identical to the one in the picture. I also thought of taking it apart but it looks like a lot of trouble. Mine is tarnished, badly. We have tried Brasso [affil link] but this takes a LOT of time. Is there another solution that will clean it faster?
Shane Brown
- Henderson, Tennessee
2002
---
A. I have a Brass Spool Bed, it is solid brass, I had good luck using Tarn-X [affil link] for Brass & Copper, then using Brasso [affil link] to follow up & polish. The company specifically recommends against using its cleaner on brass plate. After cleaning the whole bed in pieces then reassembling I applied a coat of clear Polyurethane. I obtained enough Tarn-x to immerse small pieces for a short time then rub with a soft cloth before washing with clear water. Larger parts were washed using a cloth soaked in the solution then washing with clear water. Before starting on your bed test the solution in an inconspicuous place to see if this works with no ill effects.
Jim Corley
- Smyrna, Tennessee
2005
Ed. note: According to the manufacturer, Tarn-X should not be used on brass, which is an alloy of copper and zinc because it attacks the zinc.
---
---
Q. We have recently come into possession of a brass bed that has been very badly weather-damaged. The posts were brass electroplated and the end, connecting pieces are solid brass. What is the best way to remove the damaged electroplating if you want to do this at home? We don't want to damage the solid brass pieces, but we don't know how to take the bed apart. There are no welds, but it is almost a puzzle on how they put it together in the first place. Any suggestions?
Susan Burnett
[returning]
- Glendale, California
2002
---
---
Q. We have a brass bed that we have taken apart, cleaned and put back together (well, most of it). This brings us to our dilemma. The bed is antique...probably about 60-70+ years old. The bed rails are iron (headboard & foot board rails are attached across bottom of each end) and the side rails fit into a slot at each corner of the bed. The problem is: the "L" shaped rails at the headboard and foot board are upside down when you have the slots upright for the side rails, which should be "L" shaped so the box springs will fit in. This makes the space approximately 1.5" too short header to footer. So...If you turn the headboard and foot board rails around to face the "L" up, then the side rails are inserted from the bottom up with no way to hold them in, but the "L's" all look correct and the box springs will fit in the space properly. If you face the side rails flat like the headboard and foot board rails in the first scenario, then the box springs will sit flat on all the rails but the mattresses could possibly slide off as there's no support. Please help. My husband and I have put 3+ hours into the thought process of how this is supposed to work, bolting, fitting, unbolting, etc., and we would like to get the bed put together properly. Has anyone ever heard of this problem or how it's really supposed to be assembled?

Thank You!
Pamela Hallmeyer
- Tualatin, Oregon
2005
---
A. The rails are fitting the way they were supposed to back when the bed was first produced. The old coil type springs had a lip that sat inside the rails just the way they are even though they seem upside down to us now. We just brought my grandparents old brass bed home over the holidays for my daughter to use and my mother told me all about it. She suggested that we get wood for slats and nail or glue a 'chuck' piece inside each slat just inside the rail on each end to keep the slat from shifting before placing the box spring on top. Hope this helps.
Kathy Daugherty
- Sale Creek, Tennessee
---
A. You are right about the rails being upside down. I used three six inch pieces of steel and short carriage bolts to make stops to keep the box on the frame. clean with Naval Jelly [affil link] in a small spot and rinse well. If it doesn't hurt the patina you're looking for; do the whole bed assembled. rinse well, dry, spray with a clear lacquer to keep it that way .
tim stinski
- appleton, Wisconsin
November 27, 2009
---
A. I have problems with my hand and hand strength so rubbing our antique bed was too much for me. I'm using a Black and Decker Scumbuster [affil link] and it works GREAT. Bed should be solid brass though, not plated.
R. Ciocca
- Philadelphia, Pennsylvania
---
Q. I have the same bed that is being discussed regarding the springs. There was originally a flat spring that fit over the L rail of the bed. The springs had a frame of L rail that fit over the existing rail. I remember seeing it at my mother's home but do not know where it is now. I am trying to locate a spring.
R. Cooggins
- Sanford, Michigan
September 16, 2008
---
Q. Does anyone know where we can buy new slats for an existing single brass bed. The metal runners which run between the head board and base have no pre-drilled holes and I am wondering how a mattress can sit on these?
Anastasia Male
hobbyist - U.K.
June 12, 2009
---
A. Hi, Anastasia. I don't know what your runners look like. but if they are angle iron rather than brass tubing, you simply run three or four 3/4 x 6 wood slats across them.
Regards,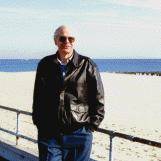 Ted Mooney
, P.E.
Striving to live Aloha
finishing.com - Pine Beach, New Jersey
---
A. Some old brass beds, like the one I used to have, are not bolted together but held together via a peg on the end of the side mattress supports that goes into a slot near the bottom of the headboard and footboard.

One decent way to clean brass is with Macleans toothpaste [affil link], works better than Brasso or anything else I've ever used. Dry thoroughly afterwards.

You can also use jewelry cleaner [affil link], it does a remarkable job.
Paul Blonde
- Aiyansh, BC, Canada
---
A. Your dilemma is a common one. And I solved mine by dis-assembling the bed and creating mandrels to allow me to spin the tubes in my drill press. Granted, this sounds rather bizarre but think about it...all you have to do is spin the tube and hold your Brasso-soaked cloth around it. The drill press does all the work! By turning the drill head around backwards and placing the press on an elevated surface to allow for the longer/horizontal to be suspended I was able to clean my king-size in four evenings and I attained a #10 finish. My capitols are identical to yours and we may have the same mfr. A gizmo inside the tubes called a "spider" is the "nut" that screws thread into. It is a spring steel grappling hook. See ya!!!
James A. Brown, Jr.
retired - Charlotte, North Carolina
August 13, 2011
---
A. I have one of these antique beds. I think it was made by Kimball and Chappell based in Chicago in 1910. The bed rails have the same fitting ... cone shaped. I also wondered if they were upside down. I had slats cut for me the width of the frame and then I screwed L-shaped braces to them that hung over the edge of the rails.

Re cleaning, I used 1-tsp salt to 1/2 cup of white vinegar [affil link] solution to cut the worst of the tarnish away. I rinsed it quickly and dried it and followed up with Noxon [affil link] metal cleaner (green bottle). I used a Dremel [affil link] rotary tool with brass brushes to remove corrosion and followed with rubbing Noxon on to smooth it out. Looks great.
Kathy Shaffer
- Charleston, West Virginia USA
---
---
Parts needed for brass bed
I need replacement brass balls that goes on the top of bed posts. Please help!
Charlie Witten
hobbyist - Roanoke, Virginia
September 2, 2009
---
---
Need round, 3/4-inch rod ends for brass bed
Hi,

I recently purchased a full-size, iron and brass bed for $50 at a thrift store. I bought the bed for my daughter. First of all, I would like to thank each of you so much for your posts. They have assisted me in preparing the bed to be painted and in shining the brass!

I have one question. I am looking for brass rod ends for a few spots. The brass rod ends are balls that are approximately 3/4-inch rounds. I've searched the internet, but have not been able to locate anyone with the ends. I would greatly appreciate any assistance and/or suggestions you might have.

In case, you would like to know more about the bed: it is iron with brass accents. It also has a half-canopy. It's a princess bed for my little princess.

Thanks so much,
Teej Fisher
Teej Fisher
hobbyist - Taos, New Mexico, USA
September 10, 2010
---
There are literally 100s of hardware's that carry that stuff! Google brass bed parts this is the first one that came up for me http://www.kennedyhardware.com/bed-hardware/




Rod Henrickson




gunsmith - Edmonton, Alberta, Canada






---

Take silicone mouldings (or polymer clay, in that case oil them before casting) from original balls, cast them then in plastic (or polymer clay) and paint them with brass paint or you can leaf gilt them with imitation gold leaf. Second option is electroforming, it is much more complicated. Hope it helps and good luck!

Goran Budija




- Zagreb, Crotia





---

Thanks so much for your replies.

Rod, you are correct. There are 100s of hardware stores that carry brass parts. I searched them for hours before submitting my original posting to this forum. It's funny you should mention Kennedy Hardware: I literally phoned them just before submitting my original post!

Goran, thanks for the instructions. I'm hoping I can purchase some ends, but it might be fun to just create some!

Thanks again,
Teej

Teej Fisher
[returning]
- Taos, New Mexico, USA
September 14, 2010
---
---
Q. I just took an antique brass bed out of storage after 35 years. All the brass parts are there but loosely joined. I see that the horizontal and vertical tubes are held together by threaded rods about 1/4 inch in diameter that are threaded into a fitting that sits in the end of each "tube". What is the proper name for these little buggers? They are like eared washers in which the ears fit into slots in the tube. Then rods are threaded into the hole in the center and protrude enough to fit into matching holes in the corresponding horizontal or vertical tube. Do these eared washers have a name? Are they standard parts in brass beds. I am missing about 4 of them. Do I have to have them machined or are they available somewhere? It appears that the whole headboard and the whole footboard are puzzles held together by screws that hold the two main globes at the intersection of the main horizontal and vertical tubes. Sound familiar? I want to get this thing back together and put it on the market. It was a bed from my first marriage and the new wife isn't thrilled about using it, even though it's been cooling off since 1977.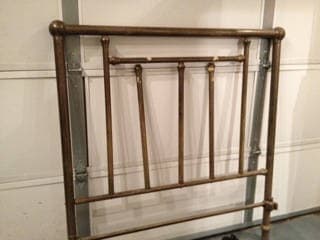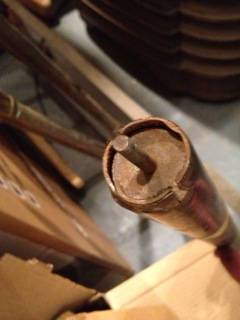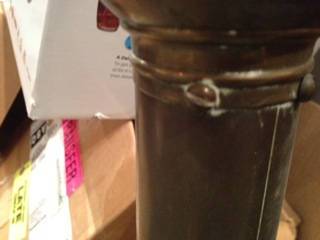 Arnie Lerner
- Albuquerque, New Mexico, US
April 3, 2012
---
Q. How do I tighten a spindle that has become loose at the top of the headboard. Brass Bed.
Tami Cumming
- carmel, California usa
October 8, 2012
---
Q. I have an antique brass bed that I have taken apart to clean. The problem IS getting it back together, like the previous writer I have most of the parts but not sure how to get those washers into the middle of the long side posts.
I used Brasso to clean and it turned out wonderfully. You have to shake those cans for a really long time, until it comes out more as a paste than an oily liquid. I put a coat on and let it dry and then began to buff it out. When you are done cleaning put on a coat of car wax. I was told by an antique dealer that that is the best way to keep the finish and slow the tarnish. I would not suggest using a spray coat of varnish.
Still trying to find picture instructions on how to put it back together.
Sharla Reed
- Ukiah, California, USA
October 24, 2012
---
---
Q. Newly acquired Brass bed from an auction. Of course ... no details for assembly. I googled but couldn't find any answers. The headboard frame has a section with a "box open on one side" with a wing nut that goes down through the box. The wing nut does not come completely off. Not sure how to attach the mesh spring assembly? Any suggestions of who to contact?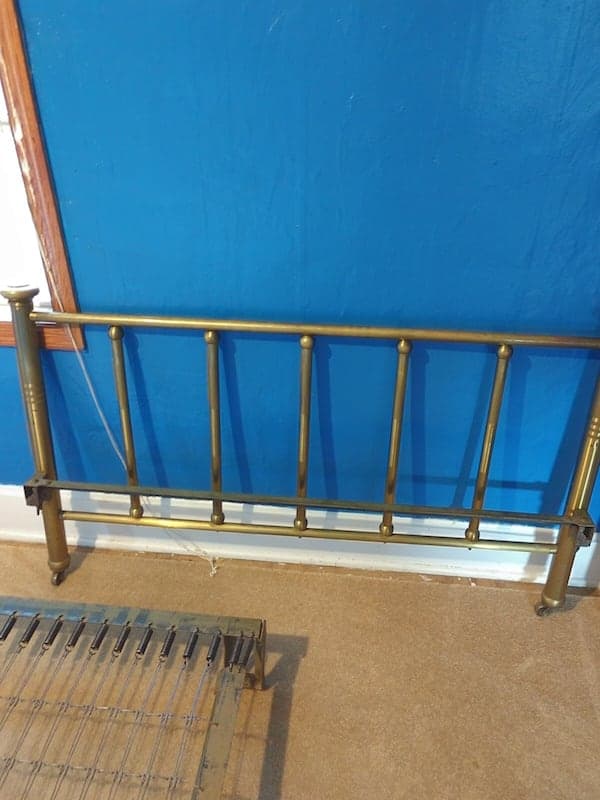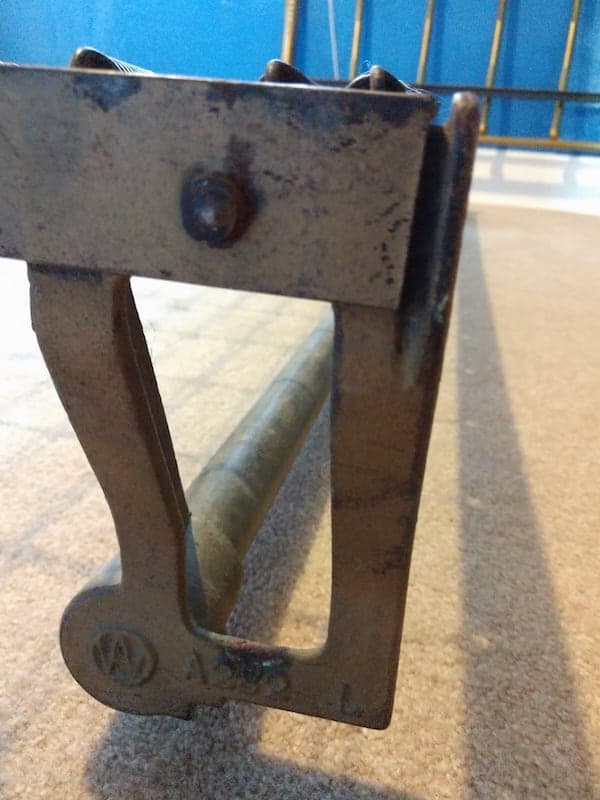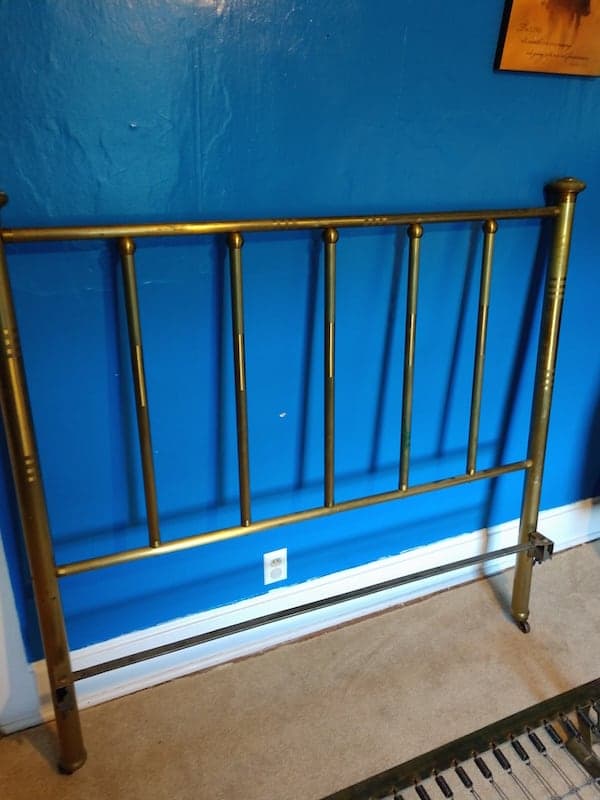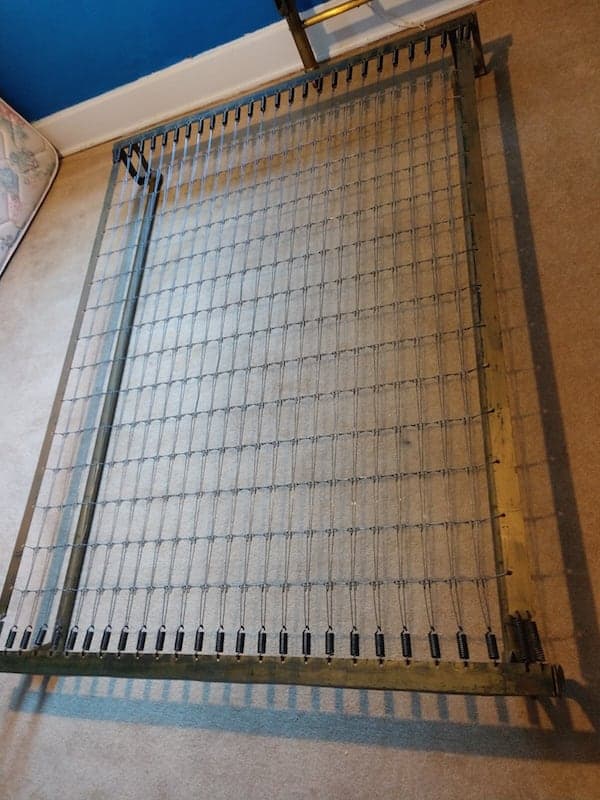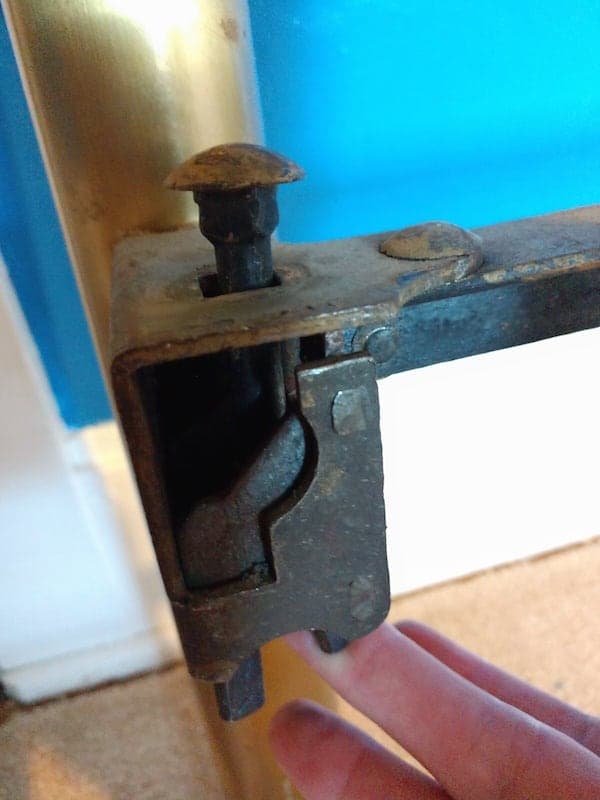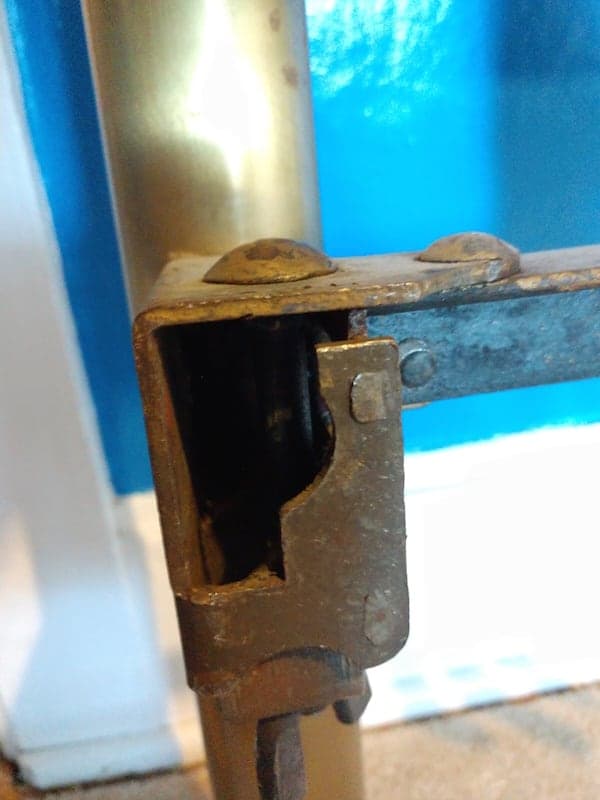 Also, little knowledge about brass restoration. Any tips would be appreciated.
Dorothy Nagy
Restorer - Dell Rapids
July 13, 2019
---
---
Q. My brass bed was made in the 1880s it is iron rods wrapped in brass. One of the spindles in the headboard was lost in a move several years ago. I have searched endlessly for replacement parts. I found a fabricator who thinks he can reproduce the missing part, but I cannot get one of the others out; it is fastened, I think, at the bottom with a rivet.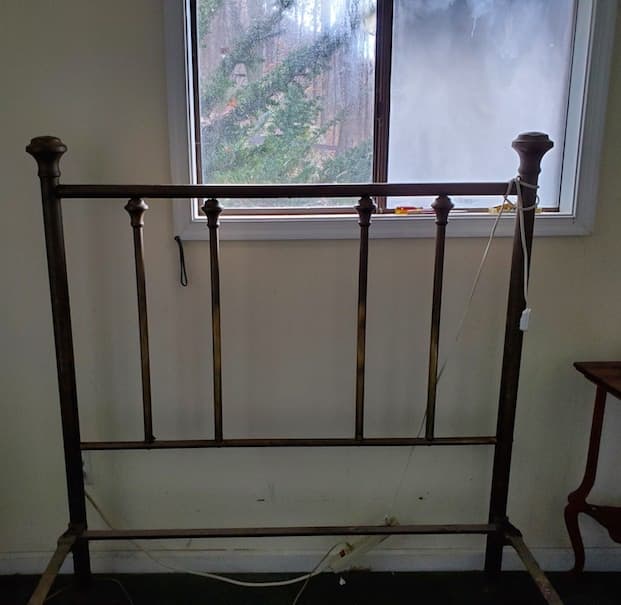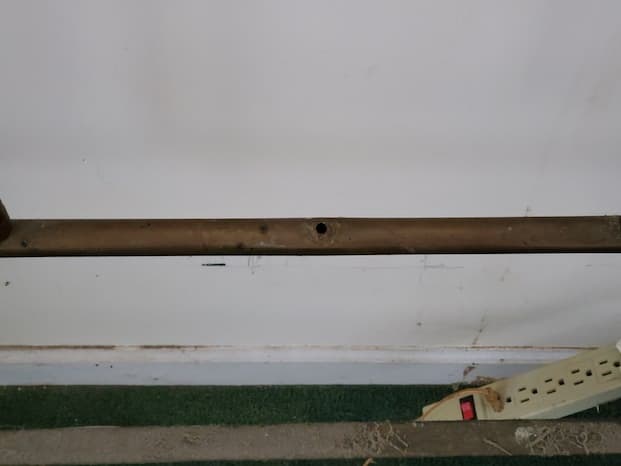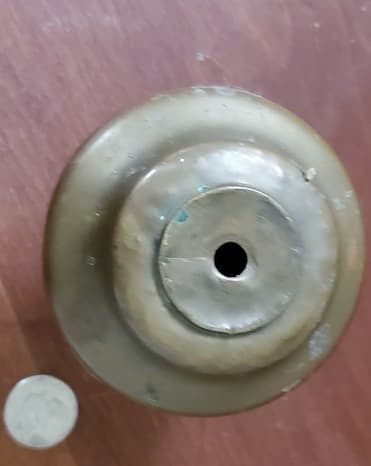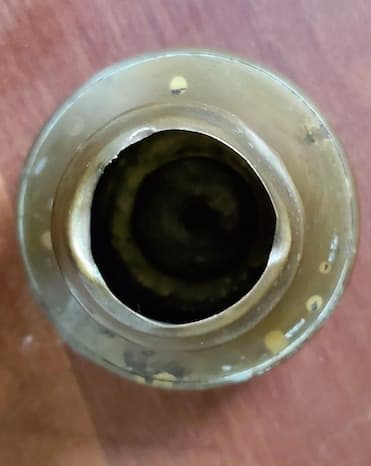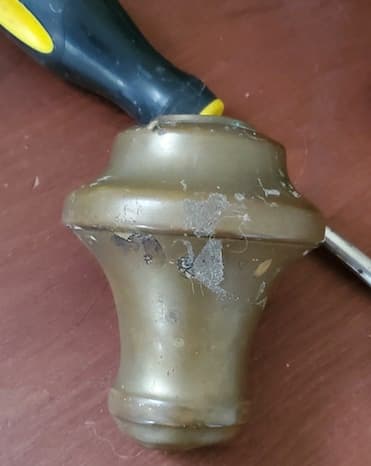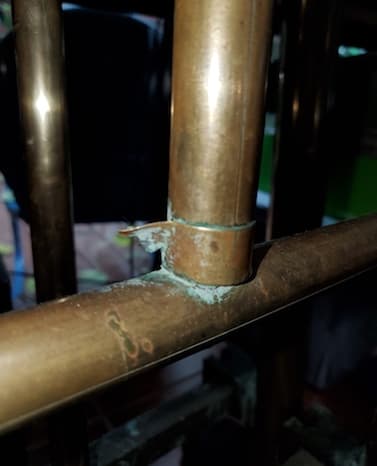 I have also been told that replacement brass will not be the same, even if it is sheet brass, and removing another spindle will destroy the value of the bed. How the missing one came out is a total mystery. We have the finial - all we need is the spindle, which is sheet brass wrapped around an iron core.

If someone can offer advice, it is welcome.
Carol Wild Scott
- Linden, Virginia
June 10, 2021
A. There is a bolt that goes through the bottom rail into each spindle. Remove that first, then gently unscrew the spindle from the top rail. It has a blind "L" bolt that you can wiggle out once the spindle is out. The key to the replacement is there is a nut crimped into each end of the spindle. Good luck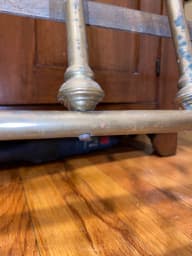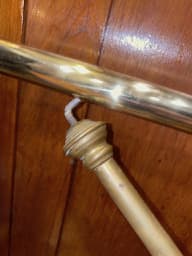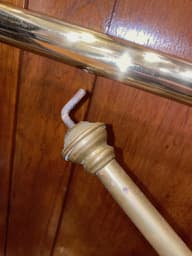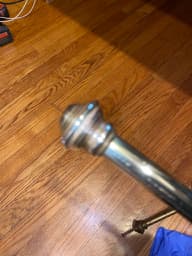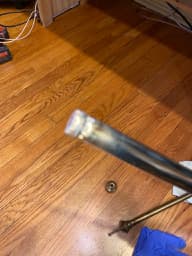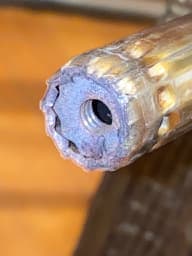 L Grimm
Artist - Chicago
November 2, 2021
---
Q. Dorothy Nagy I'm having the same problem. Can't find any information on attaching the spring to the bed frame. Did you get yours resolved? Please do share.
Sheryl Clarke
- Leominster Massachusetts
September 18, 2022